We are influencers and brand affiliates.  This post contains affiliate links, most which go to Amazon and are Geo-Affiliate links to nearest Amazon store.
I get some request to reviews some things I just never say no to. Drone are one of those things. A few weeks back I got the UDI R/C U845 Predator drone to test and review. This drone has the old school look of an alien space ship. It has 6 rotors in a circular shape around the drone. First, let me show you  the box and your first glimpse of the drone itself.
As seen in the photo above you can see the drone is mainly a circle. All 6 blades are in a complete circle around the drone in their own little circles :)
In the package, you get a set of replacement blade, Allen wrench, battery, battery charger, user manual, and controller.
 Watch My Unboxing Video Here!
Since you already saw your first glimpse of what is in this package let first talk about the remote itself. The remote takes four AA batteries.  It is red in color and has a placement for a phone. Yes, you hear that right it can hold your smartphone so you can see your drone in flight. Let me show you a few more photos of the controller.
I used cheapo batteries in the remote to take the picture. These were later replaced with better ones. You can also see that the phone fit with the case on but I do suggest taking it off so your phone can fit a little better.  The remote has several buttons including two on the back side which are red. You can trim adjust and lower propeller speed or raise it. You do not have to have the phone on this drone to fly it. Heck for that you don't need the controller you can use just the phone to fly your drone as well. They give you several options but I will get more into the phone option in few for you. The screen of the remote also tells you when your drone batteries are about to die. It will also tell you if your remote batteries will fail.
Specification from their page.
Video Recording Modes: 640 x 480; Image: 1280 x 960
Max Bitrate Of Video Storage: 30 Mbps
Charging time: 120 mins (Undercurrents input 0.5A-1A)
Flying time: 6-9 mins
Transmitter Operation Range: about 50-80 meters
Video Transmission Range: about 30 meters
What You Get:
1* U845 WiFi FPV Quadcopter with Camera
1* 2.4GHz Controller
2* 3.7V 700mAh LiPo Batteries
1* USB Battery Charger
4* Spare Propellers
1* User Manual
In the specifications above you see the transmission range. This literally mean you get 50 to 80 meters before your drone loses control and falls from the sky. You only get 30 meters for video transmission. Thus making the flight by phone only 30 meters or around 98 feet. Now I will get more into that in a few on what I actually got.
The phone app for this UDI U845 R/C drone has many controls that your handheld controller does not have. One, for example, is that with the phone you can control recording of the video. Ah, yes you can record video. This drone only records on your phone, though. No SD card needed in the drone itself. This means if you have no smartphone this drone may not be for you as it can't store local video footage if you don't have a phone. This is where I want to talk a little about my finding of the flight distance however, UDI claims you can get 30 meters controlling the drone, but I got maybe 30 to 35 feet before losing control. I tried two phones one being LG G3 and the other was iPhone 6. Both had the same issue.
Even the on screen VR ( virtual reality) would stop. I thought it was just my LG G3 that's what made me test the iPhone. Oh, did I let the cat out the bag? Yes, you can use a VR headset to watch the drone fly. Now this would be cool but did not work great for me which is what I would have hoped.
Watch My Bad Flying Here!
Well, you can tell from that video the issue I was having flying this device by controller got me better results but still was not great. Let look a little more at the drone itself.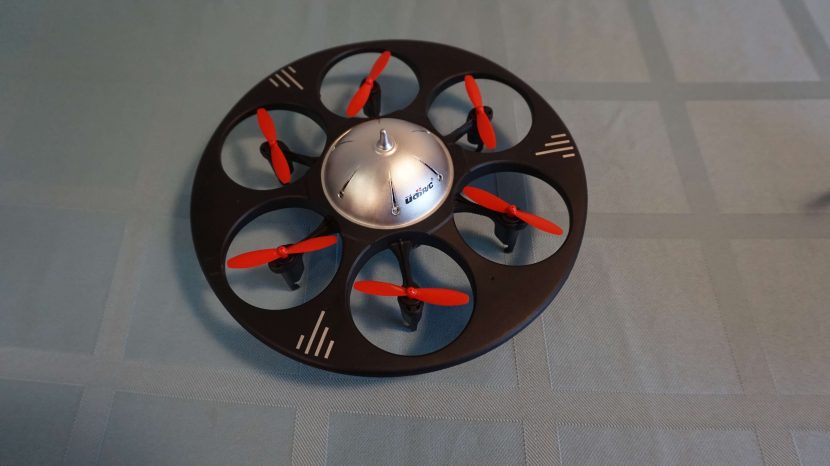 Looks just like you would think an alien spaceship would look like. It is surrounded by six propellers. Each prop is small and comes off without a tool.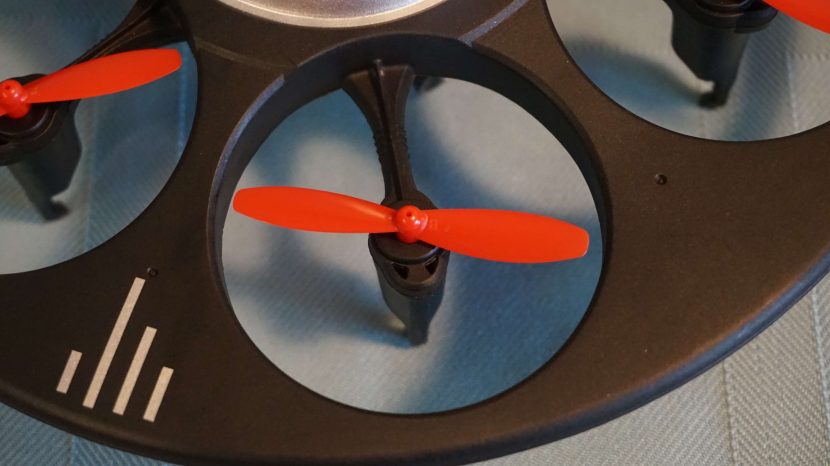 The dome on top is soft plastic and can dent very easy.
.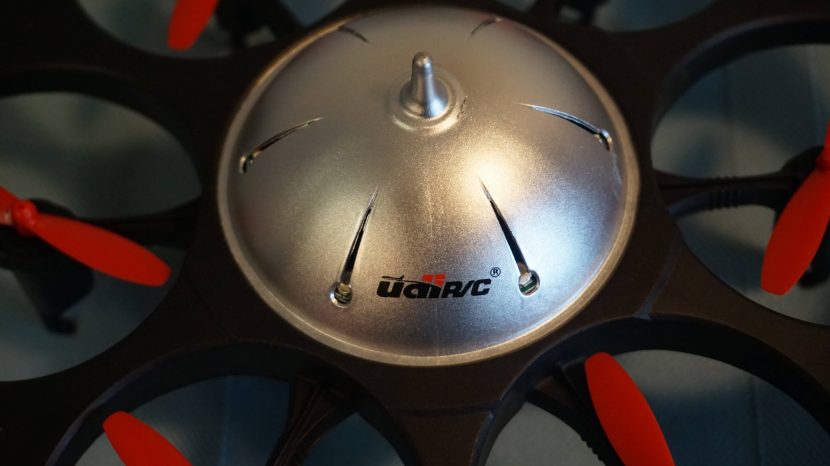 The bottom is where the camera and the legs are. The legs are short so if you take off in the grass you may see your blades trim the grass and I wish they were a bit longer to account for grassy ground.  This is also how you get to the battery on the drone.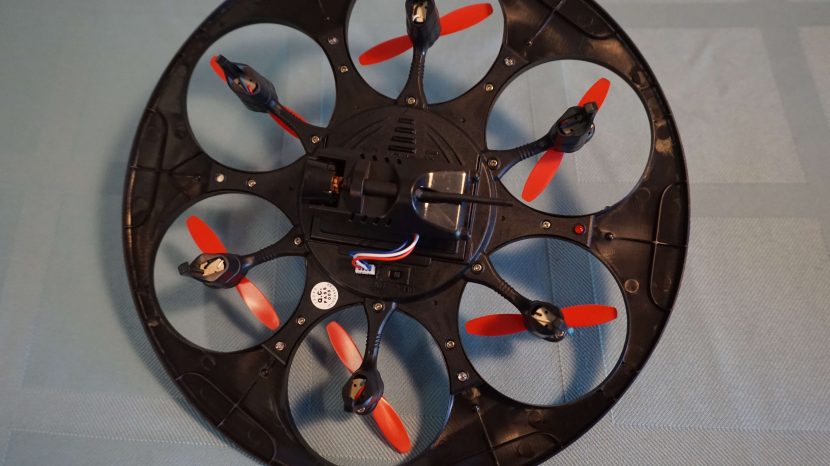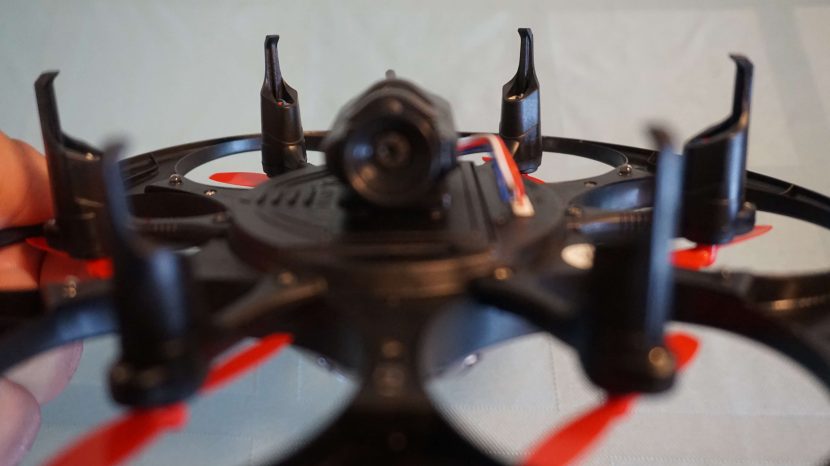 Each motor and prop have its own leg.  The camera is mounted to the battery compartment and comes off with the Allen tool. You can also detach the wires that run the camera but that might leave you without an antenna. The camera takes ok pictures as long as your in the range of the phone. Hence the issue I spoke of before. The range is very short for me. You also have and on and off switch down here as well.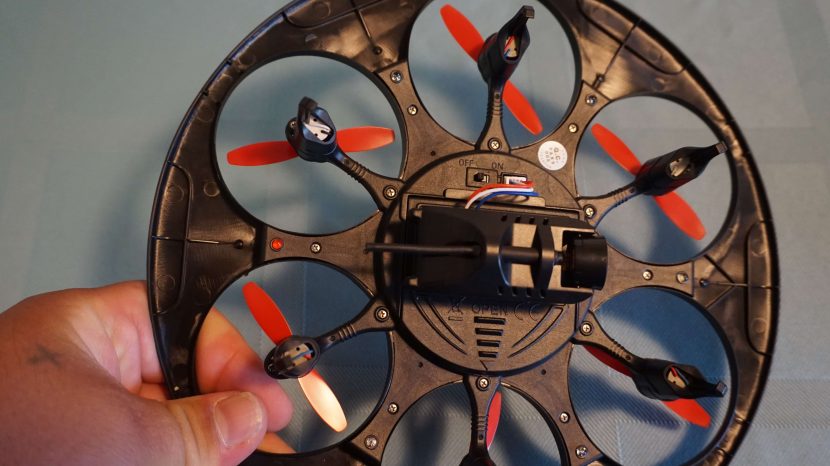 The battery is a very tight fit. Even though it a tight fit if you fall hard it will come open.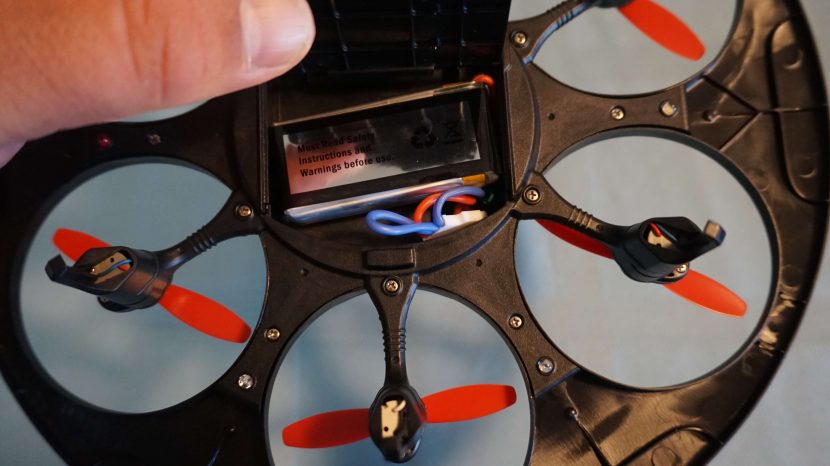 The pack comes with two batteries each one will run for around 9 minutes. This is about average for a drone in this size and battery size. It takes around 120 minutes to charge the battery. Now that can be a drawback but you can get more batteries if you need. They do suggest you let it cool down for 10 minutes between flights to save on parts. (Like who will really listen to that suggestion).
Flying the drone is pretty straight forward. You go can up, down, left ,right  and in circles. Flips are also just as easy. Once in the air you press the right side red button and move the joystick in any direction and it will do the flip in that direction. I did at least get the drone to do that for me. The predator drone also has a button that will speed up or slow down the props. This, in theory, should help keep the drone in the air or fly better for the handler.  From what flight time I did get it was OK at points. Just wished it would stay in the air longer and be able to go farther.
Another pretty good drone has been reviewed by Rotor Copters. You may check that too!
Final Thoughts!
What I take from this drone is it can fall from a good distance and still work. Now that comes down to your definition of working. I had some high hopes with this drone and did not live up to what I was hoping. I left out so much video of it not flying since I kept trying to fly it over and over. Hoping it was an environmental issue.  Or some other radio freq interfering but that wasn't the case.
Now if it flew like it should I would recommend it but since it doesn't work proper I can't recommend it to, anyone. Not saying the company is bad just this drone. The company itself is very great to work with and easy to speak to.
Disclaimer: UDI R/C sent me their U845 
FPV Drone 

to give an honest review of. All opinions are mine and mine alone! For more information visit http://bit.ly/dbdisclose

We are influencers and brand affiliates.  This post contains affiliate links, most which go to Amazon and are Geo-Affiliate links to nearest Amazon store.
Hi everyone I'm James Braga. I was born in Oregon and moved to New Hampshire a few years back. I love most things that have to do with video games and electronics, It doesn't matter if it for a car or a house, if it has electricity in it i will love it . I'm also in school for Information Systems Technology.