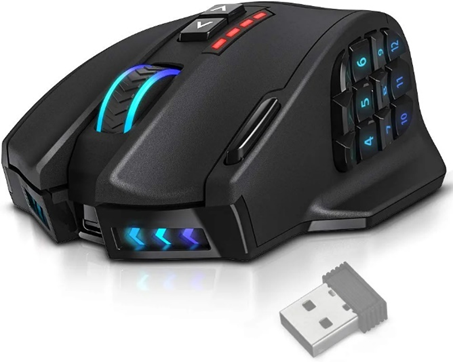 Having trouble competing in competitive games? You may need to replace your old mouse
For gamers, excelling at competitive games can be a difficult task to accomplish, especially since there are many good players in every game, so no matter what games you're playing, you need to have good quality peripherals. Having a good keyboard and mouse is something that not only improves your performance but also improves comfort while playing or performing other tasks. Not only should you have an accurate mouse, but it is also important that it has additional functions, so you can significantly improve your performance in most games.
Gamer mouse with programmable buttons can be a bit confusing to use if you without ever tried one, but professional gamers recommend using these types of mouse, so if you want to be the best, you need to use the best. Unlike the traditional mouse, the mouse with programmable buttons allows you to rely less on the keyboard, which can be useful in competitive games where errors cannot exist. You should also know that the current mouse usually offers to work wirelessly and will usually offer identical performance to a wired mouse.
The UtechSmart Venus Pro is one of Amazon's most popular programmable button mouse. It is used and recommended by thousands of players around the world, so, it is your chance to improve in competitive games. With more than 20,000 ratings, it is undoubtedly one of the peripherals that every gamer should have. Below, discover the most interesting features of this product.
Features of UtechSmart Venus Pro Player Mouse
Mouse with 16 customizable buttons
The UtechSmart Venus Pro is designed so that you can get the best performance in competitive games. It has 16 fully customizable buttons. You can use the "UtechSmart" program to configure and adjust each button. Another feature is that the buttons are designed to fit perfectly with your thumb, so you'll get a quick and accurate response every time you press one of the buttons. Another feature is that it features a 16,000 DPI optical sensor, ensuring that every click is incredibly accurate, which will come in handy in all games (especially competitive games). Best of all, you can adjust the DPI range very easily.
Futuristic design and customizable RGB lights
The design of the UtechSmart Venus Pro is novel unlike most mouse that usually has similar designs, not only does it look great, but it is also much more functional than most gaming mouse. This mouse also features customizable RGB lights, choose from over 16 million colors. It is also designed to improve comfort during long gaming sessions, so it reduces fatigue in your hands and fingers no matter how many hours you use it.
Long-lasting rechargeable battery
As you know, cables can be annoying nowadays, so the UtechSmart Venus Pro can work in two ways. You can use the 2.4GHz wireless mode, which allows you to get a super-fast reaction time, in addition to being able to use the mouse at up to 10 meters. A 1000mAh rechargeable battery is included that will allow you to use the mouse for up to 70 hours. The battery will charge in just 2 hours. You can also use the wired mouse if you forget to charge it at some time.
You can buy this item here on Amazon
My name is Joel! I love to read, I go to university like most people my age.
In my free time I usually train boxing, I love music, I also know how to play the guitar and the harmonica.