We are influencers and brand affiliates.  This post contains affiliate links, most which go to Amazon and are Geo-Affiliate links to nearest Amazon store.
The problem with a standard dumbbell set is generally the amount needed for tailoring your workout exactly like you want it. First you buy a pair you can handle, then you outgrow those, and suddenly there's a small chunk of your home devoted to dumbbells. What if you could have an entire dumbbell set in just one pair? Now you can with LifePros Powerflow Plus Dumbbells! These are quite the piece of tech, compacting five different weights of dumbbell into one single, affordable pair. They're compact, and quite the useful workout tool that's great for beginners! So without further ado, lets talk about the product!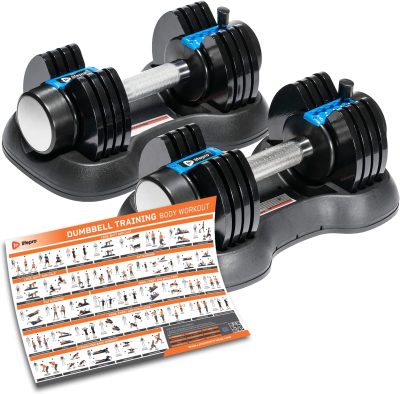 Features
These dumbbells use a clever adjustable plate design to squeeze a whole dumbbell set into just a pair! They range from five, to twenty five pounds in five pound increments so you can tailor your workout to fit you. Get a challenging set in that isn't overwhelming, or simply crush your daily reps with absolute ease. On the topic of design, the sleek steel handle looks just as good as it feels offering you a strong, lasting grip that's nice and comfortable. Home weight lifting isn't just for strength trainers either, it has a variety of benefits!
Not only do you get the basic benefits of shaping and toning your muscles with a daily dumbbell workout, but you can increase your joint strength, bone density, and reduce your overall risk of injury! You improve your athletic performance, and even de-stress a bit! The design is really something, with the adjustable plates barely taking up any space at all given they're built in to the stand! It's a fantastically designed product and they've really squeezed every ounce of design into this lovely piece of workout gear. It's quite a marvel for such a simple piece of workout equipment.
As always, LifePros equipment is backed by both a lifetime warranty, and lifetime technical support. You just don't see that with many companies nowadays, and a smart consumer will appreciate a company that does everything in its power to ensure that you're happy. LifePro keeps you out of the dirt, and ensures your products are always up to the par of quality they expect from themselves because with LifePro, you're not just a number. You're a member of the LifePro family. They know their customers just like they know their extensive line of fitness and health products.
Summary
Dumbbells can be a hassle. A full rack takes up sizable wall space, not to mention when you're ready to move your room around you now have multiple weights that may need to be moved to succeed in that. With LifePros dumbbells you can stick all that in the past. No more toting your dumbbells, no more shoving your rack down the hall, none of that. LifePro really puts every ounce of tech savvy into product development they possibly can, and frankly I stand by each of their products. They back everything with the promise of a lifetime warranty which is certainly quite the commitment, not to mention tech support to boot. That's a commitment to customer satisfaction that you can trust.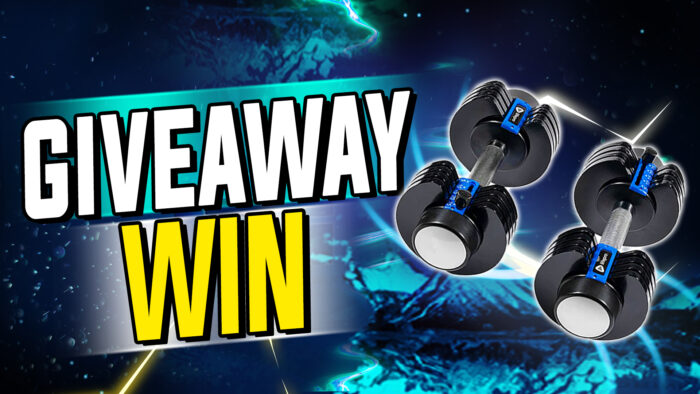 Enter to Win
Enter to win the LifePro Adjustable Dumbbell Set Pair

We are influencers and brand affiliates.  This post contains affiliate links, most which go to Amazon and are Geo-Affiliate links to nearest Amazon store.
I am just a 25 year old doofus who enjoys rpgs, sugar rushes, and passing out at odd hours.