Finding a solid robot vacuum is an absolute crapshoot without the knowledge you need to really analyze the model you're looking at. Between cheap designs, poorly implemented app integration, and a plethora of other issues, trying to simplify your life can be a serious hassle with possible money lost, leaving you with a cheap vacuum that you'll likely only be able to resell for a quarter of your initial investment. A robot vacuum is a fantastic tool that can free up immense amounts of your time over time by simply ensuring you don't have to take from a few minutes to a few hours to sweep your home.
Thankfully companies like Uoni exist that produce quality products that are absolutely packed with value at a reasonable cost. This one is especially given the coupon currently running on it for eighty dollars off! Stick around and keep reading because I wanna tell you exactly why you should buy Uoni's V980Plus Robot Vacuum cleaner, and how much it'll change your cleaning routine and your life in general but check out the Uoni's storefront on Amazon to learn more about the brand as well. Without further ado, let's get started.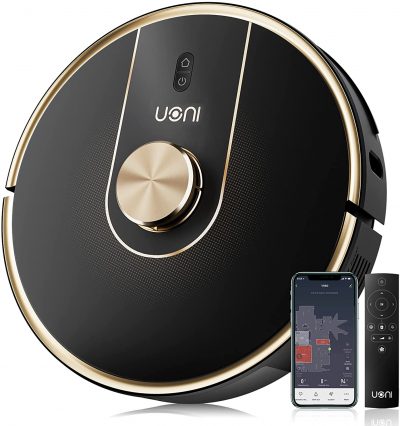 Features
The V980Plus utilizes Smart LIDAR Navigation technology which helps the robot vacuum while navigating the corridors and tight spaces of your home. It recognizes where objects are around it, avoiding them. It even goes around chair and table legs instead of bumping into them and rerouting! LIDAR also lets you designate cleaning areas on an app, which limits your robots work for a faster cleaning session. The technology the AI uses also helps to keep your unit charged, so no more running around like a chicken with your head cut off trying to find the charging base!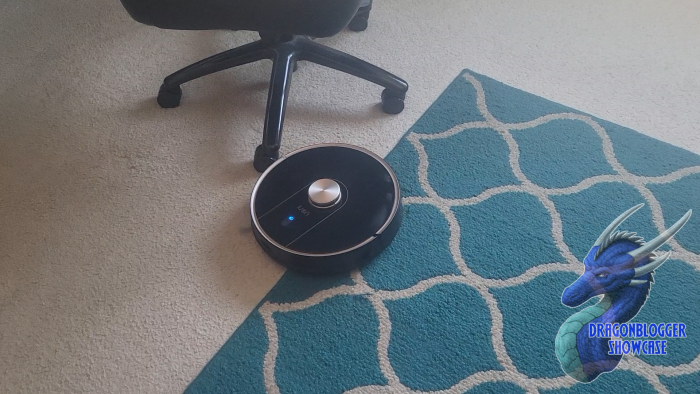 The V980 has a fantastic 2700pa suction motor which provides plenty of power while still cleaning effectively. It even has three different choices of suction for cleaning the lightest crumbs, to much heavier messes. The lowest suction is extremely quiet, so it won't scare your pets, and the strongest is louder but extremely effective on carpets. The V980 robotic vacuum utilizes two side brushes which gives you a deep clean. It easily picks up dirt, pet hair, and even fine invisible dust hidden deep down in carpets and rugs. This makes it ideal for homes with cats, dogs, or any other animal that sheds heavily! Amazing!
Uoni's V980Plus model has four control modes. You can manually shut the unit off by simply pressing the power button, or in a far easier and fantastic touch on Uoni's part, connect your vacuum to Amazon's very own Alexa smart app, and issue commands to it via any nearby amazon device using your voice! It also supports the google assistant, and the Uoni robot vacuum app is extremely simple to use for anyone, from young children to senior citizens. You can use the app to edit your floor map, adding virtual walls and no-go zones, breaking up the floor plan into different rooms, and even changing the suction level for each room. You also get a remote control with your purchase for those who would rather avoid the more technical aspects of using the app!
Uoni has really jumped the shark in terms of robotic vacuum battery life. Utilizing a 5200mah high capacity battery provides the V980Plus up to three hours of constant cleaning, allowing it to easily clean your entire home without any constant recharging. It also automatically returns to the charging point, and will resume cleaning from where it stopped should it happen to die mid cleaning.
On to the biggest treat Uoni has in store for us. The V980Plus isn't just a vacuum cleaner. Fill the water tank, slap on a mopping pad, and it sweeps AND mops directly behind it. Two jobs are done at the same exact time! Uoni really makes a damned fine time-saver that's engineered to make your life easier. A note from them though, remove the water tank when no mopping is needed. Failure to do so may damage your vacuum!
Quick Video Showcase of Uoni V980Plus on Vacuum Mode
Final Thoughts
In a time when life is already hard enough given current events, simplifying even small aspects of your life via technology can be an absolute necessity. Uoni really puts an absolute tack in it however with this product, and right now? It's extremely cheap due to their current promotion. That brings the V980Plus from the time of this article from $269.99 USD to a staggering $189.99 even! That's an absolutely generous move on their part and it's quite insane to find any robot vacuum below 200$, let alone one that sweeps and mops. I hope you'll give Uoni a chance, you certainly won't regret it, of that I can assure you. Thank you for reading, and have a fantastic rest of your day.
Visit Uoni's Amazon Storefront to purchase your V980Plus here!
I am just a 25 year old doofus who enjoys rpgs, sugar rushes, and passing out at odd hours.