As you know we are gearing up for our Kindle Fire giveaway contest which will launch on Cyber Monday next week.  In preparation for this contest we are not only giving away Kindle Fire's to readers but also worked with uRexsoft which makes the uRex DVD Ripper Platinum software.
uRex DVD Ripper Platinum allows you to rip your DVD's and convert them to almost any media format including a format that is supported by the Kindle Fire.  With this software you can rip any DVD in your house and then transfer the video file so you can watch the movie on your Kindle Fire.
It is so easy to use too!
Just install the software, load it up and stick a movie in your computer DVD drive.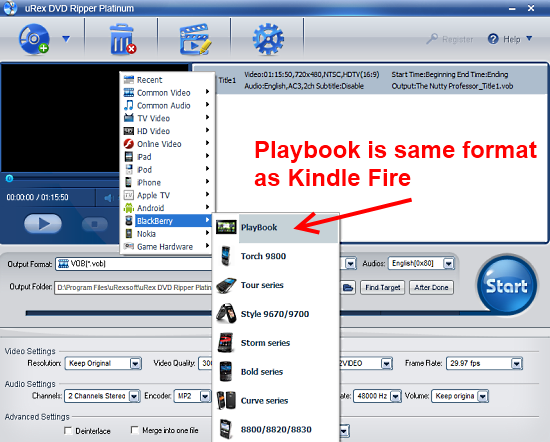 When you see the DVD movie load, just select "Output Format" and select the Blackberry –> Playbook as the output format.  The Kindle Fire uses the exact same media format as the Blackberry Playbook so even though the specific option for Kindle Fire doesn't exist in the software yet I tested the Blackberry Playbook format which is a 1024×600 MP4 and plays just fine on the Kindle Fire.
After your output file is created, just connect your Kindle Fire to your PC via a Micro USB cable.  Open it up like an external drive and then drop your new movie .mp4 file into your "video folder".
Note:  On the Kindle Fire when you copy movies manually they don't show up in the video section on the Kindle Fire, you instead have to go to the Gallery App to watch manually copied movies to the Kindle Fire.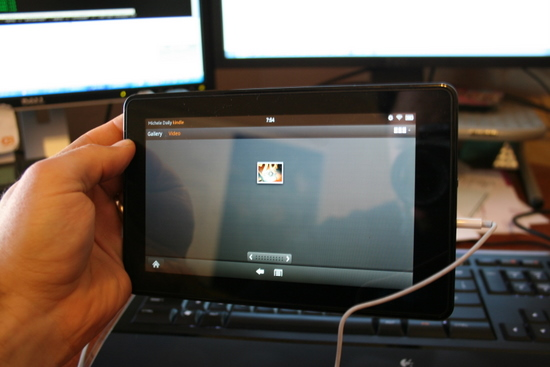 Once you select your copied MP4 movie in the Kindle Fire Gallery you can simply start to play it.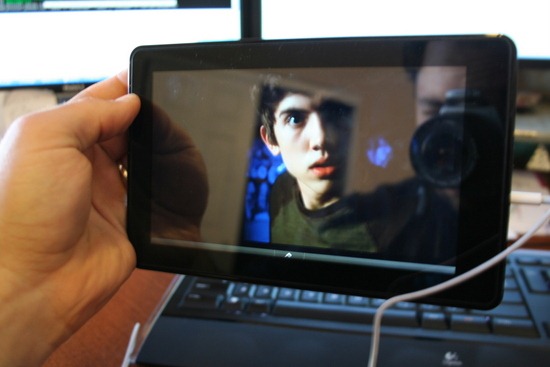 The Kindle Fire has a 16:9 screen so movies look vibrant and great on the Kindle Fire.  You will want headphones however, I found the built in speakers on the Kindle Fire to be a little underpowered for watching movies and listening to.
We are giving away 8 copies of the uREX DVD Ripper Software, all you have to do is LIKE DragonBlogger on Facebook and leave a comment with your Facebook ID.  If you already are a fan of DragonBloggerTech on Facebook then you are still eligible just leave a comment with your Facebook ID.
I am giving away 8 copies to the first 8 people who comment and want one.  Note, you can use the uRex DVD Ripper Platinum to rip media to your iPad, iPod, Galaxy Tab, iPhone, Blackberry Playbook or any other tablet or portable devices so you will want this software even if you don't have a Kindle Fire yet!
Who wants a free copy of the uRex DVD Ripper Platinum?
8 COPIES Remain… and I will update this amount in real time.