The UtechSmart Saturn Gaming keyboard is a great option if you want near mechanical performance from a keyboard that has 7 backlit color options plus you can make them cycle through the colors pulsing at various speeds.  This keyboard really has nice solid keys and can keep up with you while gaming for hours.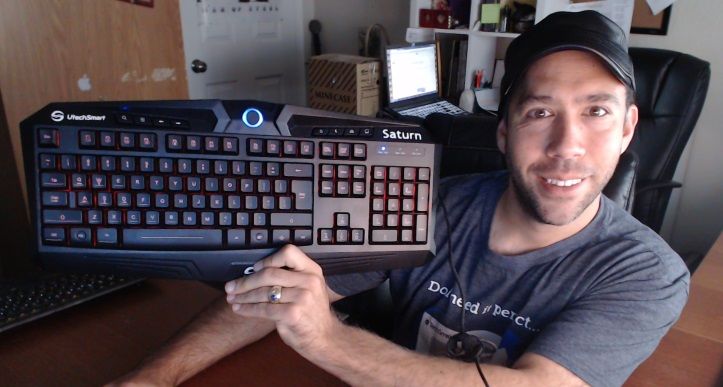 I have been using this keyboard as my only keyboard for the past several days so I can do a thorough review and am getting more and more used to it and enjoying the solid responsive keys.  They stick up quite a bit more than previous keyboard and the UtechSmart Saturn advertises 18 non-conflict keys, though I can tell you with all my extensive typing tests and FPS and MMO gaming, I haven't found any conflicts and each keystroke feels independent with little chance of pressing two keys at the same time.
Enter for Your Chance to Win the UtechSmart Saturn Gaming Keyboard
Remember due to the new Facebook rules, "liking" our brands isn't giving you an entry, clicking on their fanpage to visit is, but if you want us to keep getting more stuff to giveaway, please take the time to like our brand partners and our fanpage.
UtechSmart Saturn Gaming Keyboard

And you can check out our unboxing video and brief showcase of the UTechSmart Saturn Gaming Keyboard.