So I was sent the UtechSmart Uranus Metal Base MMO Gaming Mouse to review a few weeks back and I used it exclusively for two weeks like I do with all my mice reviews.  I can tell you that the UtechSmart MMO Gaming mouse was a pleasure to use and review and has become one of my permanent mice displacing several others that held the spot formerly and this is in no small part due to the nice solid and heavy feel of the mouse.  The metal base and especially with the added weights make it one of the most solid and heavy mice I have ever used and I really notice how much I like a heavy mouse compared to a very light mouse when using it.
Here is my unboxing and quick showcase of the UtechSmart Uranus

As mentioned in the video, there are a total of 13 buttons, 5 thumb buttons, one right near the index finger that is small to the left of the big index mouse button, the middle finger has your big right mouse button and there are 4 buttons in center below the scroll wheel.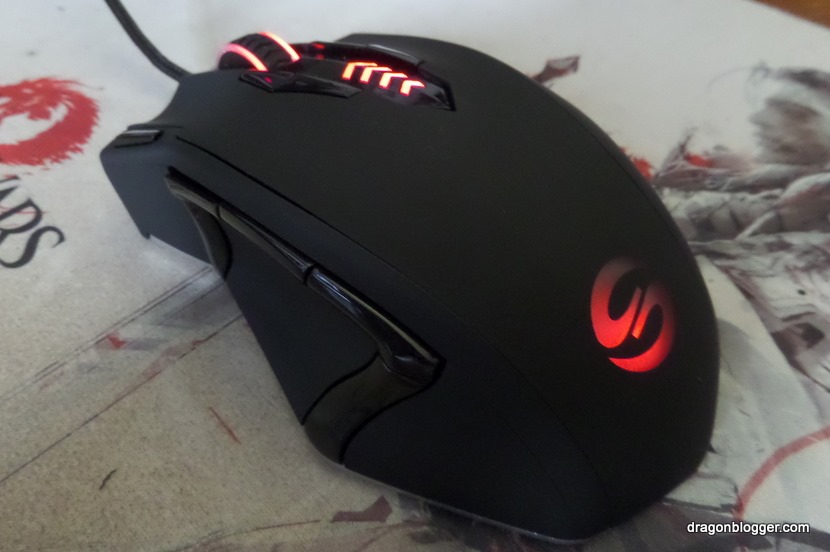 The little marks below the scroll wheel indicate what DPI mode setting the mouse is on, and there is a button on the bottom of the mouse that lets you change user profiles but also is the only button that will change the scroll wheel color.  Now, you can use the UtechSmart software to change the color of the UtechSmart Logo to be whatever you wish.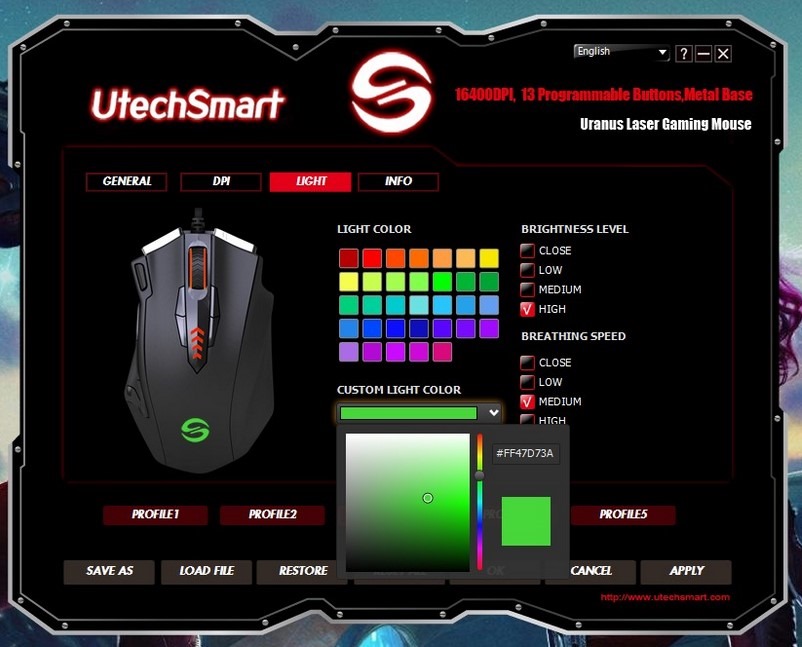 But the scroll wheel color is locked at one of the profile default color settings, which can be green, purple, yellow, red or blue.  With the software you can also set the brightness level and breathing speed of the Utechsmart logo so that your mouse cycles color brightness constantly as if it were a heart beating (or breathing).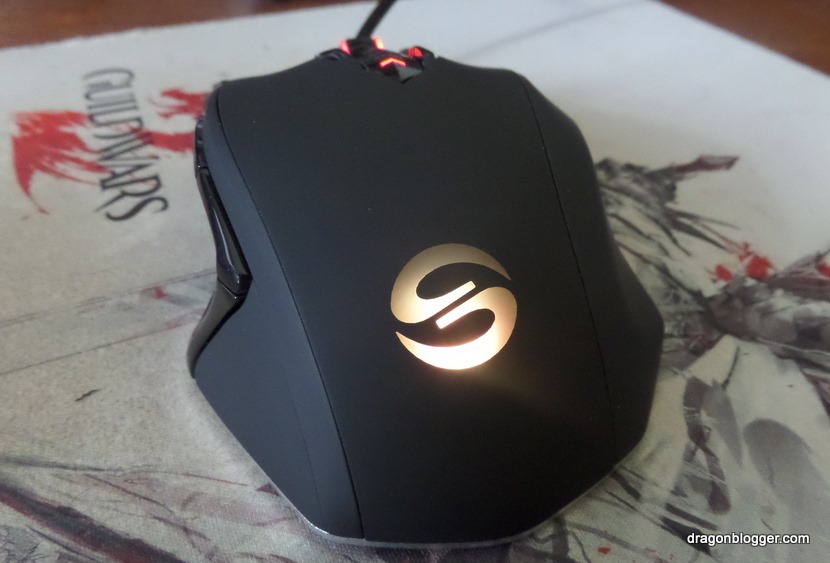 As mentioned what makes the mouse stand apart is the metal base, and it has an excellent tracking sensor, the mouse with it's weight and high DPI settings can help you draw the straightest of lines via freehand, or allow for very accurate horizontal scrolls without any vertical tilt if you have steady and accurate moving hands.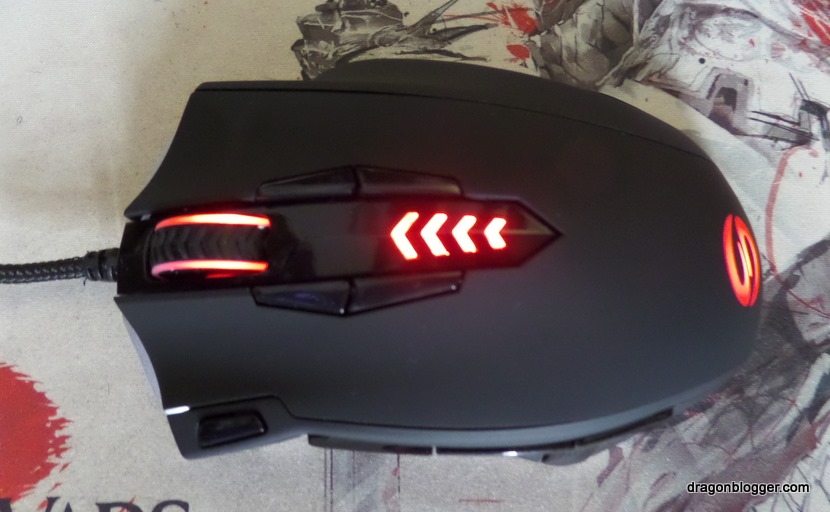 All of the 13 buttons are fully customizable but you will likely find yourself using the 5 thumb buttons most frequently as they are the easiest to use in the heat of fast paced FPS or MMO gaming, and I quickly assigned my hard to reach 7,8,9,0 keys to my thumb buttons for Guild Wars 2.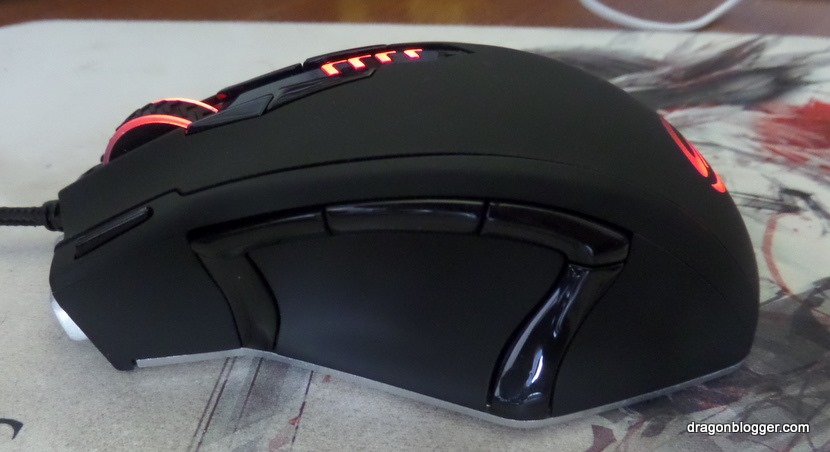 You have a ton of choices with the Utechsmart Mouse software when it comes to assigning keys, you can assign a click, a single key, a combo key like ALT+KEY, or even use a pre-defined media or macro key.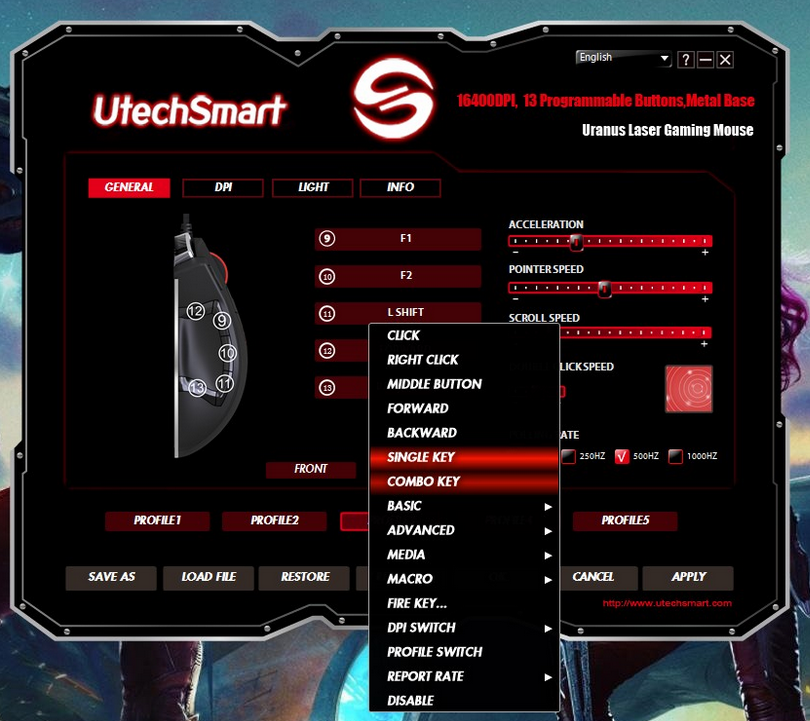 You can even assign detailed macro's in one of the programmable Macro settings, this means you can set a repeated trigger and even specify wait time before each action in the macro.  This can be used for a variety of purposes, but primary used to do repeatable actions like a combo of attacks that chain multiple buttons together.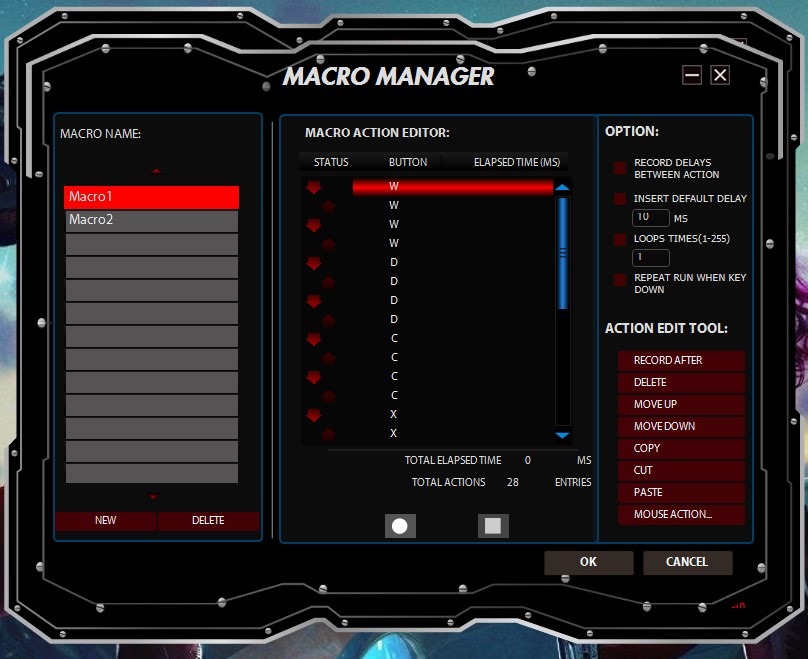 Not only is the mouse impressive the software is also extremely easy to use and works very well, this makes taking advantage of all those buttons that much easier, and you can create separate profiles for different games, like if you have a custom button profile for World of Warcraft and another one for Team Fortress 2 for example.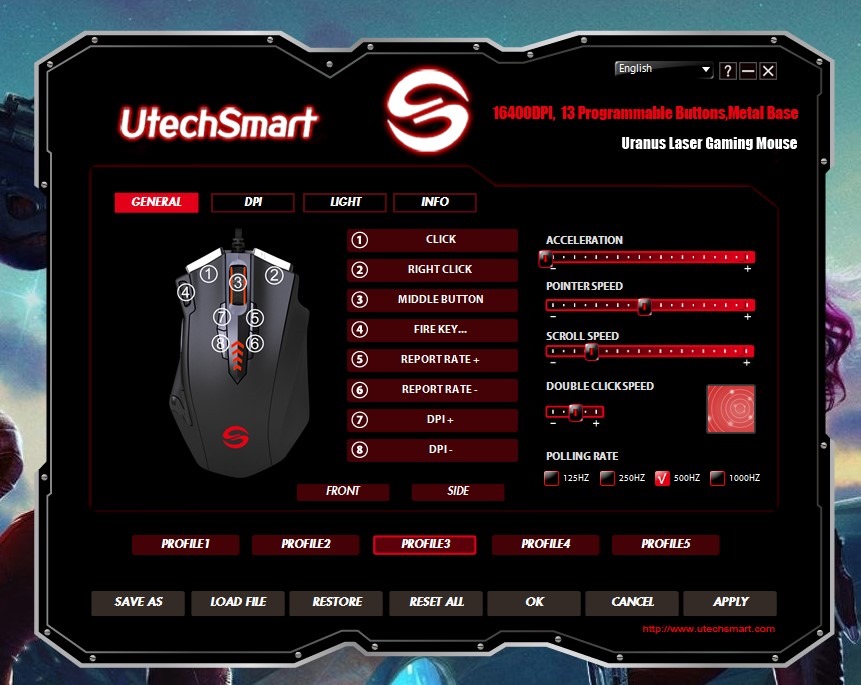 You can fine tune the DPI and acceleration and scroll speed of everything, as well as fine tune the poll rate on how quickly your mouse polls for movements, 1000Hz and your mouse is tracking to perfection.
The mouse goes up to 16400 DPI which is incredible for precision and again would be just as useful if you were doing hand drawn animations in Photoshop or GIMP as in any First Person Shooter games which are the only to real applications I can see for such a high DPI.  The mouse has 30G acceleration, 100-150in/s cursor speed and 18 months of warranty and for $32.99 on Amazon right now is one of the absolute best gaming mice I can think of for the price.
The only thing I noticed is some wonky software behavior when pressing the user profile setting button at the bottom of the mouse and it switched profiles where there were no button definitions and I couldn't' click anything, having to terminate the UtechSmart software and unplug replug the mouse for it to see the clicking buttons again, but I wasn't able to reproduce this behavior in subsequent tests and I think it may be a software glitch as never saw it happen on a 2nd machine using the mouse.
I have been obsessed with computers, tech, gadgets and games since the early 1980's having grown up on the Commodore 64 and Amiga computers.
By day I work in the IT Security Industry and have been in IT for over 20 years. On my spare time I am a Vlogger, Blogger, Streamer, Gadget Reviewer, affiliate marketer, influencer and entertainer. I am also an avid movie fan, TV Show fan, Anime fan, video game fan and fan of trying anything and everything new.