We are influencers and brand affiliates.  This post contains affiliate links, most which go to Amazon and are Geo-Affiliate links to nearest Amazon store.
UtechSmart has of recently released the Venus Gaming Mouse.  This mouse makes no claim but as of right now seems to be one of the highest DPI mouse I have had the pleasure of working with.  Not only the highest DPI but one of the highest button count of any mouse I have ever seen.
Check out some of the features this mouse offers
Features
ADNS-9800A High precision sensor by Avago additionally offers unmatched responsiveness and stability (Watch how I find out In my disassembly video)
125 -1000Hz polling rate allowing for smoother and more accurate movements
Adjustable DPI buttons from 1000 to 16400
19 fully customizable buttons
Anti-Skid rubberized coating
6ft braided fiber wire
Gold-plated USB plug
16 Million LED lights color options to select from, with adjustable shading
Adjustable breathing speeds and brightness levels of lighting
Adjustable Acceleration, Pointer Speed, Scroll Speeds, Double Click Speeds
5 profiles to load and save lighting, DPI, Polling, etc…
Adjustable weights, 8 weights, each at 2.4grams totaling at 19.2grams.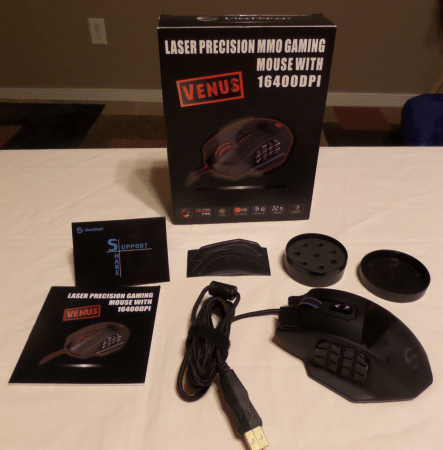 Check out the Unboxing of the UtechSmart Venus 16400 DPI MMO Gaming Mouse
This mouse is powered by the Avago ADNS-9800A sensor offering a frame rate of up to 12,000fps.  This amazingly high DPI laser sensor works together with the adjustable 1000Hz poling rate to achieve higher levels of control.  The highest DPI I have used has been 9250, where I felt like I was still in control.
Out of the box and plugging this device in, I immediately was met with what felt like the full 16400DPI.  Possibly an onboard profile, housed within one of the 5 built in profiles.  At this DPI I found just navigating around the OS very difficult so I had to move my hand very slowly, didn't think to press one of the buttons to lower the DPI, my fault.  Finally I was able to install the software and lower the resolution to something manageable, to start was 8200DPI.
The software was decent and very easy to navigate, at no time did I need to touch the manual, but it was there just in case.
On the main page, you can change all of the mouse buttons (Front and Side), Acceleration, Pointer Speed, Scroll Speed, Double Click Speed, Polling Rate and accessing your profiles.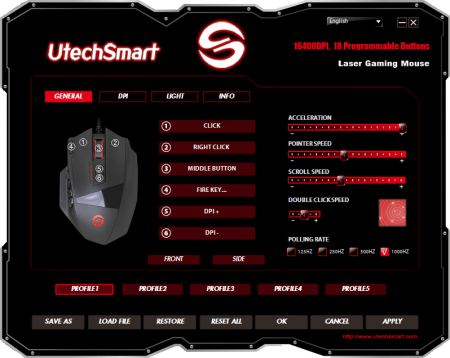 This page allows you to adjust your DPI and save them per profiles, for a maximum of 5 DPI profile settings.  These settings are not static settings, you can actually lower and raise the slider bars to get the exact DPI level you prefer, a nice setting.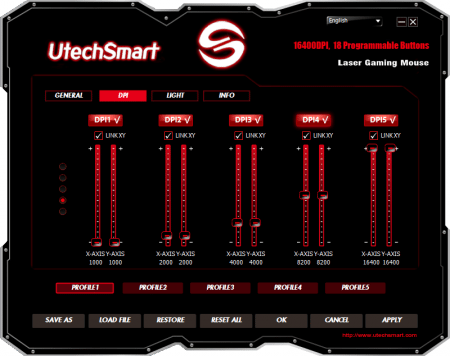 The final page shows how you can have full control of the lights.  Recording the unboxing I was unsure if there was different color mice and lights or if this one mouse housed all of the lights, and yeah, this little guy has them all.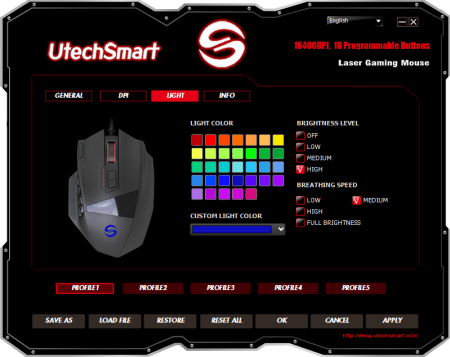 The last button shows you the mouse software information; I won't bore you with that.  Check out the video below to see how these lights work
Check out the pictures below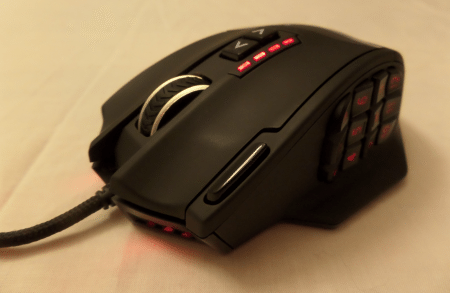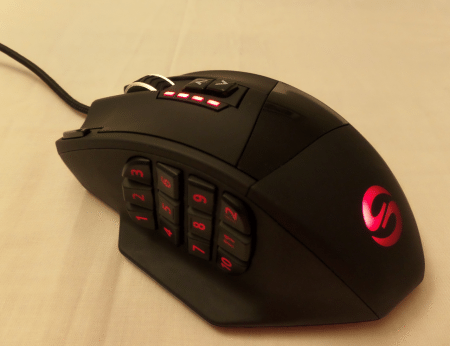 On this picture you can see how strong the full brightness is, reflecting off of the white tablecloth with the lights on. I chose red as that is typically the most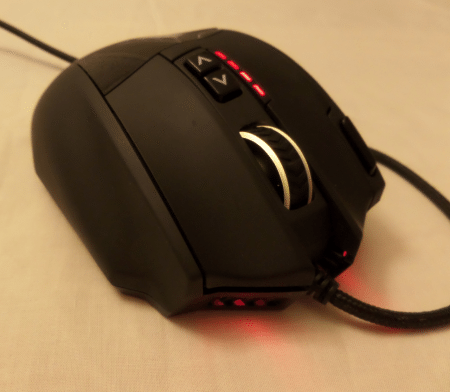 This picture below shows you the "Settings switch"  button, to manually change between profiles.  This picture also shows how the mouse looked like after I opened it up for the video you will see below.   The feet did not go back on as well as I had preferred them but it did work after I put it back together.  Why did I open it up you ask, check it out below this picture.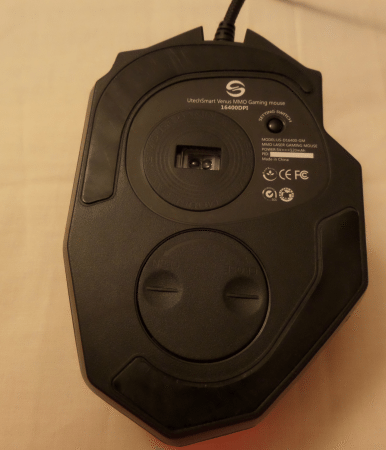 When I initially unboxed this mouse I did not know what sensor it had, all I knew was that it had an Avago sensor.  I wanted to give a more defined review; here is how I found out what sensor it had.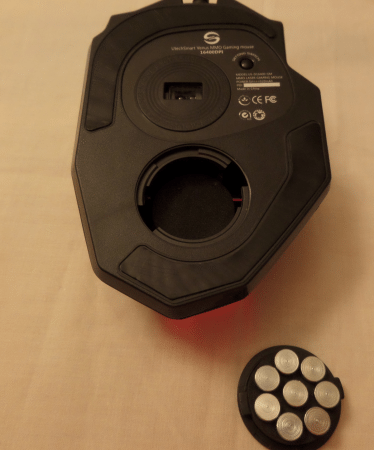 Locked and loaded and ready to go.  Here are the weights, each weight is 2.4grams, and there are 8 of them totaling 19.2grams.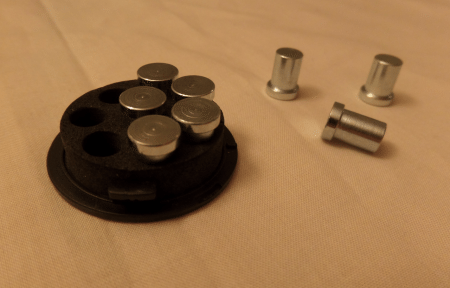 I did play my usual game to test my accuracy and while it did feel good, I couldn't get used to the side buttons.  I tried to assign them to different guns but I found it difficult to select those.  Button 1-9 on the side were relatively easy to get to, 10-12 made me stretch my thumb too much.  Those of you that use these sorts of mice may find it more comfortable, especially in how the side buttons are laid out.
As you can see from the picture below, the buttons are not laid out like most mice, these are set it a triangular fashion as to make it a little easier to hit.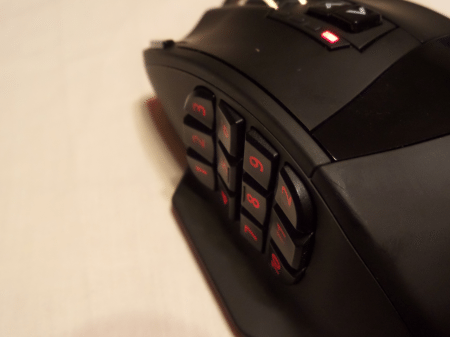 The mouse also did not lay perfectly in my hand as I would have wanted but you can get used to it.  If it were a little longer, it would have been better.
This mouse was very good for its price, and was a cleverly thought out mouse.  At its price it has a bunch to offer with its customizable lights that also breathe, anti-skid rubberized coating, tremendous DPI range and customization level, well thought out software package, sheathed cable and bullet like weights.  I may not recommend this mouse to everyone, but for those that require an MMO mouse with tons of buttons and nice lights, this is for you.
If it wasn't for its price, I would have given it a 3.5, but the price brings it up to a 4.0.
We are influencers and brand affiliates.  This post contains affiliate links, most which go to Amazon and are Geo-Affiliate links to nearest Amazon store.
I have spent many years in the PC boutique name space as Product Development Engineer for Alienware and later Dell through Alienware's acquisition and finally Velocity Micro. During these years I spent my time developing new configurations, products and technologies with companies such as AMD, Asus, Intel, Microsoft, NVIDIA and more. The Arts, Gaming, New & Old technologies drive my interests and passion. Now as my day job, I am an IT Manager but doing reviews on my time and my dime.