If you have seen any of the previews for season 4 of The Vampire Diaries, then you know that Elena is refusing to become a vampire after dying in the season 3 finale and everyone finding out she had been given vampire blood to heal her.  While fans may be upset that it looks like she might die, have no fear, if she did the show would be over and we wouldn't have a season 3.  Or will she become a vampire?
http://youtu.be/TAjaD5c7DxA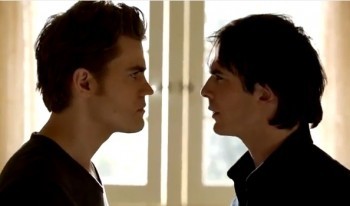 Well, it looks to be the most interesting season with all the changes the end of last season brought.  The town must come to terms with the fact that vampires do exist, the council knew this all this time, and some people have been helping hide this fact from the other members.  Damon and Stefan must also help Elena transition to this life she never wanted (she specifically told Stefan that at one point), which is sure to put even more strife in their tenuous relationship.  And Bonnie is going to use her magic to try and prevent Elena from actually turning into a vampire.  Is it possible though?
This change in Elena might even cause some issues if Katherine returns again, but then again maybe not since Elena has never been cold like Katherine is.  However, as a vampire, who knows what changes will come about.  One thing is sure though, Elena will become tougher now that she is basically invulnerable.  This is according to Nina Dobrev herself in an interview she gave the show.
"This season is really intense, for me especially because I am a vampire," says Nina. "I'm getting to kick some more ass. Elena is becoming a tough cookie. Before she used to talk about being independent, and now she has a chance to be."
While Elena has been maturing over the last three episodes, she may have to really grow up now with Jeremy her sole responsibility, a house to keep over their heads, graduation looming in the future, and a new villain who is determined to destroy Mystic Falls.  How soon will we see this villain, I have not heard anything just yet.  It may be a few episodes in so that viewers have time to adjust to Elena's transformation (or lack thereof if Bonnie is successful) or it could be during this extremely stressful time.
Whatever happens this season, there will be those who are elated and those who are disappointed with what happens to Elena and the gang.  Stay tuned to see if the town, and the friends, can survive this new threat and the change which comes with growing up.