Some products make grand claims and some deliver. The Vinsic 20,000 mAh Power Bank delivers.
I have used several other power banks that were more quick change than banks. Many claim they have the ability to quickly charge you cell or tablet yet fail to say that they only provide some power. Some power is like having only half a joystick. I want power and I want it all.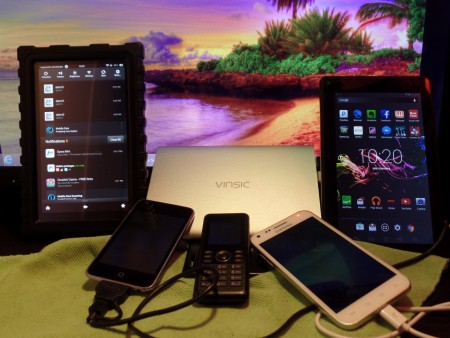 This is the first power bank I have tried that fully powers my Kindle Fire, My daughters RCA tablet, my Samsung Galaxy S2, my IPod Touch, and my wife's small cell and still has juice left over to get a start on something else portable.
I am not saying it has unlimited charging power, but it does have more than all the others I have used, and I love it. It does have a few draw backs, one being its size. It is a beast at nearly the same size as my Kindle fire, and it is a little heavy but I can live with that so long as it is dependable.
There are a lot of choices out there. You can 3 or 4 of the cheaper chargers and carry them around the next time you want to charge up one device or you can carry just one and charge everything and then some.
I like that there is a display letting me know just how much charge is left on the Power Bank. That is very useful and no guessing how many bars is really how much charge you have left. I also like the fact that it has the two charging ports on it to allow me to change either a phone or a tablet. I cannot say that I have found a way to test overcharge or undercharge so I have to take the word of those more knowledgeable than I that it works, and that it is good for me. I can say that I have not had any difficulties in the several weeks since I got this device, and many a night I have gone to bed with my Kindle attached and left to charge all night long.
Even though the Vinsic Power Bank is big, and a little on the heavy side, I have found that it fits nicely into the bag I carry the rest of my portable electronics in. I do not have a problem with it mostly because I know it will deliver as promised each and every time I desire to use it. I believe that you too will feel the same way and highly encourage you to get one today.