We are influencers and brand affiliates.  This post contains affiliate links, most which go to Amazon and are Geo-Affiliate links to nearest Amazon store.
Our friends over at Western Digital sent me the My Cloud EX4100 personal NAS to test and review. I had been dying to get one for myself and try out because this personal cloud can be used by many people from the stay at home mom that want to save pictures to the professional graphics designer that want to save all his work and have access to his work from any where he is at anytime.
Now the version I got to test was the EX4100 NAS 8TB set up. This is a 4 bay NAS which comes with two 4 TB Western Digital red drives. Now they do come in 8,16,24 Tb set ups and they do have a few other types of NAS storage solutions from the My Cloud EX2 (Which we are giving away), My Cloud EX4, and the My Cloud EX2100. These are all expert series NAS solutions. Before I go too far in this review I want to show you a few pictures of how it shows up and the packaging.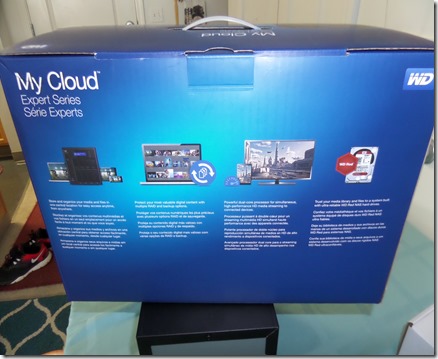 As you can see the box has most of the info on the My Cloud EX4100 NAS that would help any buyer pick out if this is the one they want. From the uses to software included. These NAS set up are compatible with PC, Mac, iOS, and Android. The EX4100 has a 1.6GHz Dual core processer with 2GB of DDR3 memory.  Now the processor is a Marvell ARMADA 388 dual core. This gives you the power to  download and upload your content at 116 Mb/sec.
Now upon opening the EX4100 you can see it is packed with the NAS EX4100 drive, Ethernet cord, Two WD 4TB drives, and the power cord. As seen in these next few pictures. Now the two drives are pre-installed for you. These drive can be configured using multiple Raid options including Raid 0,1,5,10 JBOD spanning modes.
YOU CAN CHECK OUT MY VIDEO UNBOXING HERE!
As you see in the pictures above and the video the case has a small foot print. This mean the EX4100 can be placed just about any where. Now it will need to be placed within reach of the router/modem and make sure it gets the best signal possible. I placed mine right next to my TV and modem. As you can see in this next picture.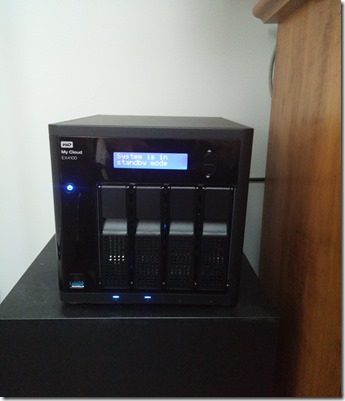 The EX4100 and it brothers EX2, EX4, and EX2100 come with pre installed software. This make hooking up the EX4100  and it brothers as easy as eating pie. You connect the Ethernet cord to your modem then go to the back of the EX4100 and plug it into the Ethernet plug hole 1. Then you take the power cord and plug it into the power port 1. Then you can go to their web site log in for the device which is on the quick installation guide and install the software which I will show you a few screen shots of that now.
As you can see just walk threw the on screen instructions and you will be done within a few minutes time. From there you can see how the software looks.  Now  there is a on screen app for mobile phones and your pc screen called WD My Cloud . This give you access to your files, videos , and music. Now if you on the login site threw the web browser for the EX4100 you can see how much drive space you have or set up other users to have access to the your my cloud device. Now on first start up it will update the firmware to the most current version.
Now what I plan on using the EX4100 for is storing all my media on like movies,family photos and my review work. This will give me access to it any where at anytime from my phone, tablet, laptop or any other device I have near me. This makes for a nice clean house (Digitally) since there will be less file clutter on my main PC. This is a great thing for anyone who get tired of seeing mass files on there PC or running out of storage on PC and most of those files can be served off of a NAS drive.
I did download all my video files which went faster then I thought would as it was over 80 movies in less then a hour. The EX4100 My Cloud was way faster and easier to upload and download from but this is just my first impressions I will be writing up another article later on about the use and my thoughts of the device in a few weeks after I had a lot more time with it.
Now there are many people that can use this device from photographers, videographers, graphic designers and other creative professionals. You can store your RAW images and 4K video footage which make for a nice clean PC since all there are stored on your My Cloud device.
For the person who want to use the My Cloud EX4100 as a streaming library. The EX4100  can stream to your smart TVs, gaming consoles, phones, tablets, PC's… you get the point. The My Cloud EX4100 is a DLNA-certified media server and iTunes server. Which makes for simple streaming of large movie and music libraries. The EX4100 also has energy saving features including drive sleep mode. You can also schedule power shut down and turn on times to save energy. The My Cloud EX4100 comes with third party apps which give you more options of customizing your NAS to you liking as well.
I hope you enjoyed the first glimpse of the EX4100. If you have any questions about this device please feel free to ask I will try and answers them as I can. Please keep your eyes out for are next write up on the Western Digital cloud storage EX4100.
We also have a great giveaway going on for the WD MyCloud EX2 4TB as well,  you can enter the giveaway for your chance to win a 4TB My Cloud EX2.
WD MyCloud EX2 Giveaway

We are influencers and brand affiliates.  This post contains affiliate links, most which go to Amazon and are Geo-Affiliate links to nearest Amazon store.
Hi everyone I'm James Braga. I was born in Oregon and moved to New Hampshire a few years back. I love most things that have to do with video games and electronics, It doesn't matter if it for a car or a house, if it has electricity in it i will love it . I'm also in school for Information Systems Technology.