We are influencers and brand affiliates.  This post contains affiliate links, most which go to Amazon and are Geo-Affiliate links to nearest Amazon store.
We all want out computers to be the best PC they can be, be it for Gaming, Computer Aided Design, Basic Internet Browsing, Video and Music production and just about everything.  For everything I just mention, we need speed, yes even basic internet browsing needs some speed but some of those tasks require much more, but where do we begin?  Well, the processor is one thing, but as applications become better optimized, they are a little less reliant on processors and now more reliant on memory, video processing and even storage.
The hard drive is many times forgotten, only thought of when we just need more space right… wrong.  With that space, we need to be able to access that information a lot quicker and not only access it, but load it too and save to it quickly.  Back in the day of the regular hard drive, with spinning disks and heads to read the information to find a file the head needed to search the disk then retrieve the information and it could take a while to not only find it but to load it too, read and write speeds.  Then along came the SSD, no moving parts, everything is right there.  Programs load so much quicker and windows itself loads so much more rapidly but then there was a cost associated with that speed, that time is over.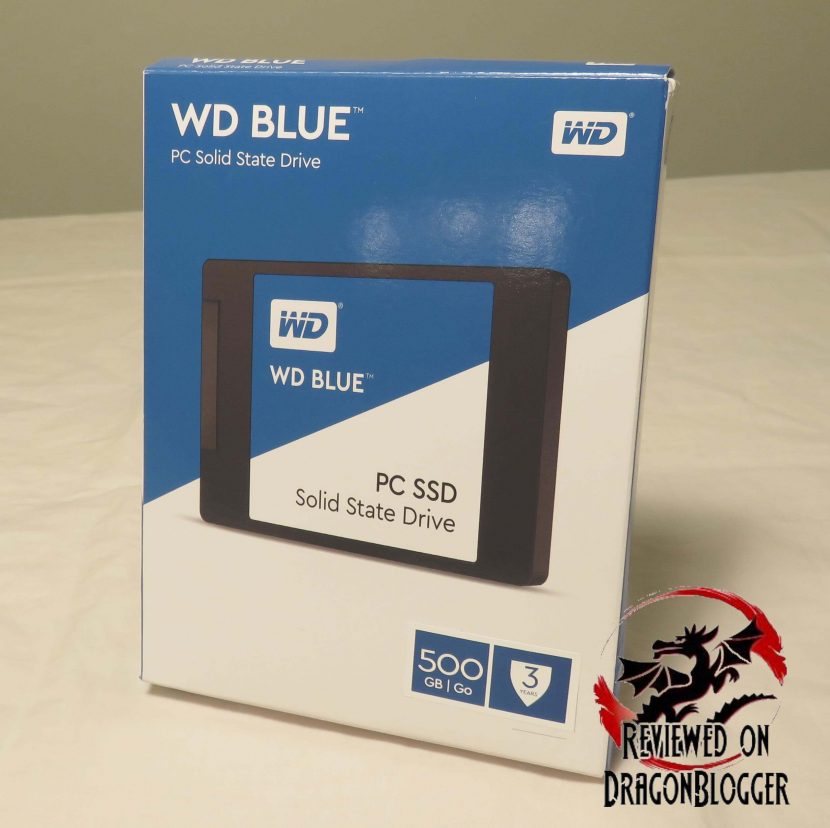 Today I bring you my review on Western Digital's WD Blue drive, specifically the 500GB WDS500G1B0A.  In this review, I will of course bring you all of the information about the drive.  That information will include videos on the unboxing, how to install it into your PC, how to install Windows 10 onto it, I will include benchmarks and performance and even how to prep windows on installing it as a secondary drive, I will try to show you as much as I can.
So let's check out the features and specs
Capacity: 500GB
Interface: SATA III 6Gb/s
Form Factor of 2.5inches or 7mm
Firmware: X41000WD
Controller: Marvell 88SS1074
Sequential read: up to 545MB/s
Sequential Write: up to 525MB/s
Random Read IOP's: up to 100K
Random Write IOP's: up to 80K
Meantime to Failure (MTTF): 1.75Million hours
Endurance Rating 200TB (Terabytes written)
WD FIT Lab Certification for compatibility across a wide range of laptops and desktops
Free downloadable WD SSD Dashboard to monitor the status of the drive and Acronis True Image backup utility
3 Year limited warranty
OK, enough for now, let's take a look at the unboxing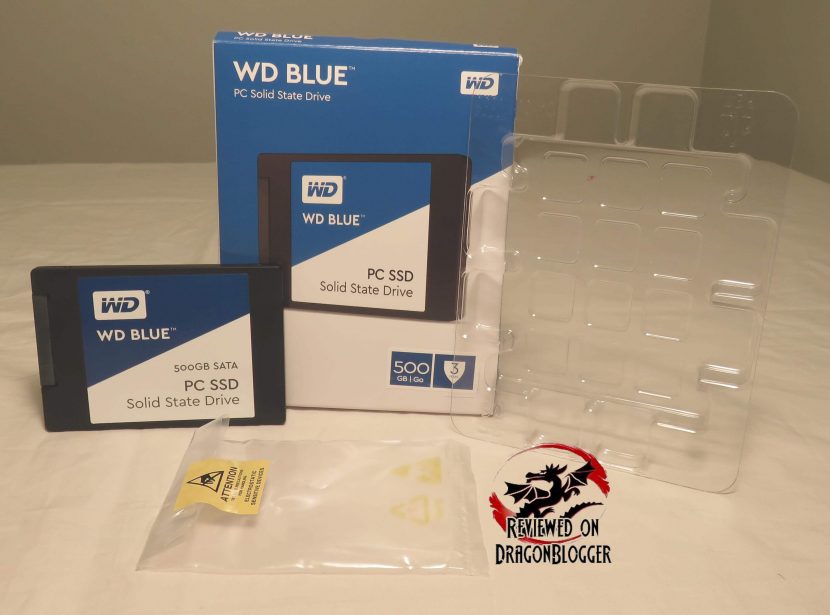 Super simple packaging which helps keep the cost down, though it does not include any sort of adapter tray to convert it from 2.5" to 3.5" or screws, it helps some.  The good thing about SSD's is that they don't need to be screw down or put anywhere specifically, they can be laid down on the bottom of your computer, as long as they have power and a data cable, just make sure wherever you put them does not introduce any sort of static electricity.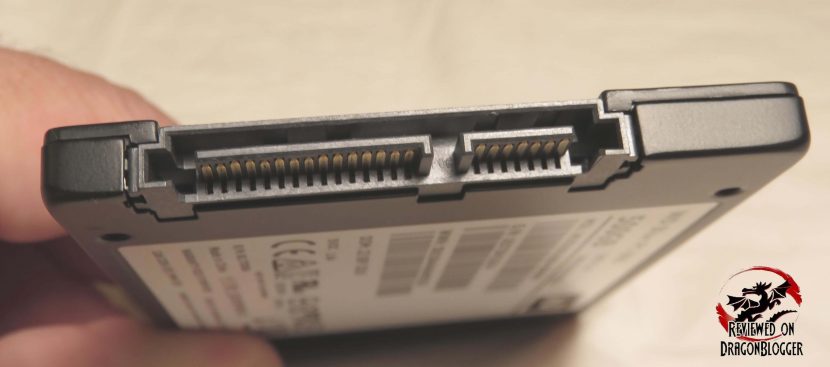 Since it can be stuck basically anywhere, the fact that it is 2.5" or 7mm, makes it even easier to hide.
As I mentioned previously, SSD's are faster than their mechanical counter parts.  That alone will bring some life out of an older PC or laptop saving you a few dollars in between upgrades and you can even move the drive with you to a newer PC later down the line.
In this review I will measure boot and reboot times using a program called BootRacer from Greatis.com, might be a good test to compare my results with your own PC's results.  Another thing to help the comparison is what is booting up on your PC, my particular install has the following.
Creative UpdReg (Creative Sound Blaster Software for Audio)
Sound Blaster Control Panel (Creative Sound Blaster Software for Audio)
Windows Defender notification (Included Anti-Virus in Windows 10)
I don't particularly need all or any of these for my PC to work properly, but it makes it more bearable and I want to make these tests a little closer to real world as possible.
OK back to BootRacer, BootRacer calculates how long it takes for your computer to boot up and then once booted how long it takes for you to boot then afterwards how long it takes to get to the Desktop.  Getting to the desktop doesn't just mean the point you can see the desktop, it means the time after all of your programs have loaded and you at a 100% usable instance of your desktop.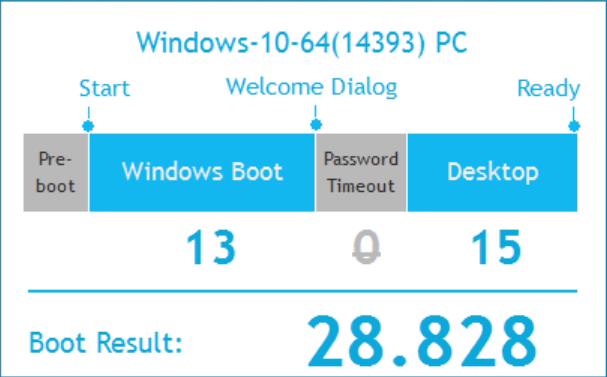 If you had an SSD of your own, try it out and let me know how yours compares.  If you want to get scared, try it with a mechanical drive… scary isn't it?  So that's 13 seconds to boot into Windows, then another 15 seconds to have all programs load, for a total of 28.828 seconds.  You can compare these results to some of my previous reviews, it is tops.
Our next test will be using CrystalDiskMark, a very popular tool for testing IOPS (Input/Output Operations Per Second), basically, how fast your drive is.
CrystalDsikMark performs the following tests:
Seq: Sequential Read/Write Test (Block Size = 1024KB)

Sequential write/read is a disk access pattern where large contiguous blocks of data are written or written to or from adjacent locations on the disk

512K: Random Read/Write Test (Block Size = 512KB)

512K Random Read/Write are disk access patterns where large blocks (512K) of data are read or written from random locations on the drive.

4K: Random Read/Write Test (Block Size = 4KB)

4K Random Read/Write are disk access patterns where small blocks (4K) of data are read or written from random locations on the drive.

4K QD32: Random Read/Write Test (Block Size = 4KB, Queue Depth = 32) for NCQ&AHCI

4K QD32 Random Read/Write is a disk access pattern where small blocks (4K) of data are read or written from random locations on the drive with increased data written to through the controller.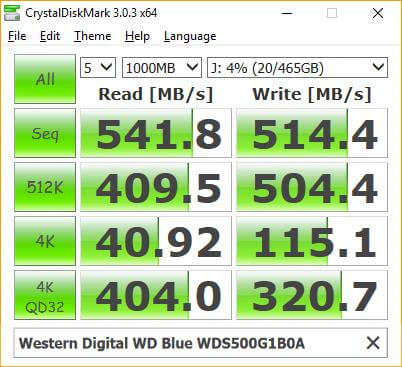 The results are actually quite impressive.  It is rare to actually benchmark a drive to actually have the performance they market.  541.8MB/s compared to its advertised 545MB/s read rating and 514.4MB/s compared to its 525MB/s advertised ratings.
These are very generic results though that do gauge speeds but don't give you any bearings on what it means for you in real world results.  For that, I give you FUTUREMARK's PCMark storage test.  The storage tests the performance of Hard Drives and SSDs alike with traces recorded from real world tools that you and I might use everyday.  Video and Photo editing suites, Office applications and even games are tested here.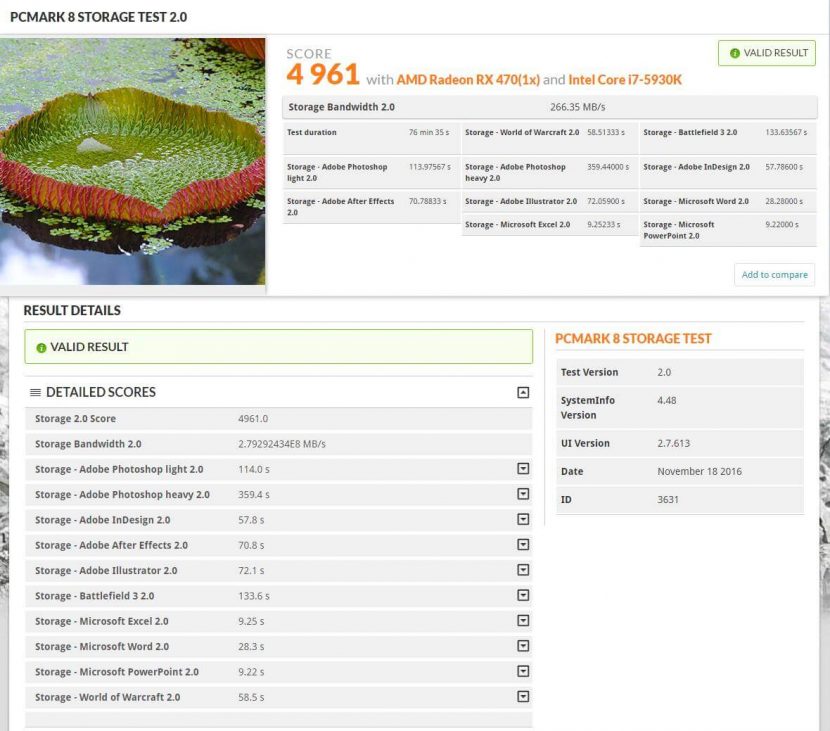 Here you can see how long it takes to load games like Battlefield 3 and World of Warcraft on the WD SSD Blue and the applications like Adobe Photoshop, InDesign, After Effects, Illustrator, Microsoft Excel, Word and PowerPoint.  These are programs and maybe games that most of us use, the games might be a little old but the applications are still true.
So if you like this drive, I created a video for you so that you can learn how to install it onto your PC, it's a lot easier than you would think.
OK, now that you have it installed, now what?  Well, you have 2 options, you can install it as your main drive for Microsoft Windows 10, and flavor of Linux you like or whatever other OS you can think of.
In this video, I show you how to install Microsoft Windows 10 Professional onto it.
Maybe you already have Windows installed onto another WD Blue and you want another as a secondary drive to install games, application or just as fast storage, I made a video on how to configure that too.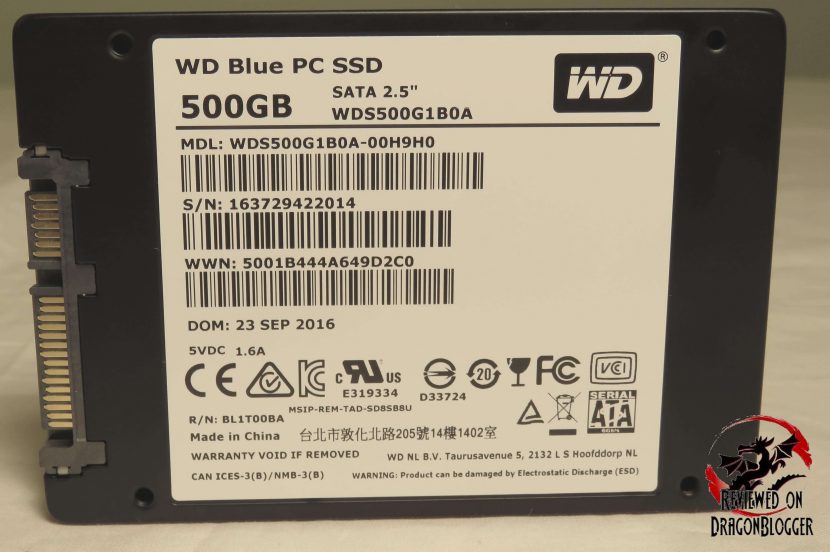 Western Digital didn't stop on just providing this drive though; they give you a few pieces of software to make it that much better.
WD SSD Dashboard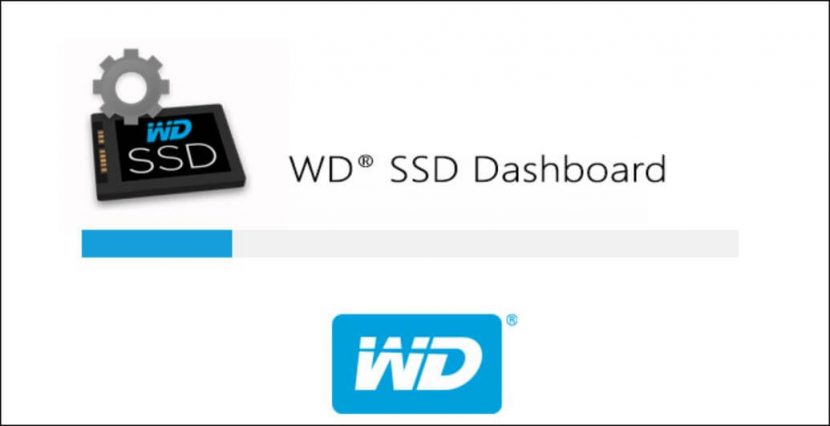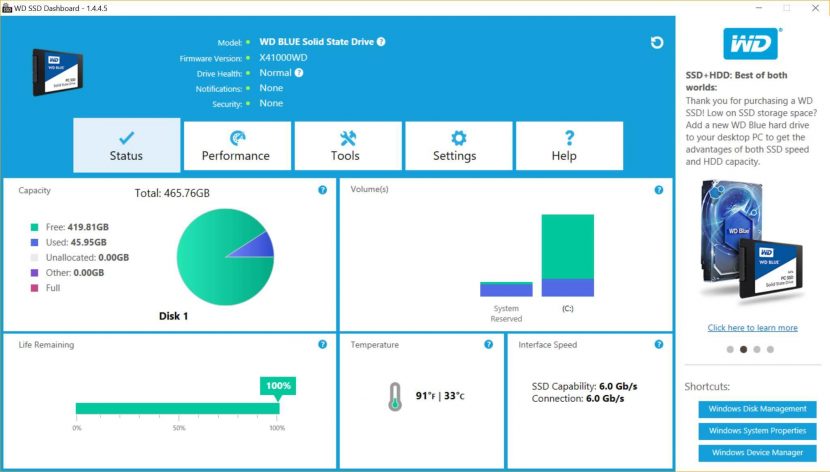 WD SSD Dashboard is actually a nice piece of software.
Status: Once installed, the "Status" tab lets you know the capacity of your drive, what volume it is, the remaining life of the drive, temperate and even what interface it is working at.
Performance:  The "Performance" tab lets you know at what speeds it is currently performing at.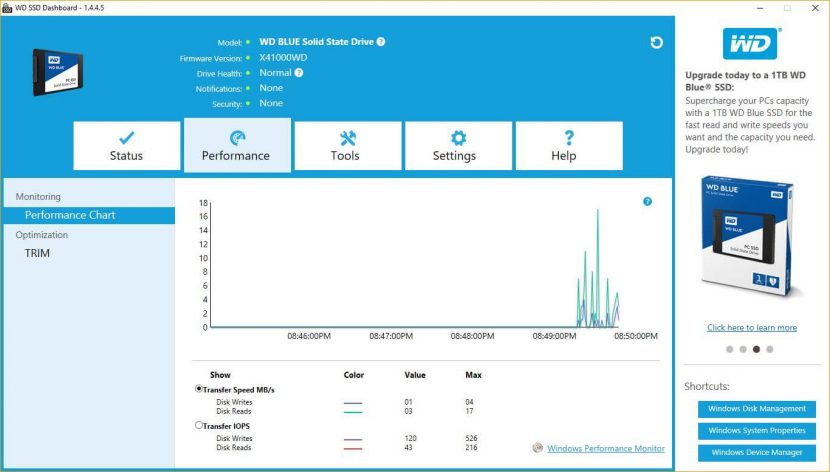 TRIM: The "TRIM" sub section under "Performance", lets you "Enable TRIM" which allows Windows to request selected SSD's to free up space used by files that have been previously deleted.  It also allows you to schedule TRIM as well.  TRIM along with WD's Blue SSD's are supposed to be optimized for multitasking allowing you to run resource heavy applications without any sort of system slow downs, TRIM is another way they help you do that.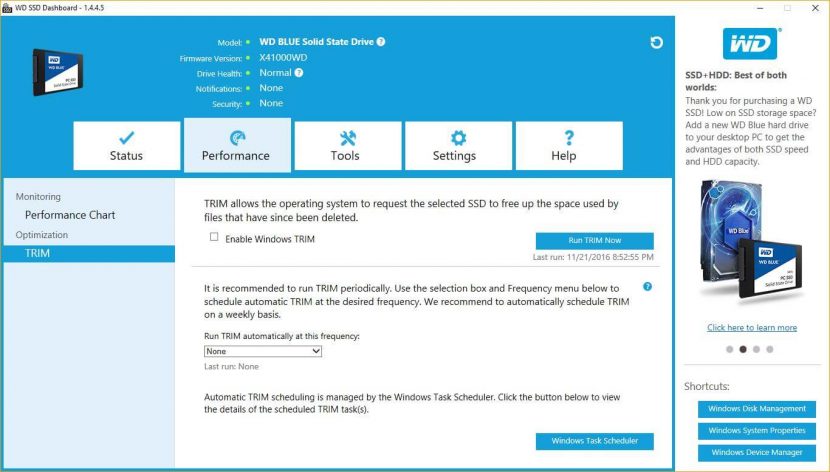 Tools: The "Tools" tab allows you to check out to see if there is a newer version of the firmware or update it if you have received it from an alternative source.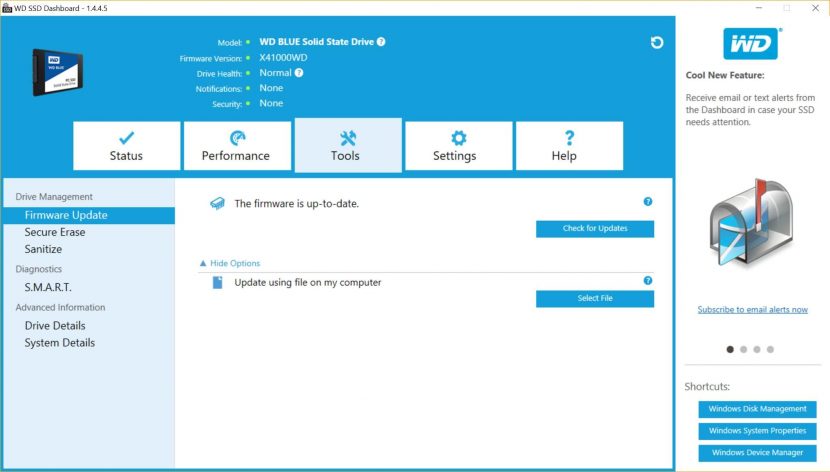 Secure Erase: The "Secure Erase" sub section under "Tools" allows you to create a USB thumb drive in order to securely erase your drive in case you are planning to trade it for a large WD Blue drive or sell it to a friend.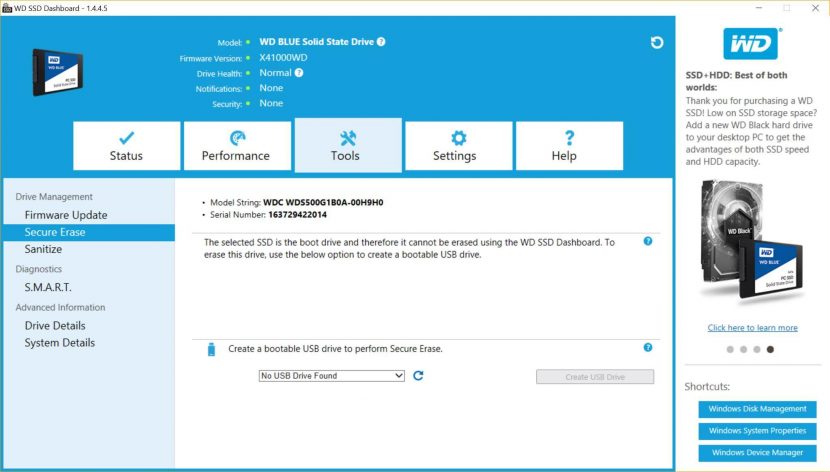 Sanitize: The "Sanitize" much like "Secure Erase" sub section under "Tools" allows you to create a USB thumb drive in order to securely erase your drive in case you are planning to trade it for a large WD Blue drive or sell it to a friend.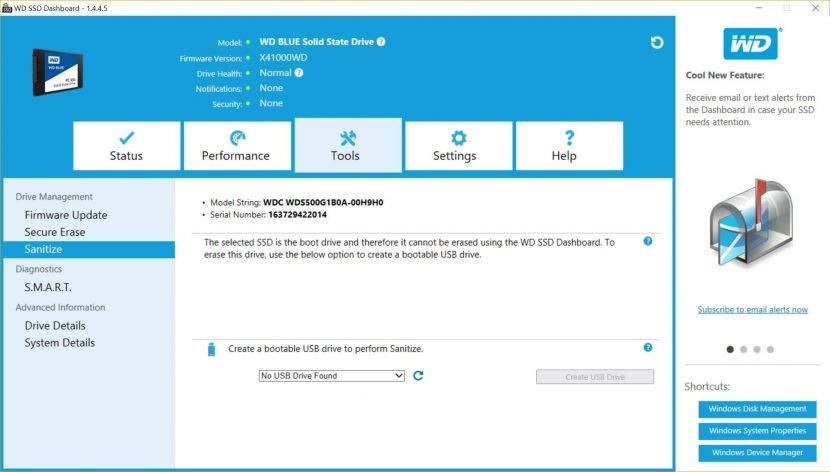 S.M.A.R.T.:  The SMART sub section under the "Diagnostics" section allows you to perform diagnostics on the drive in the off chance that something is occurring on the drive where you might think it is going bad.  WD has included technologies from their WD Fit Lab Certification to ensure high MTTF and including endurance ratings to make sure nothing happens to this drive and if it does, they have a 3 year warranty.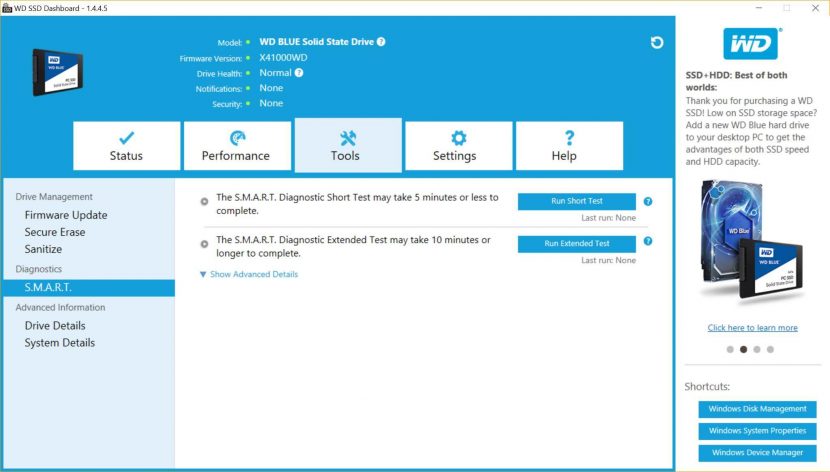 This S.M.A.R.T. technology monitors the SSD detecting and reporting on various indicators of the drives reliability helping to anticipate hardware failure.  Western Digital did not create S.M.A.R.T. but they did implement the technology here and allows their software to utilize it to help sage guard your data for years.
Drive Details: The "Drive Details" sub section under "Advanced Information" provides you with lots of information on your drive.  In the pic above you can see some, but there is tons more.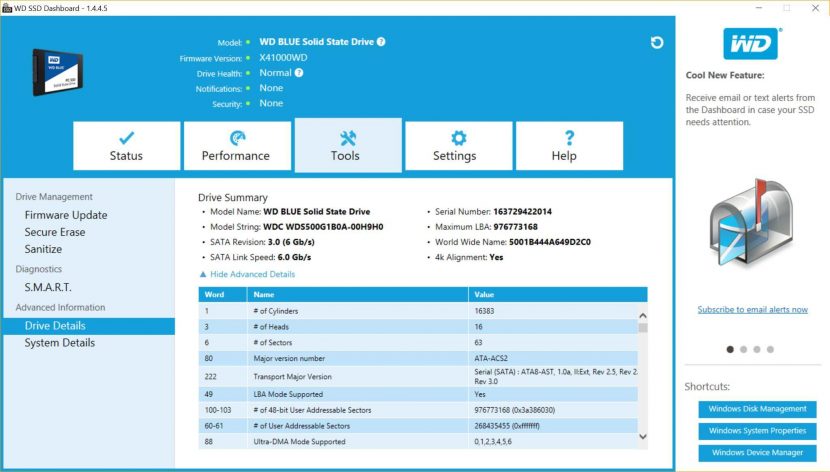 System Details: The "System Details" sub section under "Advanced Information" provides information about your system.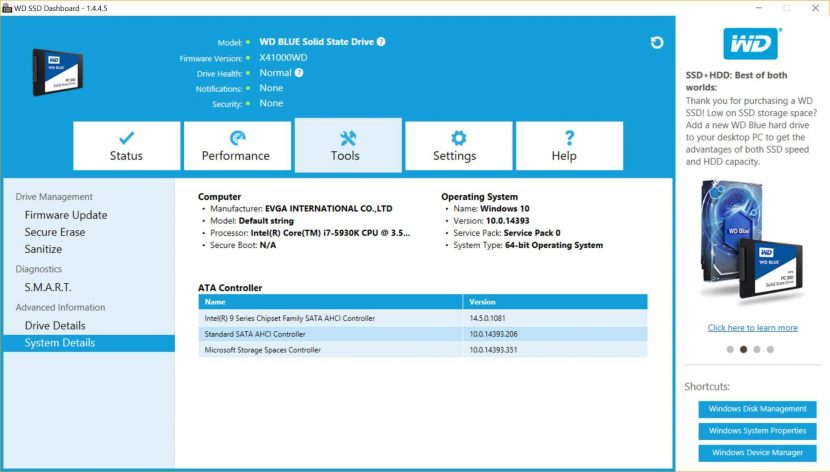 Settings:  The "Settings" tab provides some software settings for "WD SSD Dashboard".  The "Application Update" sub section let's you check for newer versions of "WD SSD Dashboard" without having to log onto Western Digital's site, another way they can save you some time.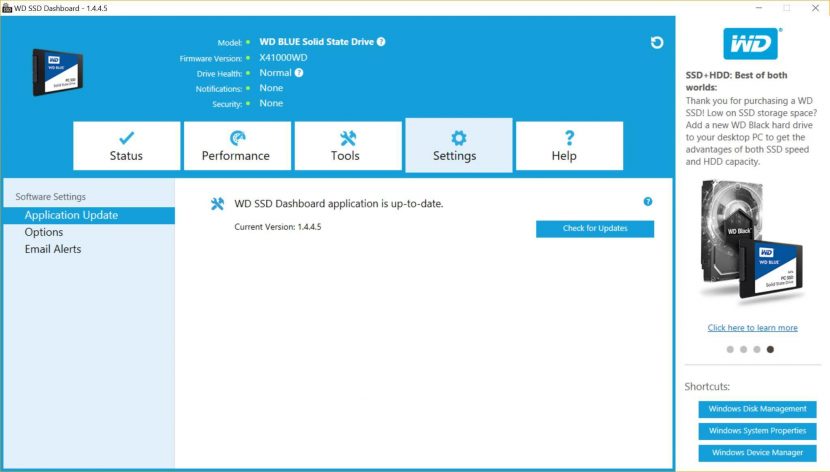 Options:  The "Options" sub section under "Settings" just lets you decide if you want "WD SSD Dashboard" to start up with your computer or not.  If you do decide on having it start up, you can also select if you want it to start minimized or just jump out on the desktop opened.  "Select Language" is self-explanatory, but allows you to select what language you would like "WD SSD Dashboard" to run in.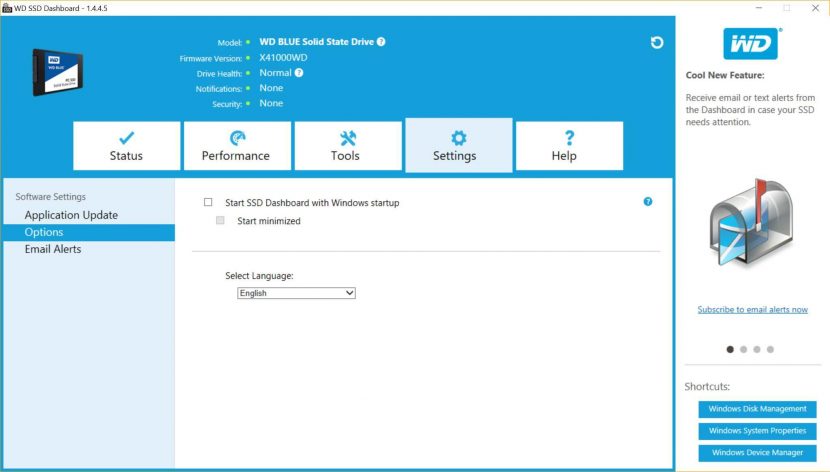 After you install it, this prompt will appear just above your taskbar.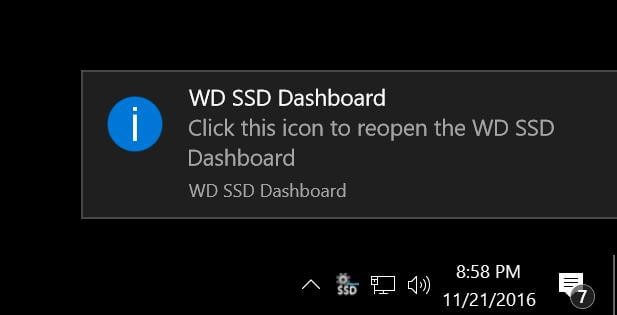 This icon also appears in your system tray, if you hover over the icon it tells you the Drive Health Status.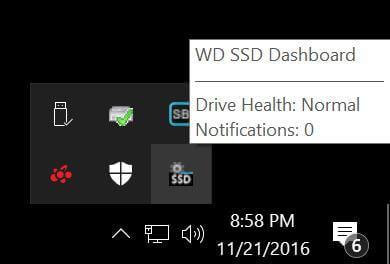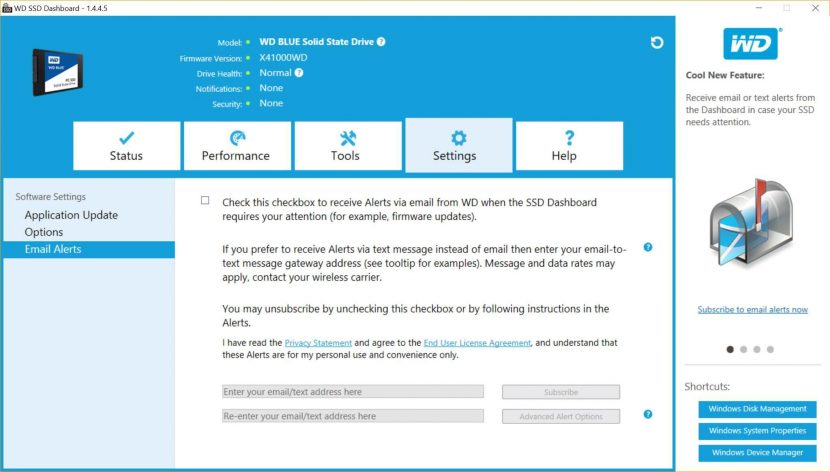 Email Alerts:  The "Email Alerts" sub section under "Settings" allows you to receive alerts in case anything is going on, even allows you to receive Text Messages, that's pretty cool I think.  If you get a notification that your drive is dying and you have remote access to your machine while you are away, you can quickly log in and shutdown your machine.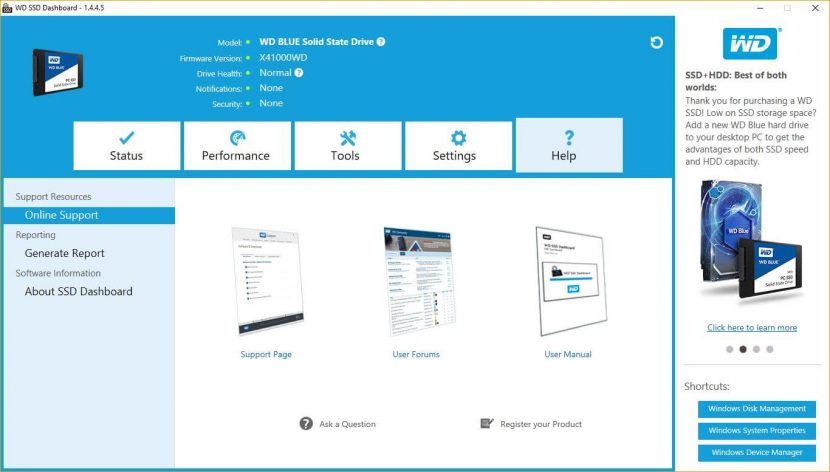 The Help section is another one of those self-explanatory sections.  Here you can select to check online for support resources, Generate reports for diagnostics and then gives you some info about the SSD Dashboard.
The SSD Dashboard even allows you to start Windows resources such as "Windows Disk Management", "Windows System Properties" and "Windows Device Manager".  I go over "Windows Disk Management" on the video explaining how to setup your drive as a secondary drive.
The other piece of software they include, which can potentially save you a lot of money, time and frustration is Acronis True Image.  Yes, they have teamed up with Acronis to give you a little more piece of mind.  Anyone that has lost data, important data will definitely appreciate this.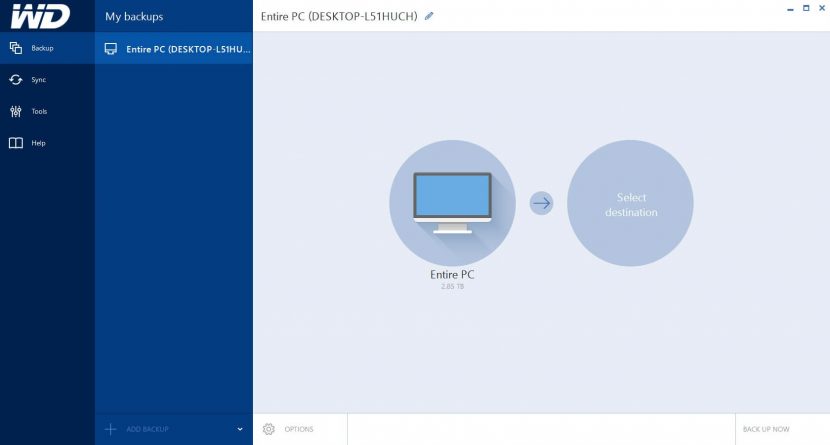 Both have to be downloaded off of their site, here is their site for the WD Blue drives if you would like a little more information that I may have overlooked.
Final Thoughts and Conclusions
Western Digital did not make the first hard drive, though they did make the first 2 and 3 Terabyte drive but they have been making drives since the 80's.  They have been around for quite some time not only developing drives but all sorts of technology for a very long time and have done a good job it as well.
This drive in particular is an incredibly affordable SSD, with a great deal of performance and capacity and a large name behind it that for many that automatically includes a certain degree of comfort.  Usually I look passed the name brands because it saves money and they can get away with not offering as much, all because it has their logo.  Western Digital has packed in tremendous performance, with a nice utility and even threw in a highly accredited piece of backup software to solidify the deal, the software alone can cost anywhere between $20 and up.  Also, it's important to mention that the speeds Western Digital has noted these drives to reach, is actually incredibly close to what is marketed.
All of this helps me look passed not including a tray or screws, that's the small stuff here and helps me award them 5 stars.
I give Western Digital's WD Blue 500GB WDS500G1B0A a 5 Star Editor's Choice award.
This is OPTIONAL brand-approved language that can be inserted at the end of the post. Edit this text to use.
Please reference the guidelines as applicable to your blog post and social shares• Blog Post – Disclaimer will automatically be included when you grab the TapInfluence embed code• Social shares (Facebook, Twitter, Pinterest, Instagram, G+, Vine, LinkedIn) – Must include #sponsored #ad or "Sponsored by WD"• YouTube sponsored videos – Include vocal "I'm working with…" or "This video is sponsored by…" AND #sponsored, #ad or "Sponsored by WD" in video descriptionEngagement with brand channels or communities – If part of the paid relationship, must include #sponsored, #ad "Sponsored by WD", or identifying as a brand ambassador
We are influencers and brand affiliates.  This post contains affiliate links, most which go to Amazon and are Geo-Affiliate links to nearest Amazon store.
I have spent many years in the PC boutique name space as Product Development Engineer for Alienware and later Dell through Alienware's acquisition and finally Velocity Micro. During these years I spent my time developing new configurations, products and technologies with companies such as AMD, Asus, Intel, Microsoft, NVIDIA and more. The Arts, Gaming, New & Old technologies drive my interests and passion. Now as my day job, I am an IT Manager but doing reviews on my time and my dime.