No one who simply thinks that a watch is for telling the time, that's for sure. When longstanding Swiss watch brand TAG Heuer released its first smartwatch in 2015 – the Connected Modular – the world practically gave a collective shrug and went back to using the (ultimately far superior) Apple Watch or you know, regular timepieces that don't cost a fortune. For whatever reason, TAG Heuer believes that now is the moment to release a – wait for it) – $180,000 version of the Connected Modular. Will this result in more shrugging? Probably, but also many eye rolls for good measure.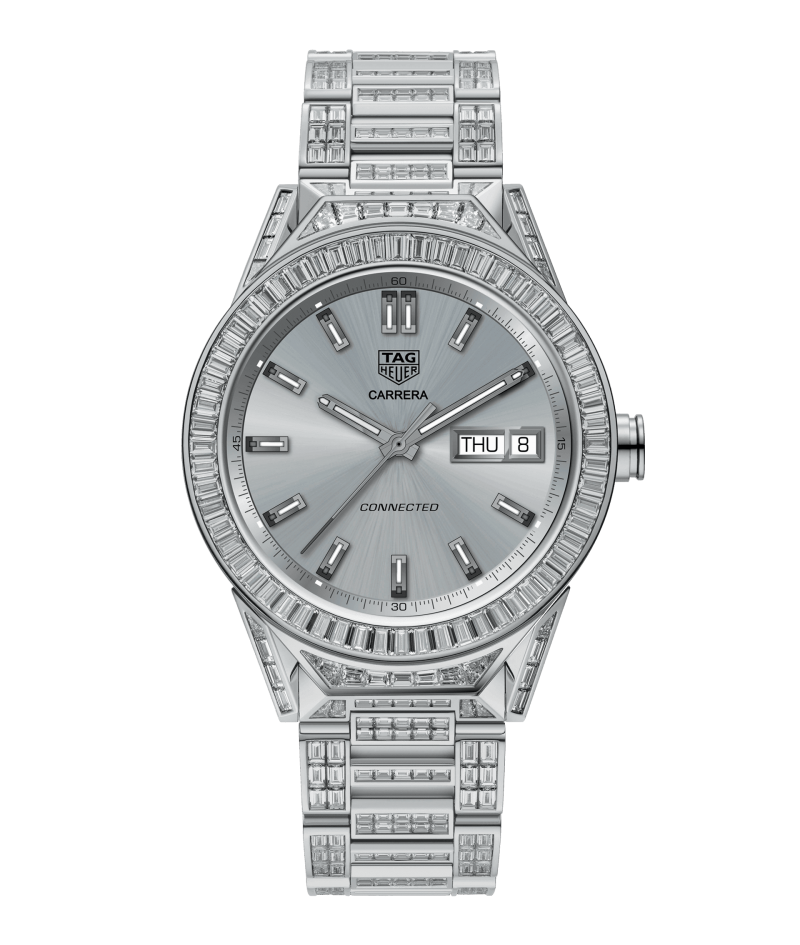 If TAG Heuer was aiming to beat Apple's $17,000 18k gold smartwatch (which was unpopular and phased out quickly), then it's safe to say that the bar is definitely raised, however, we think that Apple cares not one bit. The Apple Watch has reached the 4th iteration and reviews suggest that it's one of the most amazing tech products ever made. So, what did TAG Heuer do to show how up to date it is? Cover the Connected Modular in 589 diamonds and package it with an 18k white gold case. Groundbreaking.
Of course, we get that these kinds of watches aren't meant for normal people like you or me, they are for the super elite who prize looks over functionality every time. You'd go for one of these options if you wanted a normal smartwatch, but if you truly believe you need a $180,000 watch with the ability to switch watch faces, track your workouts, find your location, send emails and use apps like Android Pay and Spotify, then hey, we won't stop you.
It just seems like TAG Heuer is facing an identity crisis. Clearly, the Apple Watch has taken off in a big way and mechanical watches just aren't as necessary as they used to be, but the fact that TAG Heuer allows you the option to change the smart screen in favor of a mechanical watch face shows that it isn't 100% behind the technology nor the style. TAG Heuer wants the "wow" factor with the new diamond-encrusted Connected Modular, but in what is clearly an effort to remain visible and relevant, it has had the opposite effect of appearing desperate and gaudy.
There's no doubt that TAG Heuer makes great watches in general, as the Aquaracer and Carrera models always sell incredibly well online, but these are the watches that normal people can wear because they look beautiful and are without a flaw crafted, but more importantly, they don't appear like a flash-in-the-pan. The Apple Watch may well become an obsolete and un-cool tech gadget in the next 10-15 years, but if you're trying to keep up with it in the short term, you've got no chance. As for who needs this $180,000 monstrosity, it's not for those trying to impress the opposite sex. A survey of women aged 20-39 showed that minimalist watches along the lines of those from Daniel Wellington, Swatch, or MVMT were much more attractive than an expensive, shiny, and bulky watch (for example, the $180,000 Connected Modular).
It's no fluke that TAG Heuer has been manufacturing watches since 1860, as the company knows a thing or two about staying relevant, but the more you shove diamonds onto a gadget in an attempt to show off, the more that watch aficionados will take you less seriously and look elsewhere. Impress us with the design, not with the price tag.
I am interested in all things technology, especially automation, robotics and tech that helps change how society will live in the future.