We are influencers and brand affiliates.  This post contains affiliate links, most which go to Amazon and are Geo-Affiliate links to nearest Amazon store.
When most streamers are starting out they have to find time in their busy schedules to become content creators, an exception may be to younger streamers who are able to do it full time while living under a parent's roof, or they have a partner who is able to give them the cushion and support for them to launch 100% into their streaming and content creation dream and goals.  But either way and no matter how much time you can set aside to work on being a content creator/entertainer time management and scheduling are very important, I like so many other content creators suffer from the "too many ideas, too little time" thing often. You have to set measurable objectives and narrow your focus, like block out 1-2 hours on specific days where you work and focus on 1 goal or objective. Create off-days in your schedule to just work on the stuff outside of actually streaming content.  As a framework and example, you don't have to be so rigid, I share with you my own "time schedule".
My schedule is kind of like this Mon – Fri
3:30am – wake up, check about 60-100 emails from previous night (blogging related, business inquiries…etc)
4:30am – check in with all my discord groups/networking groups, engage, interact, network.
5:15am – write some articles/posts for blog, work on some banners/promo and event materials, create highlights/clips from previous streams, create new stream alerts…etc.
6:30am – Get my 3rd cup of coffee, go for a 30 minute walk with dog to get air/clear head.
7:30am – prep for my day job to start and check in with family.
8am – 4pm – Day Job, checking in on networking stuff on lunch break or breaks from time to time.
4pm – check in with family, chores,
4:30pm – dinner
5pm – start a stream (some days) or moderate one of my other streamers. If I am not streaming I use this as open time to do whatever.
7pm – Family time for rest of night (do not touch computer until 3:30am) next morning.
Weekends:
3:30am – 5:30am same as weekdays
5:30am – stream live solo or collab with someone else
8am – go get coffee, 1/2 hour walk break with dog.
8:30am – grocery shopping / laundry
10am – work on writing, blogging, marketing, materials, promo, giveaways, banners, highlights, clips, schedule stuff for auto-publish throughout week.
12pm – housework/chores/family time/anything I want or need to do
7pm – Family time for rest of night (do not touch computer until 3:30am) next morning.
This doesn't work for everyone, and you can risk burnout grinding but it gives order and focus and blocking out time where you have very specific goals and measurable objectives to accomplish will help you feel like you actually completed and accomplished something.  Be wary of the time sink that is social media or distraction, hours spent watching Tik-Tok video's for example will not help reach your content contributing goals, but it is important to take breaks and just mentally relax, have fun and enjoy yourself too.
On to this weeks streamer interviews!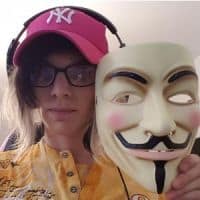 I recently changed my legal name to Julia, so I wanted to work my real name into my username. I guess I started thinking about witches and how witches are portrayed as mad people who live in the wood. Originally the name was JuliatheMadWitch but it ended up being too long on a few websites. My first Twitch stream was on the 25th of May 2017, so I've just hit two years. I just realised that. "Since I play so much video games I might as well stream it" was how I thought and still think. Although, I think the biggest reason I started streaming and also making YouTube videos is because I grew up with YouTubers like Jackcepticeye, Markiplier and Pewdiepie and when I watch them I feel happy. I sort of feel that I know them even tho they are total strangers to me, I guess that I want my viewers to feel the same when it comes to me.
I have been streaming different games lately. I stream mostly on PC and using an Elgato capture card to capture console games on my PC. Games like World of Warcraft Classic and Awesomenauts, however, I am trying to figure out what game I want to spend most of my time in. I am kind of awkward socially due to my Autism diagnose and my focus of not the best because I have ADHD. Meds help but it's not perfect. Interacting with viewers when playing calm games like Stardew Valley and Animal Crossing is fun. My channel is still small so any activity whether it is donations, subs or even follows is exciting to me. Now I don't really have an exact schedule, however, I have come back to stream regularly again.
You can find me on Twitch | Twitter | Instagram | Discord and YouTube
Watch live video from https://www.twitch.tv/juliamadwitch on www.twitch.tv
---
Hey there , My name is Peter but People know me as Fresc0 . The main reason I began streaming is due to this pandemic matter we are all going through . I perform live DJ shows here in New York and have played at some well known venues . I wanted to stream my music right into peoples homes . Allow them to dance and keep their minds off of any problems they may be going through at the moment . I now also began streaming video games , starting off with horror .So you can think of my channel as a music & gaming channel . I've always watched other let's players such as Markiplier , Jackseptic eye , Marzzzzy , Pewdiepie . Just to name a few and truly enjoyed their reactions on games . Which inspired me to create my current content . I believe what I create can bring a variety of people together . Those who enjoy house music , EDM etc & gaming . You can find Fresc0__ also at: Twitch | Twitter | Instagram | Facebook
Watch live video from https://www.twitch.tv/Fresc0__ on www.twitch.tv
---
My name is Amin Ghazi aka bboy Broccoli. Where bboy stands for break boy or breakdancer (media name) I'm a professional dance instructor from Lebanon. Broccoli is the name I earned through gaming.
I have been gaming for 20 years. And I'm really good at it. So, I took the choice of becoming a full time streamer. I really want to do something I love and can use it to benefit the world. Aside from a stream career my goal is to make a community that focuses on humans focusing on humanity and love. I will also soon introduce my dancing side in streams where I celebrate wins by doing head spins and other moves (soon not now cz I am recovering from health issues).
What I see the best in my content is my aim and game plays, as well as the people I play with are always a joy to watch! I always focus on engaging with my chat and making sure we are always a family not just people saying hello and watching! I love that gaming connects the globe and I want to make use of that for better vibes in my stream
You can find BboyBroccoli also at:  Twitch | Twitter | Instagram | Facebook | YouTube
Watch live video from https://www.twitch.tv/bboybroccoli on www.twitch.tv
---
My name is Patrick, I am a 26 year old variety stream and have been streaming since February 2020. I began on Mixer but soon found that I was not receiving the retention that I was wanting so decided to make the move to Twitch and have been overwhelmed by the support so far. I am married with two kids, and have been an active duty K9 handler for almost 8 years now. I stream almost everyday and have been working on building a community that everyone can enjoy to include auto-hosting and maintaining tabs up for fellow streamers. My main games include Call of Duty Modern Warfare, GTA V, ESO, World of Warships and will begin streaming ANNO 1800 soon.
I have an interest in starting a stream team for active military and first responder streamers if I receive enough interest.
Feel free to follow my channel and lets help each other reach out goals!!
You can find cushing93 on Twitch.
Watch live video from https://www.twitch.tv/cushing93 on www.twitch.tv
---
My name is Pat and my wife is Lady, together we are a Couple of Sycos and we stream the games we love to play together. We are variety streamers, we stream games on pc, ps4, retro consoles and switch with games ranging from Jackbox Party, call of duty, animal crossing, borderlands and much more. We have only been streaming about 2 months but we love interacting with our viewers while still enjoying some nice couples rivalry while playing our games. We have always been a gaming couple so it only made sense to share our time playing with others because those that play together stay together. Our current stream schedule is Tuesdays thru Saturday 8pm to 11pm CST but we also stream alot more just not scheduled. We are currently working on adjusting our schedule so be sure to check us out on our socials to see what our new hours will be but remember when you join the SyCo Squad you are family and we always have a good time here in the House of Sycos so Come on by the house of Sycos to check us out and tell your friends.
You can find Couple of Sycos also at:  Twitch | Twitter | Facebook
Watch live video from https://www.twitch.tv/couple_of_sycos on www.twitch.tv
---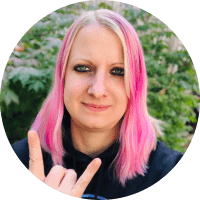 Hey everyone, TheLadyEaves here from Twitch! I'm a hardcore plastic guitar shredder that streams Rock Band 4 and sometimes ventures into FPS games like Fortnite and CoD. Why "Lady Eaves," you ask? I'm actually also a professional graphic designer that's obsessed with fonts—and Mrs. Eaves is one of my favorites! Plus I thought "Lady" sounded very regal, although I wouldn't describe my personality as such. I'm a positivity-focused streamer that loves jamming with the best of the best on Rock Band. I'm also a member of ERG (Elite Rhythm Gaming)—a HUGE Rock Band FBFC (Full Band, Full Combo) team that's FBFC'd thousands of songs. I started streaming regularly about four years ago when I saw that a lot of other plastic instrument players were doing it on Twitch. I thought to myself, "I can do that! I have plastic guitar skills and can entertain a crowd!" I've been streaming regularly ever since and grown my channel to over 2k+ followers. I started out my stream on Rock Band 3 with an Elgato HD60 and eventually graduated to an HD60 S. I stream in OBS from a custom-built PC using a Logitech C920 camera, a green screen with lights, Elgato Stream Deck, and a SteelSeries Arctis 7 headset.
My favorite ways to engage viewers on stream include reading every single message and interacting with every viewer, doing white girl dances each time I get raided/hosted/donated to/etc., constantly banding up with friends and viewers, making lifelong friends, and just having a blast. Honestly, on stream I'm just the authentic me—and although that doesn't necessarily contribute to a steep growth trajectory or broad network, I just stream for fun and that's how I prefer it to be. Oh, did I mention I have a Rock and Roll Merch Store and write blog articles about streaming?! I typically only stream on Friday nights (Fortnite/CoD), Saturday afternoons (Rock Band 4), and in a beast band on Saturday evenings (Rock Band 4). Every now and then you'll catch a design stream on Sunday afternoon. Here are my socials: Twitch | YouTube | Twitter | Facebook | Instagram
Watch live video from https://www.twitch.tv/theladyeaves on www.twitch.tv
We are influencers and brand affiliates.  This post contains affiliate links, most which go to Amazon and are Geo-Affiliate links to nearest Amazon store.
I have been obsessed with computers, tech, gadgets and games since the early 1980's having grown up on the Commodore 64 and Amiga computers.
By day I work in the IT Security Industry and have been in IT for over 20 years. On my spare time I am a Vlogger, Blogger, Streamer, Gadget Reviewer, affiliate marketer, influencer and entertainer. I am also an avid movie fan, TV Show fan, Anime fan, video game fan and fan of trying anything and everything new.