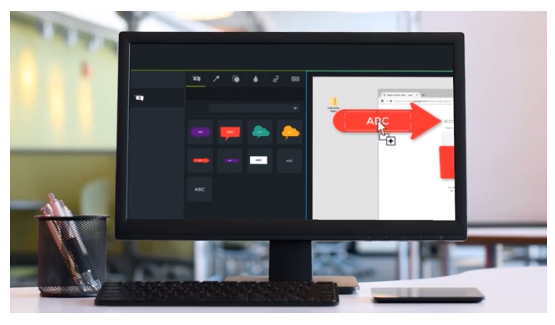 Screen recording is the modern convenient way for anyone to create video tutorials, especially now that creating videos has become an integral part of content marketing and search engine optimization activities. However, while there are many screen capture and screen recording software out there that you can use, the biggest issue faced by content creators and business owners is the quality of output. For example, you might have a perfectly narrated video, but due to the poor quality of recordings, it is hard to understand the basic message you are trying to send through the tutorial. This creates an impression on the viewers that your blog is unprofessional which cuts down many readers daily. With these challenges in mind, content creators focus more on the search for effective tools and software for creating better quality videos for their blogs or YouTube channels, with the basic objective of increasing engagement levels to attract more traffic and conversions.
Have you been looking for a simpler way to record and create professional-looking videos on your Windows and Mac? Do you wish to scale up your Vlog or promote your digital products and courses online?
There are no better ways to achieve this than to possess a high-end screen recording and video editing software to help set you smoothly on your content task without having to experience:
Poor recording quality.
Inability to edit or change your recorded videos.
Inability to upload your videos directly to YouTube, Facebook, Instagram, and other social media platforms.
Lack of advanced features like video editing tools, video effects and music library, etc.
Slow recording process and freezes
Bad user interface.
Presence of malicious codes that can damage your computer.
Why Use Camtasia 2022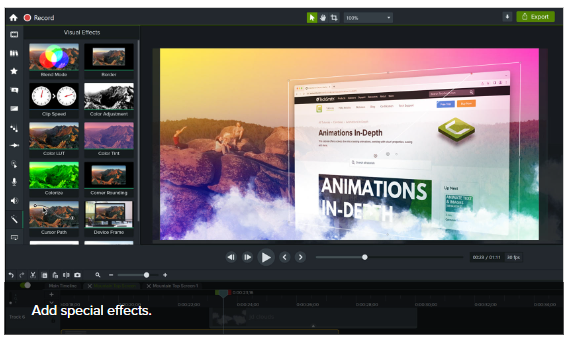 With the Camtasia 2022, you can now create your best screen recording for your how-to videos, software demos, tutorials, YouTube, meeting recordings, training videos, webinars, video lessons, explainer videos, instructional videos, presentation recordings, and a lot more with ease and faster than ever before.
Amazing Features and Pecks
Record your screen right on the spot: Camtasia Screen Recorder makes it easy for you to record your screen activity — any application, window, or full screen — and capture video from Webcams, IP cameras, PowerPoint presentations, video calls, and even external monitors. The new Camtasia 2022 Video Recorder also offers features that help you create videos more quickly and easily than ever before.
Drag-and-drop editing: With Camtasia, you can now edit your screen recordings as easily as you drag and drop clips into place with the built-in editor. Easily rearrange clips, add outstanding and appealing visual effects like blend modes, spotlight and outline edges, apply titles, or remove unwanted frames from your recordings.
Highlights: Capture key moments in your recordings by selecting highlights for easy editing later on. You can also add notes to your highlights so they are always associated with the right content.
Audio recording: Add voiceover narration to your videos or use Camtasia's built-in microphone recorder during recording sessions for enhanced audio quality in your recordings.
Enhanced sharing options: Camtasia allows you to use your voice to narrate to give detailed explanations of your course content, digital products, or tutorials as they appear on the screen and share your videos in a variety of ways, including social media sites such as YouTube, Screencast, Vimeo, and Facebook. The software also allows you to convert your recordings into different file formats so that others can enjoy them on their devices.
Easy-to-use interface: Whether it is your first time or you have no video editing experience at all, Camtasia screen recording software has an intuitive and gorgeous user interface (home screen) that makes it simple to get started with recording your screen activity. You simply select record options from the main window and then click "Record" to begin capturing your screen activity. It's an ideal software for students who want to create tutorials or record lectures, or for anyone who wants to share gameplay with friends.
Cursor scaling and cursor path editing: No more blurry or opaque cursors. Add a variety of effects to your mouse cursor as it moves across the screen. The cursor FX feature allows you to add multiple colorful effects to your cursors. You can apply effects like color, glow, transparency, and more. You can also set the opacity of your cursor, while path editing makes it easy to draw complex shapes and lines like tetrahedrons, cubes, octahedrons, ellipsis, etc, adding smooth curves, and animations on the fly.
With these two features, you can record any type of content — including gameplay, software demonstrations, and more — in a way that feels more natural for your viewers.
Edit videos like text: When it comes to editing your videos, one of the most important things is being able to edit like text. This means being able to select sections of your video and move them around as if they were words on a page. That's exactly what Camtasia 2022 offers: the ability to edit like text with its built-in cursor tool.
The cursor tool in Camtasia 2022 allows you not only to select parts of your video but also to move them around while still retaining their original shape and size (or lack thereof). You can use this feature for trimming down long clips or separating audio from video. It's also useful for combining clips into one cohesive storyline without having to make sure everything lines up perfectly first — just highlight the pieces you want and line them up with each other using the cursor tool.
Audio/Music editing: Use editing tools like cut/copy/paste/delete segments; trim music; add recordings to enhance your projects; add transitions between clips; insert captions; adjust audio levels; merge videos into one project; add background music & narration. Camtasia 2022 has audio/music editing features that allow you to add or import music tracks or sound effects to your videos from the software's royalty-free music library or your gallery.
Quizzing and Interactivity: Camtasia 2022 allows you to create interactive videos that work with any device including mobile phones and tablets. This feature also allows you to design quizzes or assessments to match your course content. Integrate quizzes with LMS platforms like Moodle, Blackboard, and Canvas. Automatically grade quizzes without having to leave Camtasia giving your audience different options based on their responses.
Annotations: Enhance and make your videos more comprehensible with Camtasia's editing tools and glow effects. Add annotations and narrate on top of your tutorials, product demos, instructional videos, and presentations using arrows, shapes, callouts, sketch motion, and lower thirds to highlight important points in your videos so viewers' attention can be drawn to them.
Powerful PowerPoint Integration: Create engaging presentations without leaving the app. With Camtasia, you can add slides from your favorite presentation tool directly into your recording or editing project as a background image or video. You can even record your audio over PowerPoint slides to make them interactive.
Amazing Templates and Themes: The latest version of Camtasia comes with pre-built templates and themes that help to make your videos more attractive and effective. You can easily customize your videos according to your needs by using these templates or themes in this software.
Attractive Packages: Share libraries, templates, favorites, themes, presets, and shortcuts with friends and viewers in a single file. Enjoy sumptuous Camtasia packages that allow you to record screencasts with high-quality sound effects and narrations along with interactive animations such as mouse clicks, highlighting text on the screen, etc as low and compatible with your budget.
Easily accessible Favourites and Presets: Access your most frequently used items — hotkeys, tools, templates, custom styles, images, configurations, and more without having to search through the menus every time. This especially is useful if you're cooking up something new and want access to all your favorite icons at once.
Endless Transitions: Camtasia 2022 can help you create videos with a touch of professionalism. The software has over 100 numerous transitions and effects for you to choose from. The transitions are more than just simple fades, they can also include zoom-ins, zooms out, and zooms to a specific point on the screen and more such as 3D Box (Out of focus), 3D Box (In focus), Blinds with Light Rays, Bubble Transition, Clock hands, Dissolve Transition, Fade to Black, Fade to White, Flip Horizontal, Flip Vertical, and lots more.
Interactive Table of Contents: Camtasia 2022 features the ability to create a video table of contents. This allows you to easily navigate through your videos and make them easier for your viewers to use. You can add different buttons to different parts of the video, and create any number of buttons that you want.
With Camtasia, you can create interactive tables of contents that work with your video's objectives. You can add bookmarks to your videos and link them to different parts of your presentation. This feature is often useful for educational purposes, as it allows students and content creators to skip ahead or back in the video at will. It also helps when creating training videos, as it gives the viewer the option to skip over parts they already know about and go straight to new information.
Beautiful and Professional Device Frames: Camtasia 2022 includes beautiful and professional device frames that help enhance your videos with a variety of visual styles. Choose from a variety of device frames and place them anywhere in your video, or even animate them to create dynamic animations. You can also customize the color, size, and opacity of each frame separately for even more personalization options.
Top-notch Animations: Camtasia help makes your presentations and instructional videos more engaging. This software has amazing pre-made and in-built animation features which allow you to include animated objects in your presentations and videos.
The animation library includes pre-made graphics, transitions, and text effects, as well as royalty-free music tracks. You can use these to create visually innovative videos without needing any design skills or expensive software.
Ultimately, your choice will come down to what you want to use Camtasia for in the end. But based on all of the above, I certainly hope that you'll seriously consider Camtasia as an option. When it comes down to it, the software truly is all things to all people, providing stellar experiences for both professionals and beginners—and, in my opinion, it's the best video screen capture software out there you can ever find.
Pick up Camtasia now, you can also opt-in to the $50 per year plan which includes free upgrades, phone, email support and training tutorials too.
I have been obsessed with computers, tech, gadgets and games since the early 1980's having grown up on the Commodore 64 and Amiga computers.
By day I work in the IT Security Industry and have been in IT for over 20 years. On my spare time I am a Vlogger, Blogger, Streamer, Gadget Reviewer, affiliate marketer, influencer and entertainer. I am also an avid movie fan, TV Show fan, Anime fan, video game fan and fan of trying anything and everything new.