With Spring and Summer coming up some of us may want to take our laptops and portable devices and work from out in the yard or patio, or you may have a lot of yard work to do but don't want to eat into your phones 4G data usage and want to extend your home Wi-Fi network further out from your house and main router.  This is where the
Rockspace AC2100 Wi-Fi ranged extender
can really provide some benefit.  All you do is plug it into an outlet that is at the point where it still gets strong signal to your existing router and near where you want to extend your Wi-Fi range too.  Then you pair the extender with your router and you are good to go, it only takes 8 seconds to setup and pair and is compatible with 99% of all routers on the market so you would have no problem extending your existing Netgear, Linksys, Rockspace, Dlink or
ASUS
router.
It also has a smart indicator to help find the best location for Wi-Fi coverage to help you know where to place the Rockspace AC2100 f0r maximum benefit.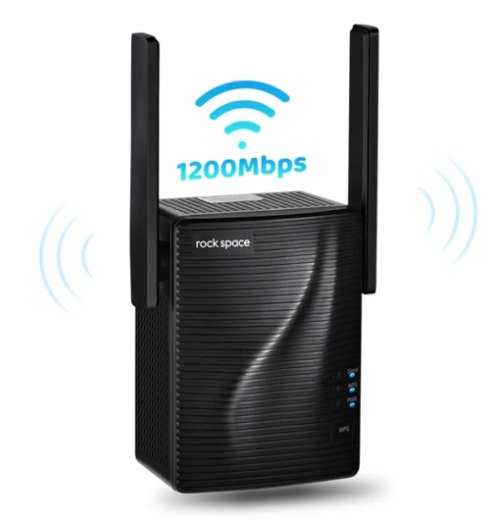 You can get up to 300Mbps for the 2.4ghz bandwidth spectrum and up to 867Mbps for the 5Ghz spectrum, so now you can extend Wi-Fi into your garden, shed, detached garage or if you are lucky enough to have a large property you can extend it quite a bit as the range can reach up to 1292 sq feet.
Tiktech is letting DragonBlogger Giveaway 2 of these Wi-Fi extenders to our fans
For this giveaway Tiktech is able to ship the prize to a winner in the following locations only: US, UK, and EU.   If you live outside of these locations you will have to leverage a service like MyUS to create a deliver address for you to accept the prize and forward it.
Simplified entry methods, Tiktech is using this giveaway for polling and collecting feedback, they want to learn what type of products readers and viewers are interested in, so there are a reduced # of entry methods, and this is focused more like a survey.
Enter to Win the Rockspace AC2100 Wi-Fi Range Extender
So even if you can't wait to win, this Wi-Fi range extender is only $29.99 currently when you clip the coupon on Tiktech, it normally retails for $45.99.