Here at DragonBlogger.com we have partnered up with Zyma Technologies to bring our readers a chance to win a free 1 year unlimited web hosting plan.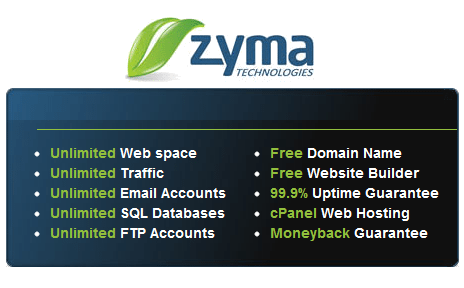 This unlimited web hosting plan includes:
Unlimited disk space
Unlimited bandwidth
Unlimited email accounts
Unlimited SQL Databases
Unlimited FTP Accounts
Free transfer from existing account (and assistance)
Free tech support
CPanel Web Hosting
and Free Google Vouchers
If you are looking for another hosting provider, or currently running a free blog on Blogspot or WordPress.com this is a great opportunity to take your blog to the self hosted level for free!
The best part is, there are 5 winners of this contest, 5 people will win a free 1 year unlimited web hosting plan.  So you have 5x greater odds of winning if you collect as many entries as possible.
Now, I haven't used Zyma to host any of my blogs or domains before, but I take the stance that if you win it for free, why not give it a try and see what you think?  If you enjoy the service they are betting you will renew after the 1 year and they have some of the cheapest hosting plans on the web!
Enter Now to Win 1 Year Unlimited Web Hosting from Zyma
Share your hosting needs and what you would host and websites you would run if you win one of the free hosting plans.
-Dragon Blogger