When we called for companies willing to help us with the 12 days of giveaways here on Dragon Blogger, Koolertron responded and offered their versatile Wireless Bluetooth Keyboard.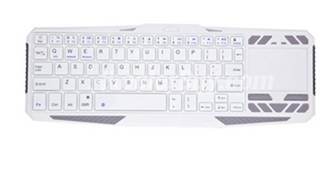 What makes this Bluetooth Keyboard different from many others is the track pad which actually will let you do swipes on the track pad and translate them to screen swipes on your mobile devices.  This prevents you from having to take your hands away from the keyboard to do swipes on your tablet screen and gives you 100% functionality for your tablet right from the Koolertron Bluetooth Keyboard, you can read the full specs on the Koolertron Bluetooth Keyboard on Koolerbuy.
This Bluetooth Keyboard also comes with an IR so you can program it as a remote control for many devices as well, no more having to type one letter at a time with a traditional remote when you use this keyboard.
Enter to Win a Koolertron Bluetooth Keyboard
Koolerbuy also doesn't just have keyboards, they have a whole selection of gadgets and accessories including everything from tablet and smartphone cases, keyboards, microphone amplifiers, video glasses and camera accessories.  The prices are very reasonable and I encourage readers to check them out and see what they have to offer.
For those who can't wait to win, you can read more about the Koolertron Wireless Keyboard and buy it here: http://www.koolerbuy.com/koolertron-wireless-bluetooth-keyboard-with-rechageable-lithium-battery-for-bluetooth-enabled-devices-tabletsipadiphone-p-5002.html