For the next giveaway in the 12 days of giveaways, New Trent offered the most excellent Airbender Mini Bluetooth Keyboard case for the iPad Mini.  This cases is fantastic and offers water resistance, shock protection, dust protection and has an integrated screen protector.  You know your iPad mini is more secure and protected in this rubberized shell case, and it has a Bluetooth keyboard integrated with the case to boot!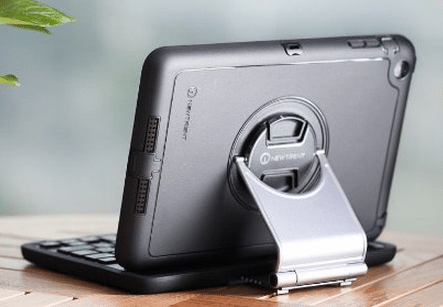 It also auto powers off the iPad Mini when closed and wakes when open thanks to the magnets built into the case.  The New Trent Airbender Mini also offers 360 degree horizontal and vertical rotation as well, so you don't limit functionality while leveraging the features of this case.  This case offers total protection case for your iPad Mini.
Enter to Win a New Trent Airbender Mini
New Trent also offered Dragon Blogger fans a special 15% off discount if you want to purchase this case, just buy the case through the Amazon link and use check out code "ABJUSTIN" and it will take 15% off the price of the New Trent Airbender Mini Keyboard Case.