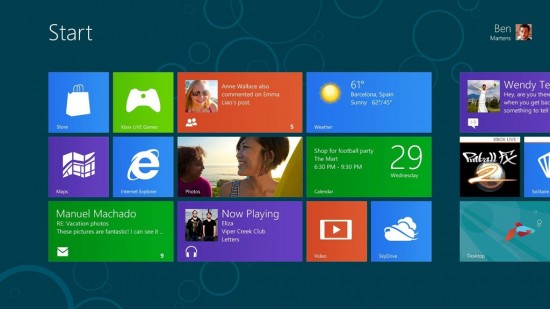 Are you still calling the Windows 8 UI the Metro UI? After a lot of name juggling for the revolutionary Windows 8 user interface, rumor has it that Microsoft has finally come up with an un-original and un-inspired winner – the Windows 8 Interface. Following much hue and cry over trademark issues with Metro Group, which is apparently a business partner too, the rumored name marks a dull conclusion.
Be it an intentional ploy to raise awareness, although how so much pointless confusion can be called promotion escapes me, or just a series of unplanned mix-ups, Microsoft has managed to occupy a permanent place in the back of our minds over the past few months for all the wrong reasons. Beginning with the Windows 8 Logo, the elimination of central features like Start Menu, UI code name Metro (supposedly) and stringent App Store regulations we have been bombarded with regular rumors, "leaks" and clarifications.
Moving onto more tangible news regarding Windows 8, here are the 8 most eagerly awaited Tablet PCs (10″ – 12″ screen size) which will be shipped with the latest Windows OS or can be upgraded to it. The confirmed release months have been mentioned for a few.
Lenovo Thinkpad Tablet 2 – October 2012
Microsoft Surface RT – October 2012
Asus Tablet 600
Asus 810
HP Slate 8
Samsung Series 5 Hybrid
Dell Latitude 10 – November2012 to January 2013
Fujitsu Stylistic Q702 Hybrid Tablet – October 2012
Most of these tablets are expected to be released to the public in the next 6 months or so. Are you thinking of getting one?
Meanwhile, OEM partners Lenovo, Asus and Acer have taken up the challenge posed by Microsoft in making the Windows 8 tablets sexier. Its own Surface RT might face very stiff competition if the recent announcements by Lenovo are to be believed. Obviously the Tablet PC OEMs are not thrilled to have Microsoft as a competitor, and have regularly and vehemently denied the need for Surface. Thus, while the success of Windows 8 would depend to a great extent on how good the OEMs' products are, its own tablet might be a failure for the same reason.
Another awesome Google Doodle awaits you, in the form of a soccer penalty shoot-out game. Here's my score:

Try it out at: https://www.google.com/doodles/soccer-2012