We are influencers and brand affiliates.  This post contains affiliate links, most which go to Amazon and are Geo-Affiliate links to nearest Amazon store.
Exercise is an endless and necessary part of our lives, and finding time for it can be a stressful and over time pricey process. You've got expensive gym memberships, gas, workout clothes. Don't you wish you could just do your morning cardio at your desk while focusing on more important matters? Well with LifePros Flexstride system now you can! This under desk elliptical fits snugly in any work space to allow you to keep up with your cardio while focusing on work, planning your next vacation, or even while just relaxing with a nice bit of online entertainment! So lemme tell you why you should buy the Flexstride!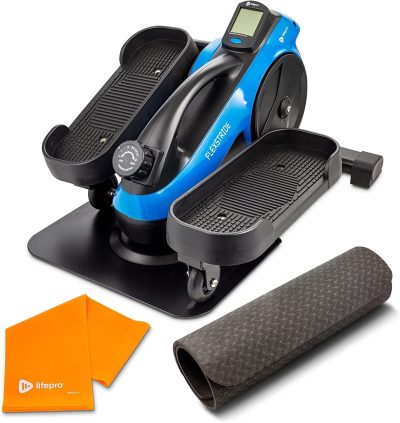 Features
With a lab formulated, sleek design LifePros under desk elliptical is designed to help you burn calories, reduce stress, tone your legs, and boost your mood with just a bit of use every day!
All while sitting at your desk! It's the sheer definition of convenient! It has eight resistance levels each designed to give you the workout that YOU want. Whether you want that uphill biking trip or just a simple walk around the park, Flexstride can simulate it. It's important to get your daily steps in, and with LifePro you can do it without ever leaving the comfort of your desk.
Whether you're looking to decrease chronic pain or lower your blood pressure, a good jog is the way to go, and this elliptical packs all the power of a full sized exercise bike in a compact, portable machine you simply slip at your feet under your desk. You can just sit back, relax, and let your legs do the work as you pedal along while doing whatever you need to do that day, be it filing an expense report, checking your social media, or just relaxing with friends! The LCD Monitor makes it a piece of cake to track your workouts as well so you can stay on top of your fitness!
Besides the obvious benefits of an exercise bike, LifePro has been kind enough to include some extras with your purchase! These include a yoga mat and resistance bands for your pre-workout stretching and to add an extra kick to your workout! You also get a set of castor stoppers to keep your chair from sliding as you pedal, and everything you need to secure the elliptical to your chair! All in an easy to unpack box, and as always backed by LifePros technical support guarantee!
Summary
In a world where we may be trapped inside for any number of reasons, exercise can be hard to come by. Whether you're an office worker or simply can't quite find the time to head outside LifePros got you covered with their Elliptical! It's a compact model, and easy to assemble and use while still being simple to store. It's also quite stable, which ensures you won't hurt yourself as you use it! All in all LifePro is a fantastic brand, and this is a fantastic product I'd highly recommend.
ENTER TO WIN LIFEPRO FLEXTRIDE UNDER DESK ELLIPTICAL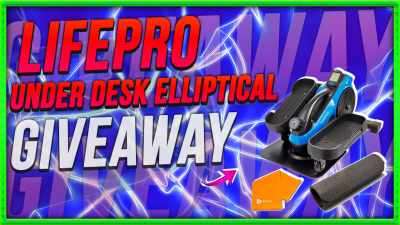 Enter to win the LifePro FlexStride Under Desk Elliptical

We are influencers and brand affiliates.  This post contains affiliate links, most which go to Amazon and are Geo-Affiliate links to nearest Amazon store.
I am just a 25 year old doofus who enjoys rpgs, sugar rushes, and passing out at odd hours.