I have been constantly seeking ways to reduce the amount of spam comments that end up in my WordPress pending aka (Moderation queue).  I realized quite a while ago that Akismet for all it's spam blocking potential had way too many false positives for me to use on a site like DragonBlogger.com.  This site gets on average 150-250 spam comments per day and about 30-50 valid comments per day.
I had to weed through the spam folder to find all the good comments, mark them "not spam" then approve them and reply.  This was far to inefficient and cost me precious time.
GASP or Growmap Anti Spambot Plugin combined with Simple Trackback Validation with Topsy Blocker is an excellent option and blocks about 75% of all spam comments that my blog was receiving.  At first for a few months this plugin combination alone was all I needed, and I only had to content with manually trashing or spamming 10-20 comments per day.
Then my site traffic started increasing and the number of spam showing up in my moderation queue started increasing as well.  I was back to the point where I had to manually review and either approve or spam/trash 40+ comments per day and most of those were spam.  All my regular comments get auto approved, only new commenters need manual moderation the 1st time they post a comment here.
AVH First Defense Against Spam
I decided to go fishing around for other plugins that could help me reduce the amount of spam on my blog and this led me to try the AVH First Defense Against Spam plugin for WordPress.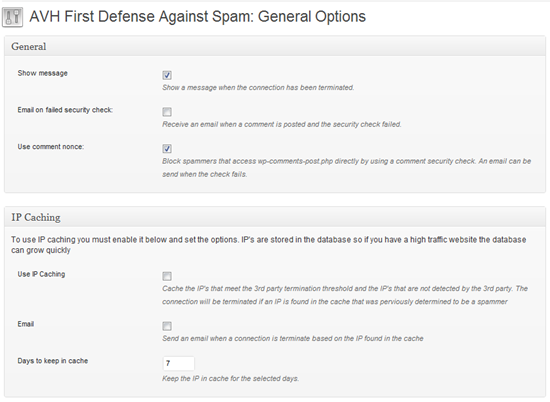 AVH promised to block spam before they even got to your blog so the comments would never show up in moderation.  With some configuration and testing the plugin connects to several databases to identify IP addresses that were flagged as spam.  This includes the Stop Forum Spam, Project Honeypot…etc.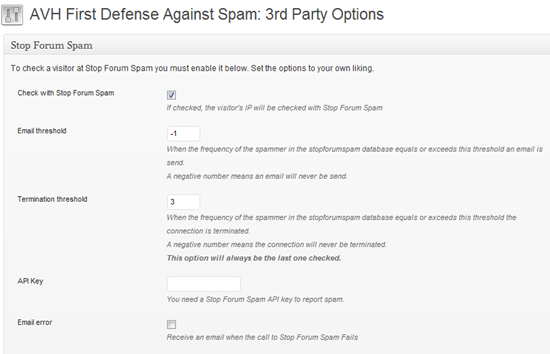 I have used the plugin for 2 weeks on DragonBlogger.com and decided it is more trouble than it was worth.  I found that many of my regulars comments went straight to my "trash" folder and not even my pending or spam folder.  This made it take a long time before I rescued the comments.  In addition there were some readers who have been regulars and interacted well on my blog yet were blocked completely with warnings that they were caught by the SPAM IP filter.
After 2 weeks of testing the plugin and annoying some of my most loyal readers and followers I have removed the plugin and cannot recommend it to other bloggers any more than I recommend Akismet.  It is kind of worse because in some cases you won't even know if someone tried to comment and you can't even rescue comments from SPAM folder like you could with Akismet.
In Summary
The bottom line is that you want to make it as easy as possible for readers to leave comments and engage the post author and other readers.  Comment spam sucks but I would rather moderate and manually trash 20 spam comments than lose 1 loyal readers comment and until I find some other alternative I am back to using the Growmap Anti Spambot Plugin with Simple Trackback Validation with Topsy Blocker.
-Dragon Blogger