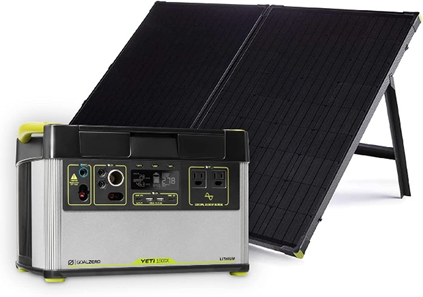 Do you need a powerful portable power station that also includes a solar panel?
If you usually travel often, you know how important it is to stay connected no matter where you are, especially if you usually travel with young people, you know, most teenagers can not spend many minutes without checking their social networks. So, if you plan to travel away from home with your family, you would surely like to have a reliable source of electrical energy, which offers you enough power to keep most of your electrical equipment running. There are many ways to get electric power while in nature and I mean portable power stations.
The portable power station usually works quietly compared to most gasoline-powered generators, this is a great help if you do not want to disturb your neighbors or your family. Another feature of the power station is that they usually have a portable size in most cases, which allows you to carry it in the car without many problems. The price of a power station can vary depending on how much power you need. Something important to keep in mind is that, if you live in a hot place, then a solar panel will be of great help to recharge the power station no matter where you are.
The Goal Zero Yeti 1500X portable power station is probably one of the best options to consider if you need a reliable electrical power source powerful enough to keep almost any electrical equipment running smoothly. Best of all, it includes a solar panel so you can recharge the power station almost anywhere. Next, discover the most interesting features of this product.
Features of the Goal Zero Yeti 1500X portable power station
Powerful and easy to use
The main feature of the Goal Zero Yeti 1500X is that despite having a power of 1500W, it has a compact size so you can take it in the car without any problem, it is also designed so that you can store it in your home without up much space. Something to keep in mind is that this electric power station weighs 45 pounds. It doesn't matter if you have electrical problems in your home, this portable power station supplies enough power for you to keep laptops, TVs, mini cooled, fans, and even high-drain electrical equipment on.
200W solar panel included
If you plan to use a portable power station while traveling with your family, then surely you are worried that it will end up discharged at some point, to fix that problem and to ensure that you can recharge the Goal Zero Yeti 1500X no matter where you are, the Boulder 200 is included, a 200W solar panel that will be able to recharge this powerful power station in 9 hours, Which is great when you consider that lower-power portable power stations tend to take longer to recharge using a solar panel. The Boulder 200 weighs 42 pounds and is designed so you can carry it in the car without much hassle, too.
Includes most ports
Our devices have different types of ports, so if you want to keep most of your devices powered on you will need a portable power station that includes different types of ports. That's not a problem for the Goal Zero Yeti 1500X, this power station includes 2 AC ports, car port, USB-A ports, a USB-C port, and other ports to increase compatibility with your devices. Forget about low-performance portable power stations that discharge quickly, the Goal Zero Yeti 1500X has your back with safe electric power. The LED display shows all the necessary information such as the amount of battery remaining.
You can buy this item here on Amazon