We are influencers and brand affiliates.  This post contains affiliate links, most which go to Amazon and are Geo-Affiliate links to nearest Amazon store.
Massages are relaxing, lovely, and typically expensive! They're also a good way to recover from any muscle based injury. However finding an affordable masseuse can be a hassle, not to mention there's the awkward uncomfortable feeling that goes along with having a stranger touch your body. Wouldn't you rather have a wonderful massage in the comfort of your own home? From a quality device that offers a professional grade massage without the price or anxiety? Let me tell you a bit about LifePros Sonic Handheld Massage Gun! This product is an absolute gem, and I can't wait to tell you about it!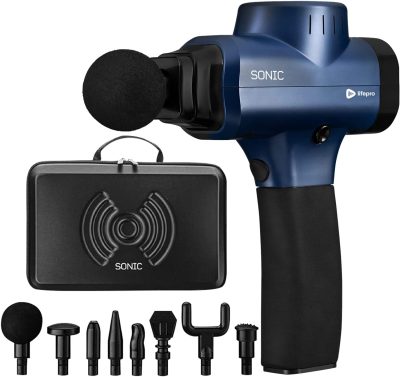 Features
Sore muscle tissue can be an absolute nightmare. Missed days at work, time with family, what a pain! LifePros massage gun offers a deep, powerful massage that will quickly rejuvenate your aching muscles! It's powerful motor brings high penetration that sends waves of relaxation and relief through the affected area. When you use it as a pre-workout warm up it'll even boost your athletic performance, and as a post workout it's one of the quickest way to recover from an intense training session! It can also boost everyday mobility and flexibility via its trigger-point massage therapy if you target your joints!
It has five levels of intensity as well as multiple massage heads which allows you to customize your massage exactly as you like. Regardless of the body part you're looking to target, this gun is fully loaded! You can use either a low pressure 20hz massage, a moderate 30hz massage, a strong 35 Hz massage, an intense 40Hz massage, and a powerful 45 Hz percussive massage primarily intended to expedite healing! It's sturdy design ensures it's stable through all speed settings, so you'll never shake this thing apart with continuous use of the highest setting if you'd like!
Along with all this, it's extremely easy to use and exceptionally portable, as well as quiet! Its convenient design allows for single handed operation, which means its perfect for an after workout wind down when you're at the gym and needing some after session relief. As with every other LifePro product this product is backed by a lifetime warranty, not to mention the guiding angels support system. Live technical support and free access to their online video library! If you're having trouble with your massager, chances are there's a video to fix whatever might be troubling you! What a brand!
Summary
LifePro is one of the leading brands in health and wellness, and their massage gun is no exception to the rule. It's all the technology you'd get in any other massage gun at half the price. As always I absolutely love every single product I come across where the brand offers a lifetime warranty. That's a commitment to customer satisfaction that I appreciate, and I can recommend anything from LifePros line of products this included. I'm a firm believer in brand accountability, and LifePro is the epitome of this belief, so believe me when I say you can trust every LifePro product you find due to us.
We are influencers and brand affiliates.  This post contains affiliate links, most which go to Amazon and are Geo-Affiliate links to nearest Amazon store.
I am just a 25 year old doofus who enjoys rpgs, sugar rushes, and passing out at odd hours.