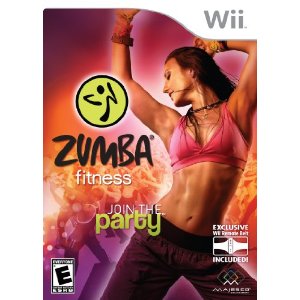 Hey there friends.  Looking for a fast paced, intense workout that will show off your dance moves?  Then Zumba Fitness is definitely for you.  The Zumba fitness program has been around for a while and while the fitness DVDs may be a little too intense for casual fans, the game is the prefect blend of beginner and advanced moves to get you into this Brazilian dance craze.
The game comes with a velcro belt that you put on and attach the Wii motion sensor control to.  Once the belt is on, you're ready to start your workout.  While the music is upbeat and the dancing can be high paced, I found that the motion sensor of the Wii fails to track your movements accurately.  This may or may not be a problem.  It depends on whether or not you're in it to dance and be fit, or in it to score the highest possible points.
The game has 30 workouts using latin dances styles such as Calypso, Cumbia, Merengue and Salsa.  For those of you that are unfamiliar with these dances, there are fast paced and there is a lot of hip action to these dances and the belt was designed so that the Wii can track those motions.  As you dance, the Wii will detect most movements correctly.  Enough to get you to the next phase of dancing, but this can become extremely frustrating if you lack rhythm (like myself) since you will need to be able to perform dance moves somewhat accurately to move on to the next stage of the game.  The game keeps track of how well you're doing by the color of your aura (screen avatar).  If you're dancing away and your character is shaded green, then you are doing well.  Once you start leaning towards a red color, then you're not doing so well.
The game is definitely fun, if you don't mind the Wii's inaccuracy.  This is a great alternative to those that are a little intimidated by going to an actual Zumba class or for those that simply don't have that option.  It is extremely simple to start a workout so you easily pop it in and start working out.  Some issues that I noticed is the extras are very limited.  You either do a tutorial, dance on your own, or do a workout.  Another thing that I thought would have been great was to add some sort of calorie tracker to the screen.  If you are billing the game as a great exercise tool, some sort of calorie tracker should have been added to game.
Overall, if you can look past the accuracy of the Wii motion sensor, it's definitely a fun game to have around.  Especially if you're looking to learn  Zumba and can't get to a class or if you simply want to add a cardio workout to your routine.  It's awesome way to get up, get moving, and start shaking those hips!  Later!
[easyazon_block asin="B003OQ4B1Q"]
This is the Dragon Blogger Guest Bloggers account for author's who want to submit articles and only have credit in the post instead of having to manage their own WordPress profile.