We are influencers and brand affiliates.  This post contains affiliate links, most which go to Amazon and are Geo-Affiliate links to nearest Amazon store.
It's that time of year again where warmth matters the most, and finding a space heater for the said task is a great way to ensure you aren't left in the cold. Now normally with oscillating fans, or in this case heaters, noise is also an issue, but these are 3 Quiet Oscillating Heaters for Keeping Rooms Warm and by the end of this showcase I hope you'll consider one of these fine products. I'll be discussing key features, as well as offering a little bit of my opinion on each.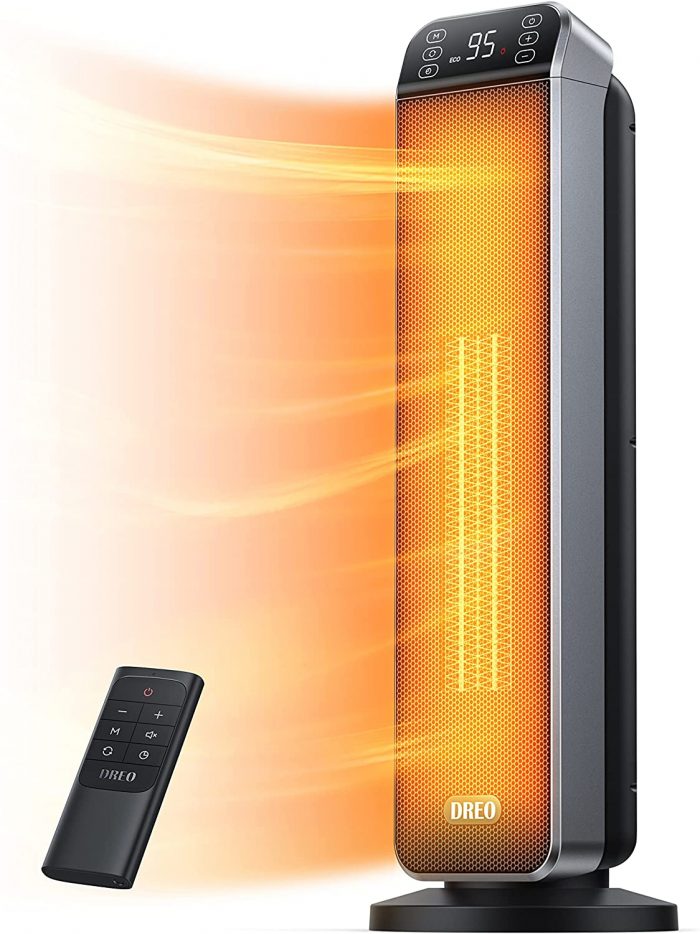 Key Features
Whole Room Heating – Covered for anything from small to large rooms

Quiet – 40db noise production, as quiet as a library

Energy Efficient

Safe & Reliable – Overheat and Tip-over protection as well as auto-off after 24 hours of non-use
Dreo starts us off strong with their 24″ space heater. Sporting a 1500W PTC ceramic heating system (That's also constructed of flame retardant materials), and a quiet oscillation that's capable of covering an entire room regardless of size, this heater is sure to fill your heating needs well. On the topic of noise reduction, it features a mute button, lowering the DB produced to its absolute minimum. Rather than operate with presets, its temperature sensor is precise, allowing you to change it in one degree increments from 41 degrees to 95 degrees. Its energy efficiency is also quite high, saving you more on your heating bills, especially if put into ECO mode. It's also extremely user-friendly, and very safe, with Overheat and Tip-over protection as well as auto-off after 24 hours of no interaction, meaning you can sleep soundly without worrying about an unexpected fire. You can use the tilted digital panel to change the temperature and settings, or use the included remote to change the temperature from up to twenty-six feet away, allowing the 2500rpm fans to spread warmth regardless of how you decide to operate it.
Key Features
Instantly Heats Up – 1s Heating Time

Twenty Four Hour Timer – Have a toasty room waiting when you get home

Safety Features – Overheat and Tip protection, Child Lock, Fireproof Materials

Removable Filter for Easy Cleaning
Up next we have a lovely product from FHstars, this oscillating heater uses a 1500w maximum power ceramic heating system to ensure your room is comfortably warm. No more waiting for your space heater to kick on and heat up, this one's ready in a flash, with three heat settings AND an adjustable thermostat for a tailor-made heating setup. Its heat dissipation grill has a wide surface area, so in addition to the high-powered heating system, the grill disperses heat with more efficiency than your average space heater. Its easy-to-use touch system allows you to quickly change the temp, switch it into eco mode, fan mode, turn oscillation on or off, and set the timer. In addition to all that this ETL-certified ceramic heater comes with overheat, tip-over protection, the child-lock function, and fireproof materials, keeping your family safe as well as warm throughout the holiday season. For such a compact space heater it packs a lot of value that any person can appreciate, such as the removable filter for simple, quick cleaning. Speaking from experience space heaters can draw a lot of dust when stored, and while the materials one might be constructed from are flame retardant, dust is not, so the ability to quickly clean it before setup is a fantastic feature that both ensures safe operation and fast setup. This one is my favorite of our available products.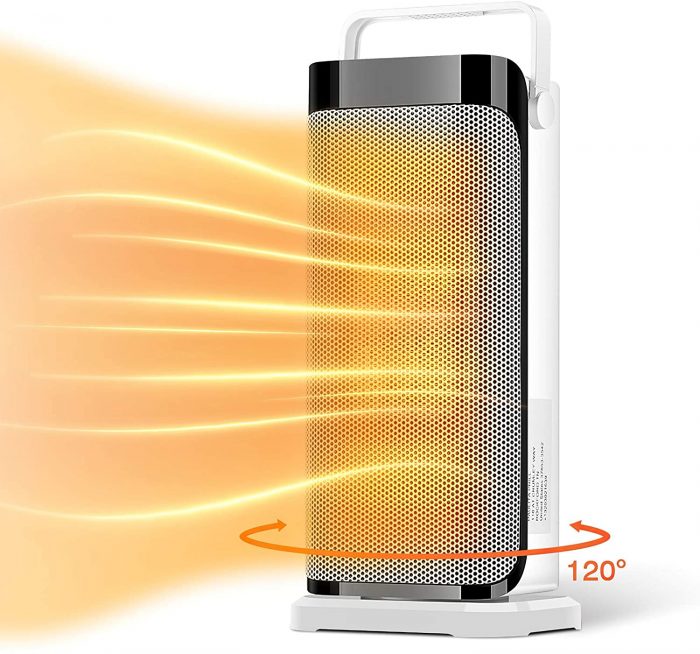 Key Features
3s Heating Time

Low Noise Technology

Safety Features – Overheat Protection and Tip-Over switch

Brand: Air Choice
This one's a little vague on its exact specs, but it has a max watt setting of 1500w, with a three-second heating period from start to your desired settings. It uses low noise technology, as well as has a lower light output so you won't be stuck with an orange glow as you attempt to sleep. Its compact size is the equivalent of a4 paper in length and diameter. It touts a minimized energy consumption with fantastic heat output, and three heat settings as well as an adjustable temperature. It's easily moved, and has a built-in handle, making moving it is a piece of cake. It's also got overheat-protection and a tip-over switch, meaning if you leave it on to the point that it reaches a certain temperature it'll automatically shut off, the same goes for if it tips over. All in all, it's a decently compact heater and a decent value with a temperature max of ninety-one degrees. 
Final Thoughts
It's always a pain being stuck in a cold house in the middle of winter and finding a space heater that's both value-packed, and safe, while also being affordable can be a hassle, so I hope I've helped shed some light on some extremely nice ones for you, and that you give each a bit of consideration when making your next space heater purchase. Oscillation is an extremely efficient method to both heat and cool a room, and all these are worth at a bare minimum a look. Thank you for reading, and have a wonderful holiday season.
We are influencers and brand affiliates.  This post contains affiliate links, most which go to Amazon and are Geo-Affiliate links to nearest Amazon store.
I am just a 25 year old doofus who enjoys rpgs, sugar rushes, and passing out at odd hours.