We are influencers and brand affiliates.  This post contains affiliate links, most which go to Amazon and are Geo-Affiliate links to nearest Amazon store.
Staying fit in today's homebound culture can be quite the task. Trips to the gym can be almost impossible, and even if possible, can be an awkward affair. If you're the type of person like myself who can't stand the trip to the gym, nor do you enjoy the idea of people staring at you as you attempt to operate a treadmill, these are certainly some products you can appreciate as much as I. These are three under desk seated elliptical machines for low impact exercise, and by the end of this, I hope you'll feel safe in the decision to purchase one of these fine products. Low Impact Exercise means you'll be able to continue to work while burning calories, and can be beneficial for both your health and stress levels. Let's get started.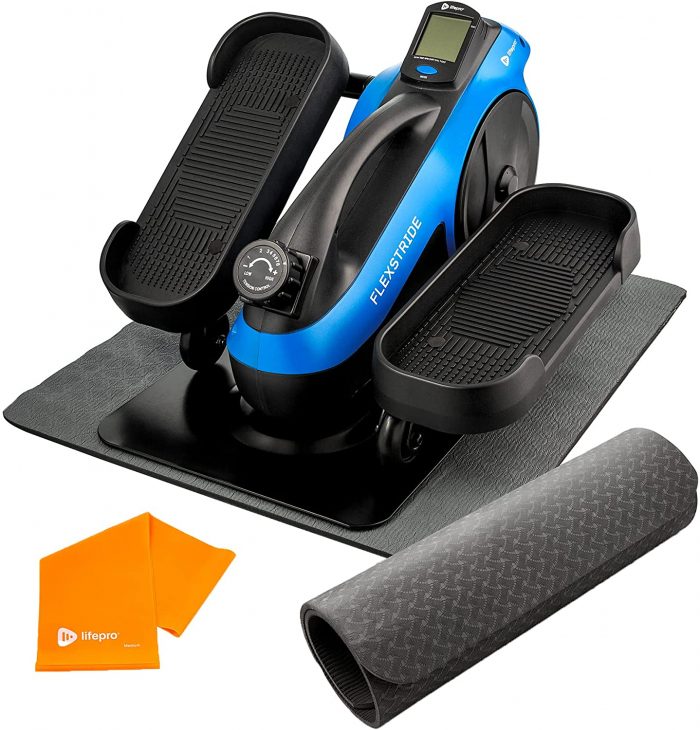 Key Features
Adjustable Resistance

Easy to Use LCD Screen

Improve Your Athletic Performance

Lifetime Warranty
This compact mini elliptical machine for home or office use helps you incorporate aerobic exercise no matter the circumstances, wherever you may be. With a built-in handle for easy transport, carrying the FlexStride Plus is that much easier. It's got eight resistance levels, so it's easy to calibrate to suit your needs. The FlexStride can help you decrease your stress, burn calories, boost your metabolism, and you can sync and track your progress with Bluetooth connectivity and the LCD Display. It improves blood flow and lymphatic drainage, reduces inflammation, and promotes faster healing. Every LifePro branded elliptical undergoes rigorous testing to make sure it delivers on its promise of quality, and as an added insurance policy it's backed by a lifetime warranty. Elliptical use has been known to improve athletic performance, and seated ellipticals make great pre-workout warmup tools, as well as post-workout recovery methods. You can choose your resistance level on the LCD screen and track your workout on it as well, even while sitting. It's a convenient way to keep fit, even when dealing with the stresses of the pandemic, or lifes own hassles. Aerobic exercise for just fifteen minutes a day can increase your muscle flexibility and bone density, improve your circulation, and boost your metabolism. Consistent exercise builds muscle mass, so you keep burning calories more efficiently even while resting.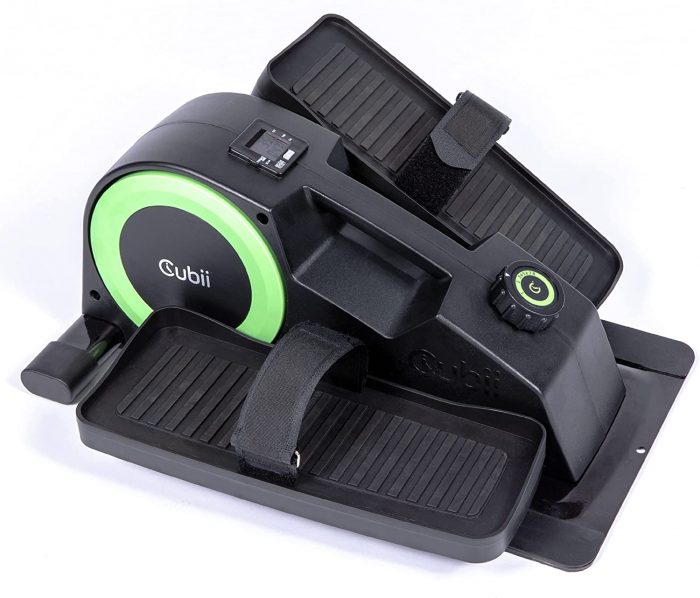 Key Features
Portable and compact

Built-in LCD display with calorie, time, strides, distance tracker

Made for use with Any Seat

Adjustable Foot Straps
The Cubii JR2 Seated Under Desk Elliptical is a fantastic option for anyone, young or old, looking for a low-impact workout device that doesn't take up much space, and is tailored for any fitness level. It's an excellent fitness gift for parents and grandparents with the smooth gliding motion of its pedals, and as our last product, features a customizable eight resistance levels, allowing you to tailor every aspect of your workout to your heart's content. The built-in LCD Display tracks calories burned, minutes active, strides per minute, and distance pedaled, and can all be entered into your Cubii mobile app to keep a permanent log of your fitness progress. It's designed for use with any seat, and its ChairLock system will allow it to keep your rolling chair from moving while you pedal. Not only does it feature a lightweight design, but it also has a built-in handle for easily moving it from room to room. Never miss your favorite show, and stay productive at work with Cubii!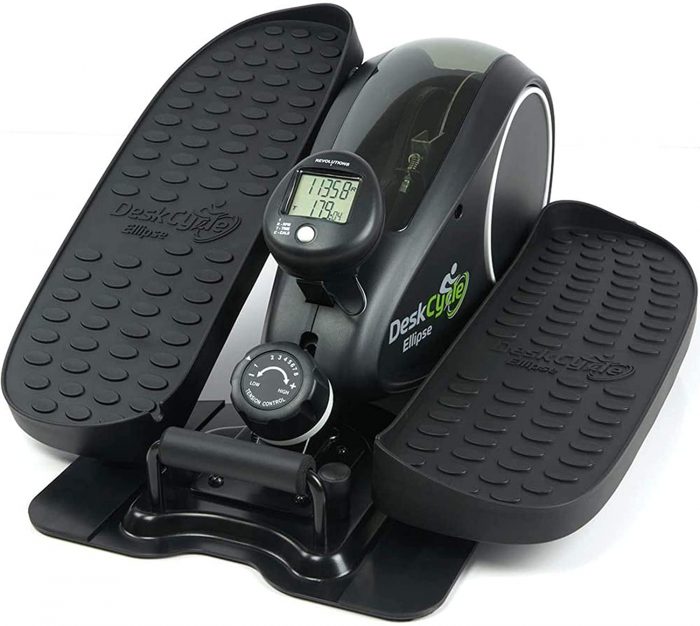 Key Features
Magnetic Resistance System

Easy To Use LCD Display

Extra Long and Wide Pedals

Great for building up Strength
Our final product from DeskCycle is the Ellipse, a mini Under Desk Elliptical Machine featuring eight different resistance settings, an easy-to-use, large six-function LCD display that tracks revolutions, RPM, time, calories burned, and more. It's also easily removable and continues to track all your stats even when you do, allowing you to place it on your desk or nearby for easier viewing. Its magnetic resistance system ranges from very easy to hard, making it an excellent machine for users of all demographics. The included extra-long and wide pedals allow you to mix up your workout, making adjusting the shape of the elliptical machine's motion simple. Place them on the top of the pedal to maximize up and down movement, or towards the bottom for more horizontal strides!
Final Thoughts
Staying fit is more important now than it ever has been, and all of these under-desk ellipticals are up to the task of keeping you trim without putting too much stress on your mind or body. Each one is compact and easy to store, as well as offers value-packed features that are worth a look. My personal favorite on this list has to be Cubiis, as an additional app for progress tracking is an excellent motivator to stick to a workout schedule even if you're not quite feeling up to it. That's all from me for now, thanks for reading, and have a wonderful holiday.
We are influencers and brand affiliates.  This post contains affiliate links, most which go to Amazon and are Geo-Affiliate links to nearest Amazon store.
I am just a 25 year old doofus who enjoys rpgs, sugar rushes, and passing out at odd hours.