We are influencers and brand affiliates.  This post contains affiliate links, most which go to Amazon and are Geo-Affiliate links to nearest Amazon store.
Smartphones rarely leave our sides, serving as our personal address books, calendars, notepads, weather forecasters, and so much more. If you're the sort of person who enjoys hands-on home improvement projects or just need to find a good roofing contractor, for example, there are numerous apps you can download to assist you in your chosen hobby. Here are 5 of them.
wikiHow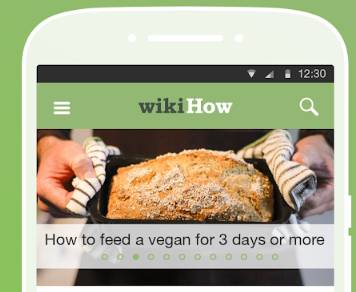 wikiHow has been around as a traditional website since 2005. It is a crowdsourced how-to manual that helps people figure out how to do a huge variety of practical tasks, including many related to home improvements.
There is an app version of wikiHow that provides instructions at your fingertips, making it convenient for when you are in the middle of some task and need immediate help. If you're trying to fix a dryer that isn't starting, wikiHow has an article on the topic and provides step-by-step instructions and clear images explaining 3 ways you can try to get it started again. Having wikiHow in app form allows you to take the phone with you to the dryer so you can use it for reference as you troubleshoot the problem.
The app features a prominent search bar at the top of the screen, allowing you to easily find the instructions you need. The search bar also contains scrolling suggestions for articles you might find interesting, thus making the wikiHow app a great way to kill time and learn about random stuff that might be handy in the future.
A sampling of some of the home improvement articles to be found on the wikiHow app include:
How to Wash Linen Curtains
How to Use a Tension Rod
How to Make a Gravel Garden
How to Clean Silver
And, who doesn't need to know how to clean an orphaned kitten? There's an article on this app for that, too!
Handyman Calculator
Home improvement projects are full of measurements: Square footage, board feet, cubic yards, millimeters, ohms, watts, diameters.
How do you figure out how much paint you need for a 320-square-foot room? What pitch should your roof be? How much sod do you need for your yard?
The Handyman Calculator app can help you measure all of these things and so very much more. The app contains a long list of various calculators, each labeled by type of task.
If you want to figure out the board feet of lumber you need for a project, use the Board Foot Calculator. There's a Carpet Calculator, Drywall Calculator, Paint Calculator, Laminate Flooring Calculator and Wallpaper Calculator.
This app also includes a few surprise calculators, like the Body Mass Index Calculator, Sod Calculator, Rainwater Collection Calculator, Mowing Calculator and Metal Detector.
Once you've done your calculations, the app allows you to save them in the built-in note pad. It also allows you to track invoices and time spent on home improvement jobs.
Serviz
If you're looking for a home improvement professional in a major metropolitan area, check out the Serviz app. It helps you find local pros who offer handyman services, gutter cleaning, heating and air conditioning maintenance and repair, painting, pest control, and more. Serviz provides you with all-inclusive pricing and lets you book your home improvement professional through the app.
If you're worried about whether you'll have to wait around all day for your home professional to show up, Serviz has you pick a 2-hour appointment window and allows you to track the professional in real-time.
Serviz has a money-back guarantee, so if you are not satisfied with the work done, they will send out a new professional or refund your money. Conveniently, the app allows you to pay for the service online and stores your estimates and invoices in your account.
Houzz Interior Design Ideas
The Houzz Interior Design Ideas app is just what you might think an interior design app should be. It provides inspiration through beautiful photos of designed interiors, allowing you to save your favorites. It shares home improvement and interior design articles and videos. It helps you find advice from the Houzz community on home improvement projects, along with letting you share your own advice.
In addition, the Houzz Interior Design Ideas app helps you find home improvement professionals in your area, from architects to contractors to landscapers to interior designers. It also allows you to shop for furniture and home décor within the app, prominently displaying the prices.
With its clean design and easy navigation, the Houzz Interior Design Ideas app makes imagining your dream home or room a delight.  You can pair design ideas you get with furniture you browse on urban ladder as well.
Wayfair – Shop All Things Home
The Wayfair shopping app offers furniture and home décor items in a wide variety of styles, from traditional to modern.
As you are searching through departments, such as lighting, appliances, rugs, furniture, and storage, you can save items you like on your Boards within the app. That's good for inspiration, as well as giving you time to make decisions on how you want to decorate your home.
Wayfair offers steep discounts, along with free shipping on orders over $49.
It's a simple app that is intuitive to use and makes shopping for household items a breeze.
When it comes to home improvement, try a new app designed specifically for home projects to serve your needs.
If you still prefer to look and try furniture in person rather than purchase online you can find furniture stores in Mumbai or several other regions to try and make sure what you get is what you want.
About the Author Joanne Aubuchon
Joanne is a resident writer for SERVIZ, an on-demand home services company offering everything from Plumbing repairs to Carpet Cleaning across the US. Joanne is a writer by day and reader by night. Joanne loves writing about saving money, raising kids and improving the quality of our lives. When she is not writing, you can find her trying out new salad recipes, playing ball with her kids, or cheering in the stands at her son's soccer games.
We are influencers and brand affiliates.  This post contains affiliate links, most which go to Amazon and are Geo-Affiliate links to nearest Amazon store.
This is the Dragon Blogger Guest Bloggers account for author's who want to submit articles and only have credit in the post instead of having to manage their own WordPress profile.