We are influencers and brand affiliates.  This post contains affiliate links, most which go to Amazon and are Geo-Affiliate links to nearest Amazon store.
Portable devices are everywhere and they mostly all need power, but many times you cannot find an outlet when needed and really who carries their AC Adapters?  Even worse, going on a vacation with the family or with your friends, you need to carry a ton of AC adapters for all types of different tablets, phones, smartwatches its insane.  Well, I might have an answer for all of these problems, and maybe for some you didn't even know you had.  I might have something for you with the Avantek 20,000mAh Battery Pack.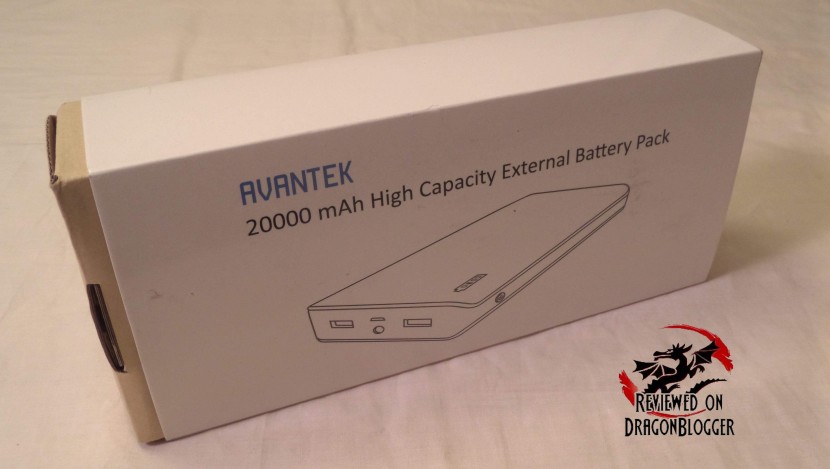 Let's go over some of the specs first.
Features and Specifications
20,000mAh Samsung lithium battery cells
2 x 2.4Amp USB Ports
1 x 2.0Amp microUSB port to charge Battery Pack
Built in White LED flashlight
Four LED Charge Indicator
Ok, and let's go over an unboxing of the Avantek 20,000mAh Battery Pack.
Pretty simple, no frills and no thrill's which I love, because that means you are not paying for a box, you are paying for what's inside which of course helps the price stay low.
Well, here's the battery pack.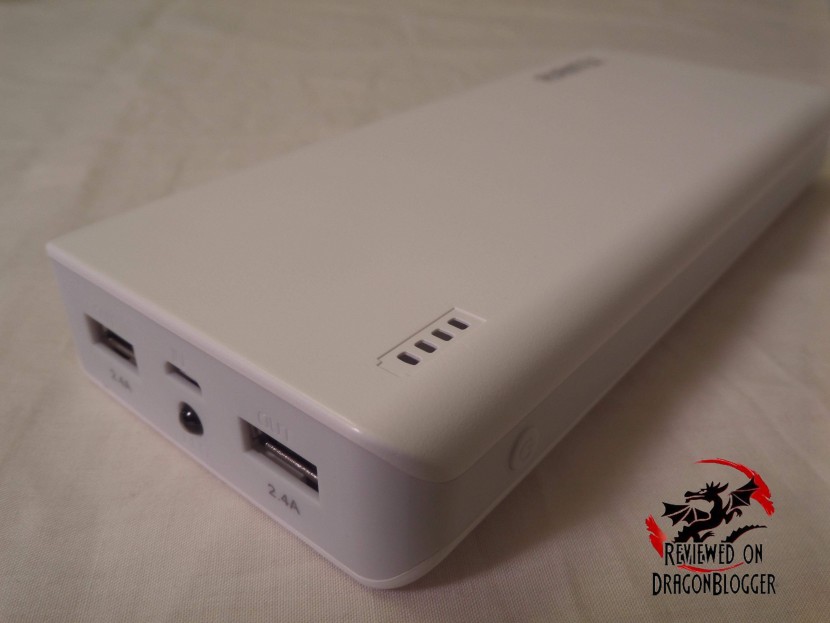 It's not small, but something that packs this much power would be a bit difficult to pack into a small package, but it's not huge either.  It measures out to 6 ½ inches in length.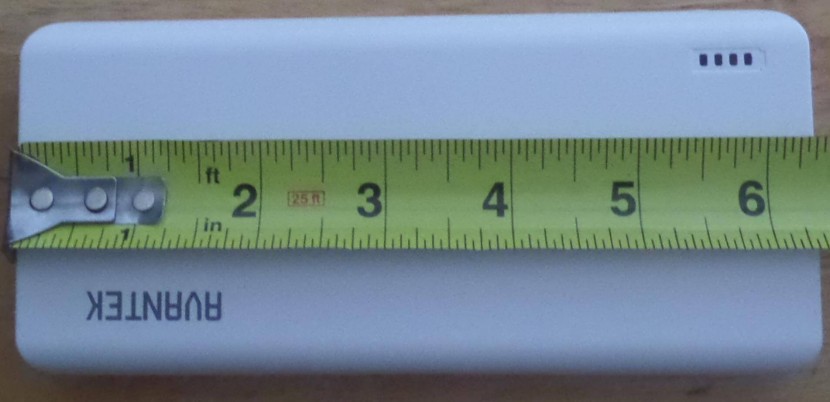 Almost 3 inches wide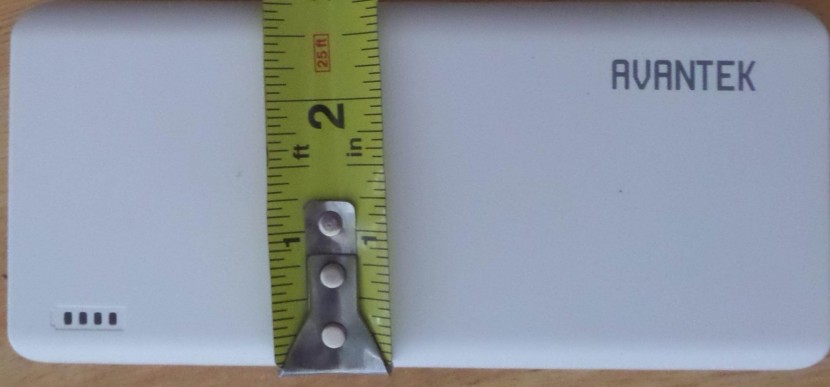 And just about an 1 inch deep, and weighs about 1 pound.

So it's not the lightest, but again, its 20,000mAh, that can charge a ton of devices.  Also, the constructions feels very high quality, it does not feel like a cheap piece of equipment.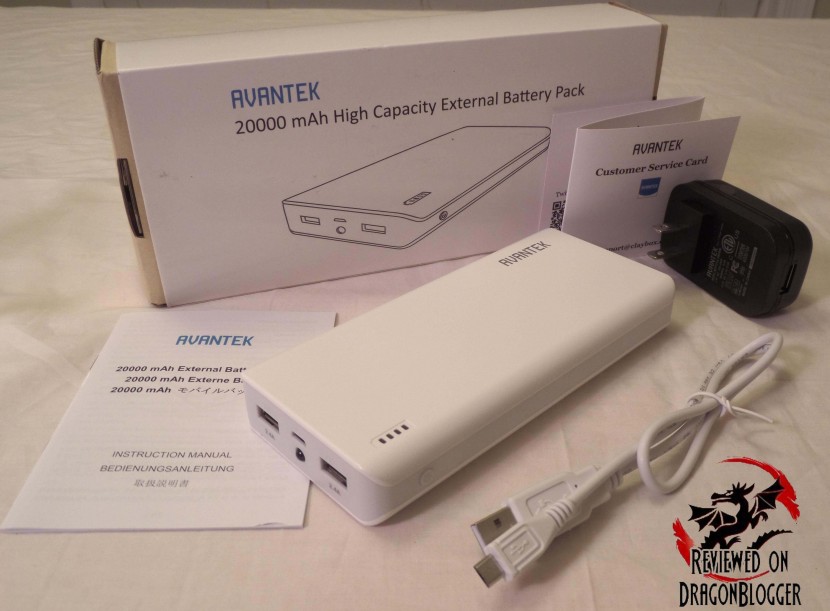 Inside of the package comes an instruction manual, a customer Service card, AC adapter, USB cable and the battery pack itself.
The manual actually has some good information in it, some I should have checked before I did a video you will see very soon in this review.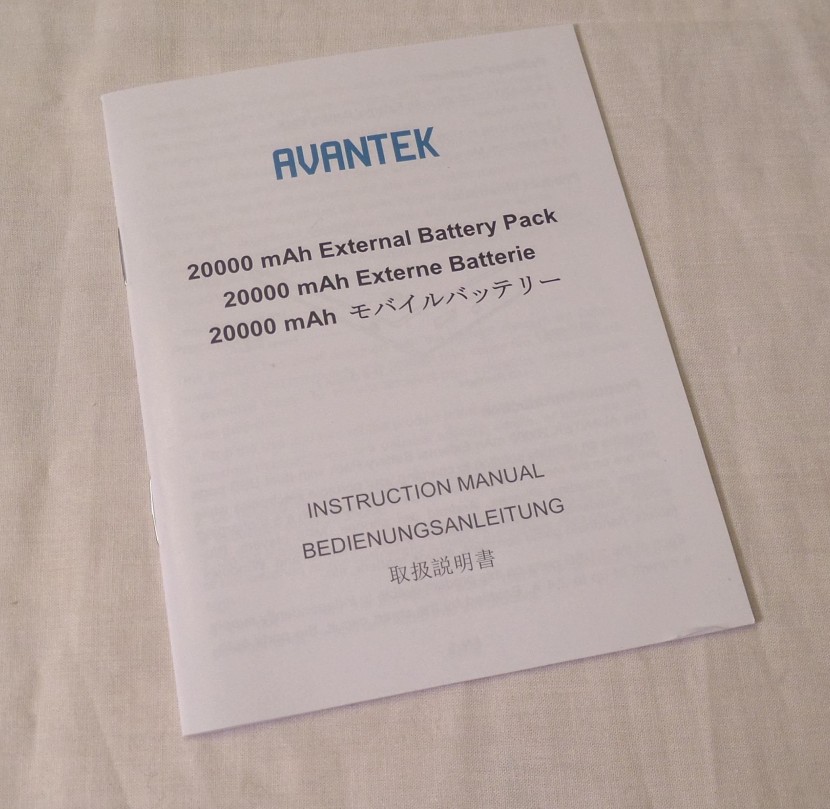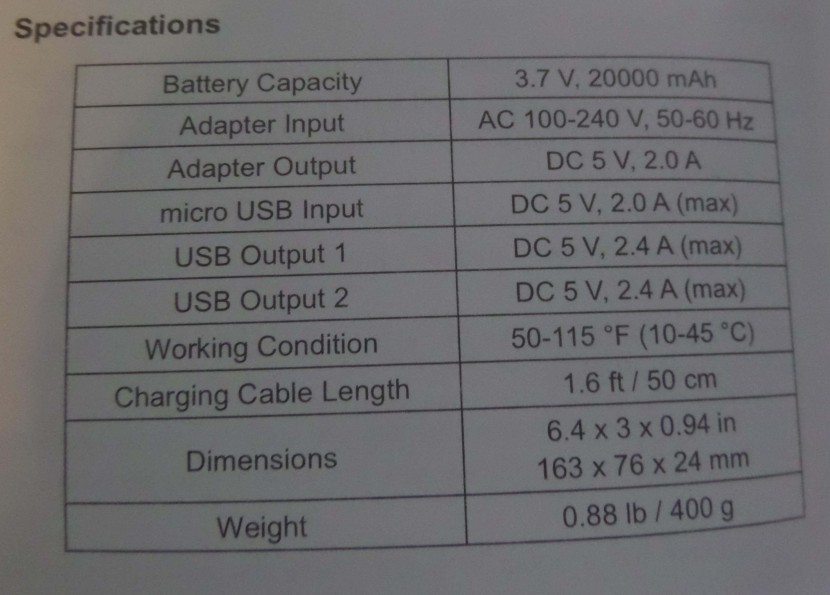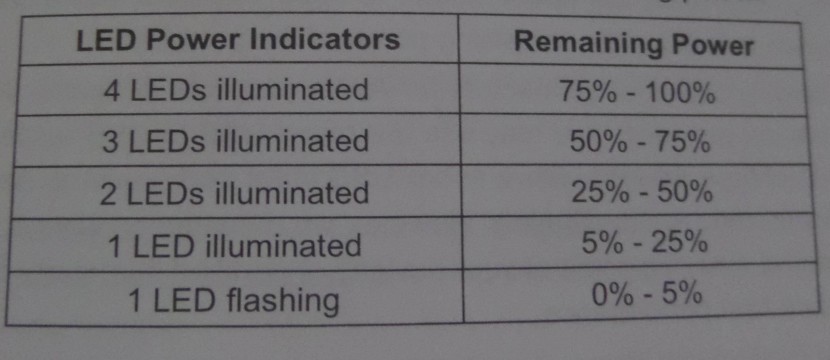 The LED's this is referring to are on the unit, as the manual states, it tells you how much power the battery has left.  I thought it was comment sense, but as we all know sense is not common.  4 x LED's means the battery pack has between 100% and 74% charge, 3 x LED's 75% and 50%, 2 x LED's 50% and 25% and here's the part I was wrong about, I though 1 LED meant between 25% and 0%, but actually 1 LED means 25% and 5% and 1 flashing LED means its about to die at anywhere between 5% and totally dead.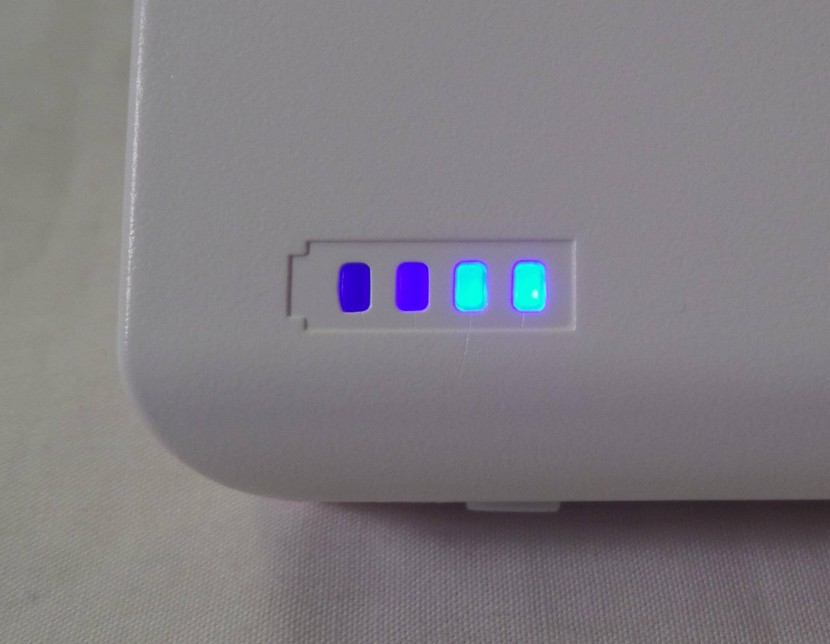 The AC adapter.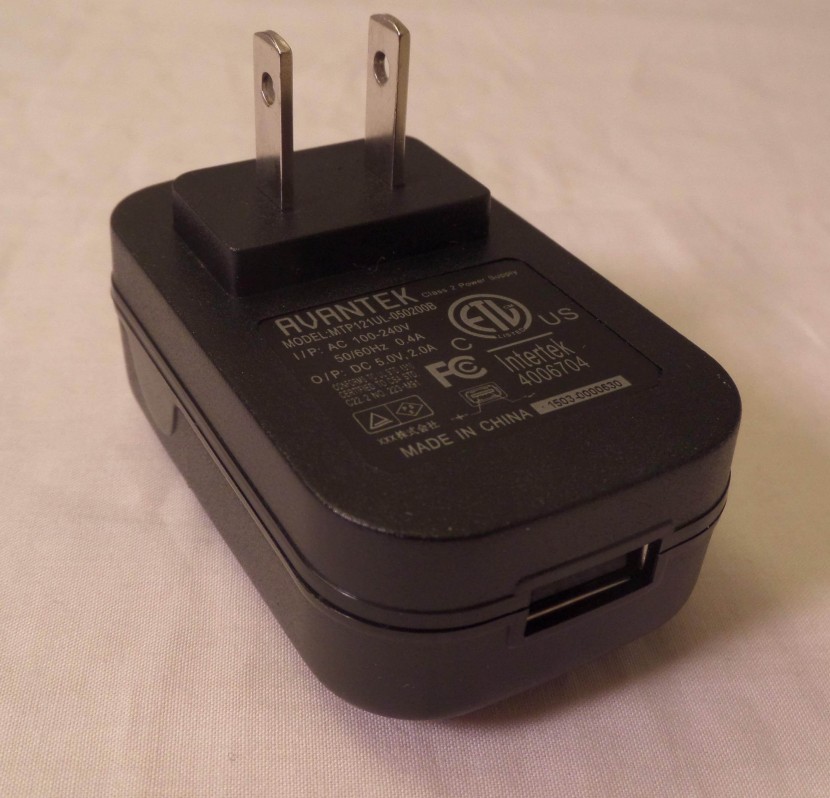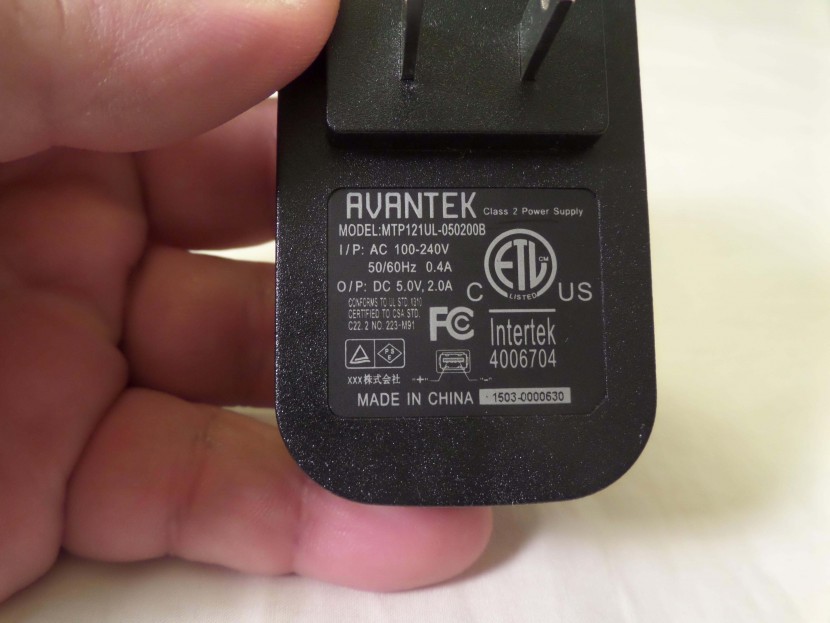 The USB cable, you can use it for charging devices too, though it's always best to use the cable for your device, just in case.  The cable is 18inches.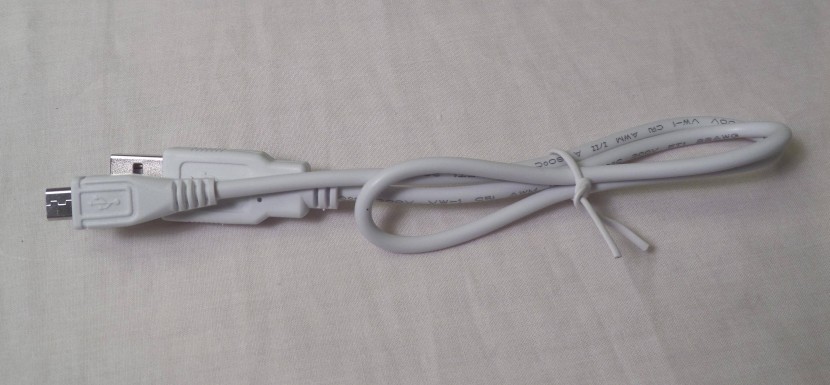 Before your first use, Avantek recommends 10 to 12 hours of charge, again its 20,000mAh, it going to take a while to charge.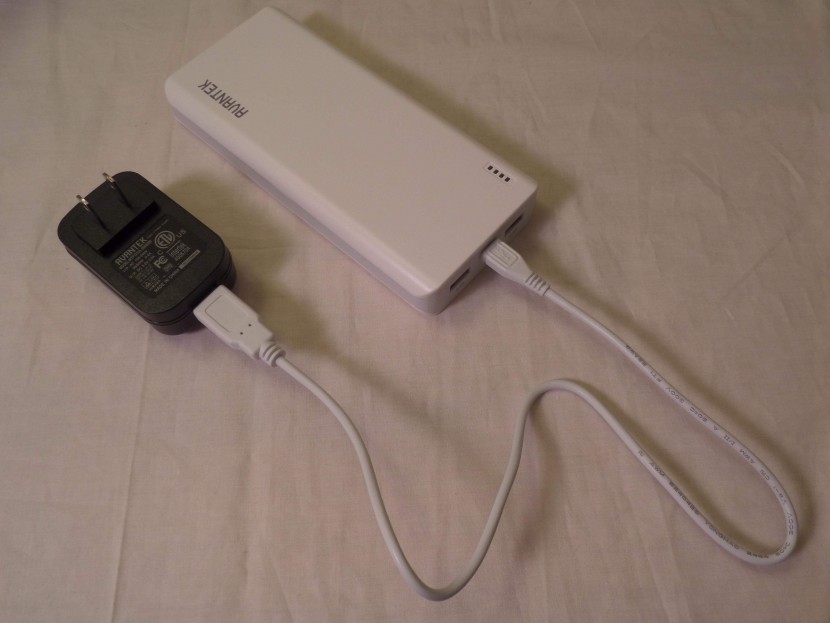 Slowly those LED spaces start filling up till the battery pack is fully charged, but I recommend to plug it in, go to sleep then later go to work, or school and come back to use it because it's going to be a while.  Actually I would recommend charging it longer than 10 hours, just in case.
I left it charging for a full week, just to make sure that it wasn't a cheap knock off pack that would blow up or anything, but it charged perfectly well without any issues.  It does get warm though, but so does anything else charging.
After it was fully charged, I did a test to see what it could charge, check out the video
In this video I charged the Tablet Express Dragon Touch X10, and Apple iPhone 5c both to 100%, then I charged my Motorola Droid Turbo and Tablet Express Dragon Touch M10X.  The Motorola Droid Maxx Turbo charged to 86% and the Tablet Express Dragon Touch M10X actually already partially charged, started charging at 73% and finished at 93%.
Let me break it down to mAh's.
All 4 of these devices add up to 18,410mAh but I charged less.
So it actually charged 13,224mAh.
At first I thought it was not good but like with all Battery Packs you lose a percentage of the charge as heat builds up, about 10% maybe more so that's about 2,000mAh, but still that's 5,000mAh missing.  Most would not be charging device after device after device which just pounds on the heat so actually I think this adds up pretty well.  People will usually charge a device or 2, then leave the battery pack alone letting it cool down then come back a few hours later and charge more devices so you would not really drain as much power.  They don't out right call out the efficiency of this battery pack, so it's not 100%, I would say about 80% efficient which is still great.  Would you agree?
Even if your device is a 1.0, 2.0, 2.1 or 2.4amp device, it will still charge perfectly well on.  I would like to mention, to charge the iPhone 5c I used the VisionTekSmart LED Lightening to USB Charge and Sync cable, I will be reviewing that very soon as well.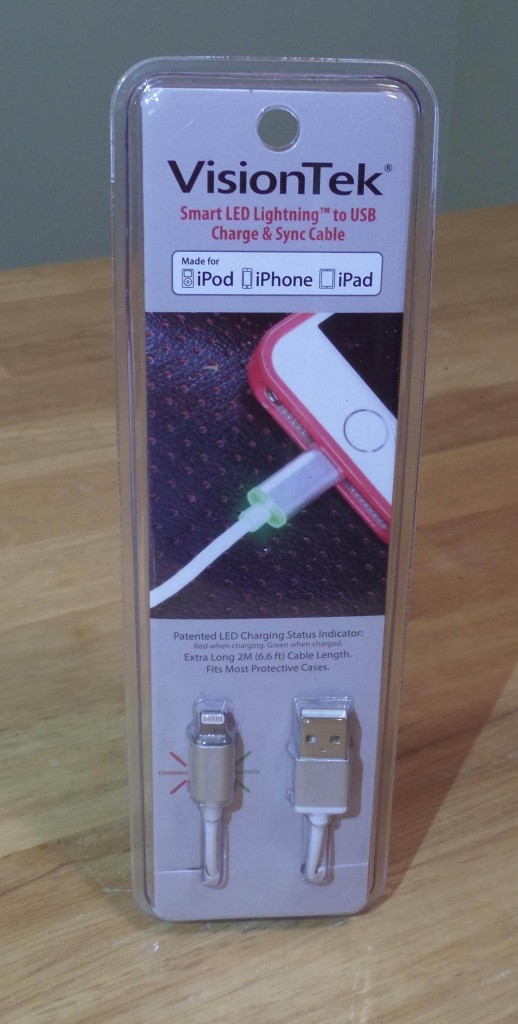 Aside from a battery pack, it is a light too.  If you tap the power button twice it shines a light.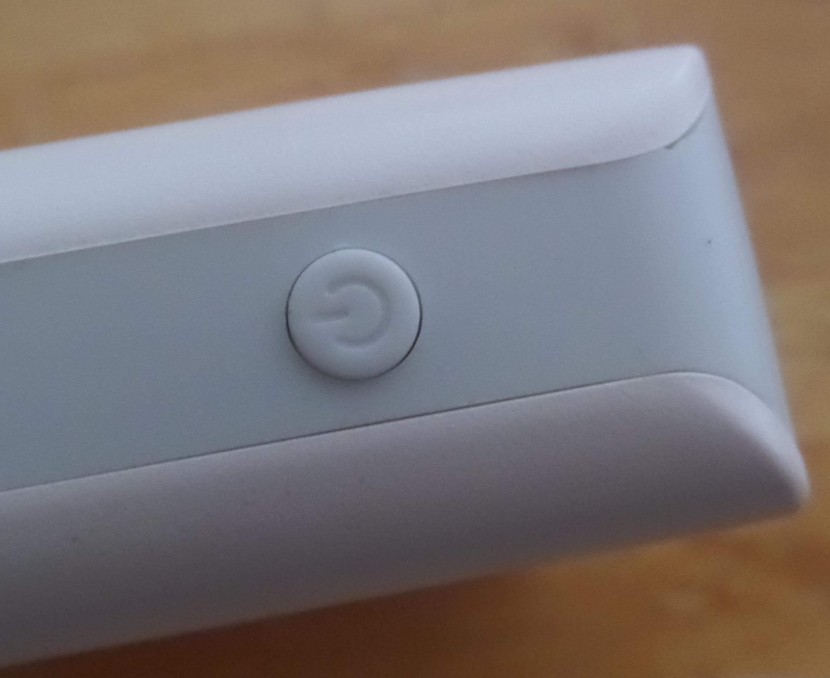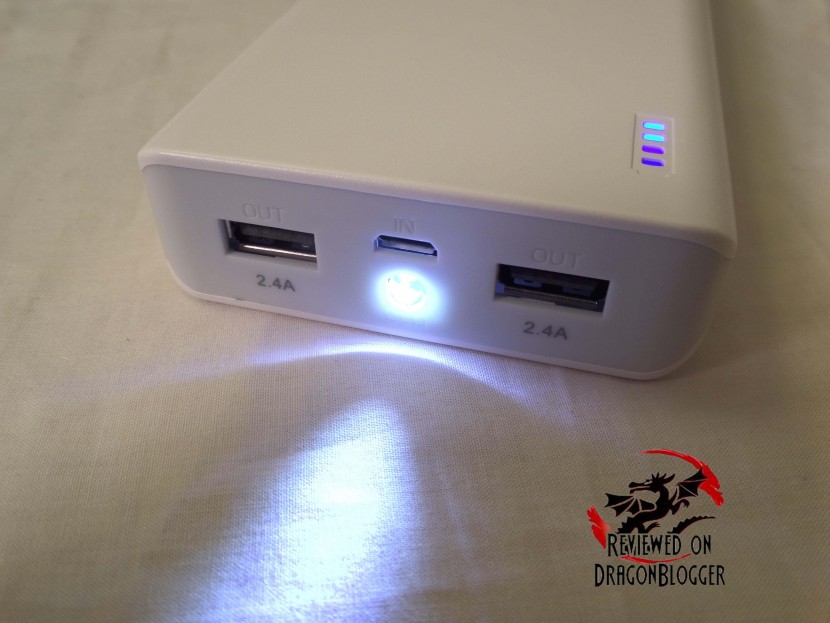 Now, it's not amazingly powerful but it will help you when you need to unlock a door and can't get the key in the lock at night or looking for your keys in a purse at night.  It won't do much good in the day light, but then again why do you need a light in the day?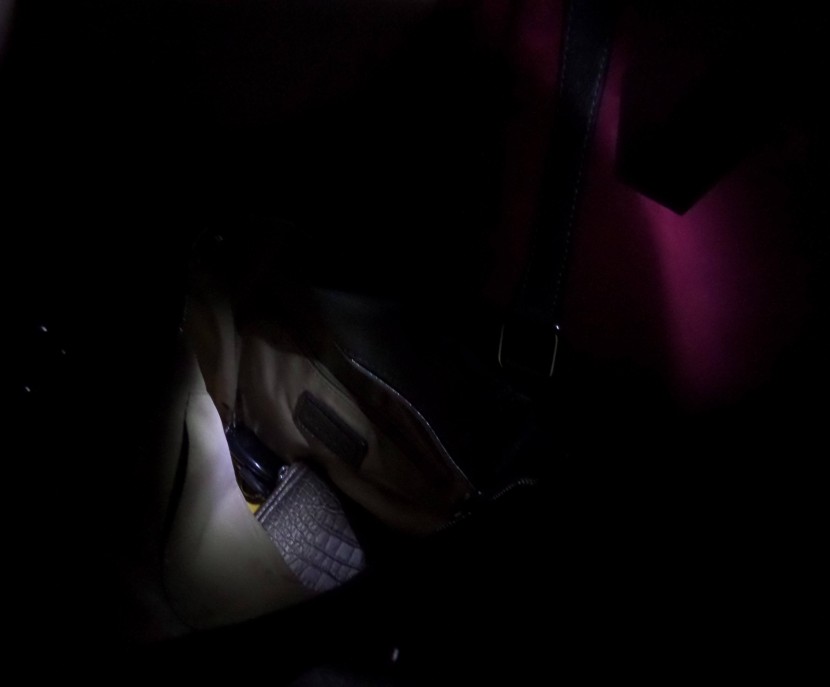 Closing Thoughts
Avantech tried to pack as much power as it could in a tiny package, not the smallest but again, it's to be expected for so much power.  This thing can charge a ton of devices 1 by 1 or 2 at a time, you will get more power If you charge 1 or 2 devices at a time and let the battery cool down in between but this is only because the battery pack is not 100% efficient.  The light seems a little like a gimmick but does help at night.
Pros
Tons of power in a small pack
Will charge 2 devices at once
LED indicators help let you know how much power the device has left
Decent price
Multi-purpose USB cable to charge battery pack can also be used to charge other devices
Includes an LED flashlight
Cons
Not 100% efficient, cannot pull 100% of the 20,000mAh's of power
LED Flashlight is not very powerful
Included USB cable could have been a bit longer
While not 100% efficient, I will still recommend this to anyone, but I cannot give it a 5 star rating because of it and because of the light.  While the light would have really not knocked off a star being that it was not very bright, it helps not being too bright so that it will not take too much power but the efficiency took about 5000mAh off of its charge.  I will not consider its initial 2000mAh waste as part of this efficiency because you can always assume 10% loss with any battery pack.
Heat makes it and any Power Pack waste more power, and I kept throwing devices at it to charge so it kept building heat, maybe some sort of ventilation would have helped the heat a bit, but again the scenario I was testing was not exactly a real world scenario or was it?
We are influencers and brand affiliates.  This post contains affiliate links, most which go to Amazon and are Geo-Affiliate links to nearest Amazon store.
I have spent many years in the PC boutique name space as Product Development Engineer for Alienware and later Dell through Alienware's acquisition and finally Velocity Micro. During these years I spent my time developing new configurations, products and technologies with companies such as AMD, Asus, Intel, Microsoft, NVIDIA and more. The Arts, Gaming, New & Old technologies drive my interests and passion. Now as my day job, I am an IT Manager but doing reviews on my time and my dime.