If you think that video content is a dominant digital force, you are absolutely right! According to the report, global consumer video traffic will account for 80% of the entire Internet traffic by 2019, while an average user spends almost two hours a day watching video content.
Nothing can compete with video content in terms of interaction and user engagement. In such circumstances, it's not a surprise to see Instagram launching its own video sharing platform. In this post, we will tell you everything there is to know about IGTV and its features. Let's take a look!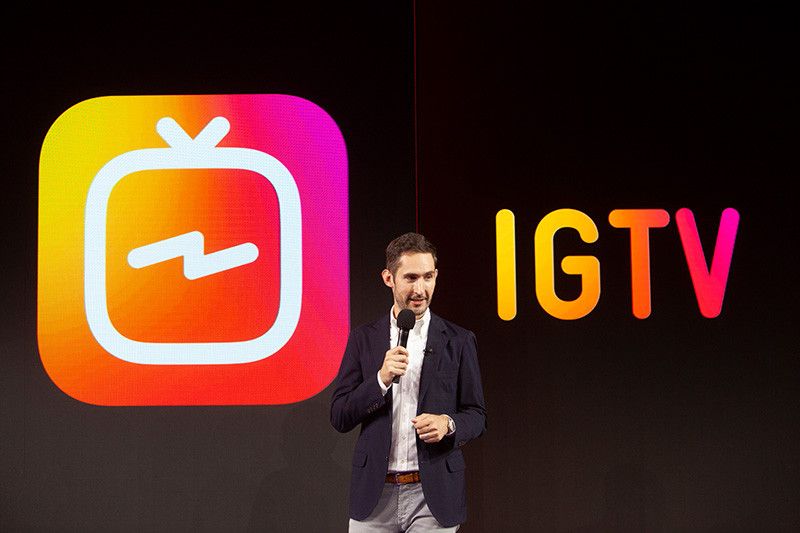 What Is IGTV?
Instagram launched IGTV in June, presenting it as the "new app for watching long-form, vertical video from your favorite Instagram creators." It comes as a stand-alone app, but you can also watch IGTV videos from within the Instagram app. What makes IGTV different than the old version of the Instagram video?
First of all, content on IGTV is not limited to one minute. Theoretically, you can create videos up to 60 minutes long, but this feature is so far made possible for the biggest Instagram accounts only. Other users can publish 10-minute long videos, but Instagram promises to extend it to the maximum very soon.
Secondly, IGTV encourages vertically created content, which is completely logical bearing in mind that the app is mobile-oriented. Users receive a notification when someone they follow posts a new video, so you can hardly miss fresh content coming from the accounts you like.
With this app, Instagram is becoming the YouTube's competitor. Marianne Dawson, a social media strategist at Resumes Planet, explained the company's strategy: "You won't be able to watch your favorite movies or TV shows on IGTV because it will mostly promote people who already have reputable Instagram accounts. That way, IGTV will let influencers shape the style and the overall norms of this platform."
Besides that, here are a few more interesting facts about IGTV:
The platform supports 4k vertical videos that last at least 15 seconds. The aspect ratio is the same as Instagram Stories at 16:9.
If you are wondering about the number of views, the logic is simple: every time someone watches at least three seconds of your video, it counts as a view.
An Instagram account cannot create more than one IGTV channel.
If the account you follow on Instagram creates an IGTV channel, you will be following it automatically. The same goes the other way around.
IGTV forbids publishing violent content, discrimination or hatred, and videos that display nudity. The rules in this field are the same as Instagram.
The Logic behind IGTV Categories
IGTV currently operates in three different ways, i.e. categories:
For You
This category represents a collection of videos that you might like. The app itself is creating the list by analyzing content from people you follow and processing it through its machine learning software.
Following
The second category includes video content made by all account that you follow. As we already mentioned, you will receive a notification when someone publishes a new post.
Popular
IGTV also creates a special category to keep you updated about the most popular videos on this platform. That way, you get to see the hottest and trendiest content from all over the world.
You can, however, search for videos on your own. IGTV made a small search bar, but the developers did everything they could to keep it out of reach. You are probably wondering why, and for the right reason, but the idea is clear: Instagram wants to curate the content on your behalf to ensure simpler and more comfortable user experience.
How to Create an IGTV Channel and Post Videos
Now that you've seen most of the details surrounding IGTV, it is time to learn how to create your own channel on this platform. IGTV is very simple and intuitive, allowing you to set up a new channel within seconds.
The first step is to sign in to the IGTV App. After that, go to the settings gear icon in the upper right corner to click the "create channel" option. That's pretty much everything there is to do here, so we will now switch to the next, very important subject.
How to Upload Videos Using IGTV App
This is where things get exciting on IGTV! Uploading videos is not as simple as creating a channel, but it's also a matter of several easy steps. Let's check them out:
Step 1: Go to your new channelby clicking on your avatar from the main page.
Step 2: Click the plus (+) iconin the middle right corner to add a new video to IGTV.
Step 3: Choose a vertical videofrom your camera roll.
Step 4: Enter a title and write a video description. As you can probably guess, this part works the same as YouTube videos. Adding keyword-rich titles and descriptions will help your content to reach the target audience on IGTV. Besides that, you can also add links to your descriptions, which is a great way to generate new leads. For instance, you can add a URL to the landing page that inspires followers to consume more content or even conduct the purchase.
Step 5: Add a thumbnail. The most popular videos always rely on quality thumbnails that promise action and quality content. Seize the opportunity to add a custom photo or select the best image from the video itself.
Step 6: Post a video by clicking the "Post" button.
 Well, now you've successfully posted an IGTV video! The last things to consider here are performance and analytics. Just go to the "…" button and choose "View Insights" within it. Once you do that, you can see video comments, likes, and views.
IGTV analytics shows you the number of followers who watched the video in its entirety. There is also the drop-off graph telling you the exact moment at which users are abandoning your content and swiping away to another video. All these indicators will help you to improve IGTV strategy and create more engaging videos in the future.
Conclusion
IGTV is an Instagram platform that enables users to create channels and post longer video content. The app is mobile-focused, encouraging full-screen vertical videos, so it immediately grabbed the attention of Instagram influencers.
This article showed you the most important features of IGTV. Did you already try the new app? What do you think about it? Feel free to let us know in comments – we will be glad to see your opinion!
About the Author
Warren's lifestyle is full of hiking adventures. When he's not busy with his guitar or enjoying the sunny day outside, he excels at blogging skills and scrolls through social media. You can meet him on Twitter and Facebook.
This is the Dragon Blogger Guest Bloggers account for author's who want to submit articles and only have credit in the post instead of having to manage their own WordPress profile.