My son had asked me for quite a number of months to have a TV in his bedroom that could mount on his wall so he didn't have to stare over the rail of his bunk bed (he slept on the top bunk) to see a TV or laptop screen at night.  So when Choetech contacted me and asked me if I would review their Gooseneck Flexible Long Arm Holder for Cell Phones or Tablets I jumped on the opportunity as it looked like the perfect product to achieve what I was hoping to surprise my son with.
Here is my Unboxing and Showcase video
Here is how the Choetech Gooseneck Flexible Long Arm Holder looks setup in the top bunk of a metal rail bunk bed so my son can have a 7″ tablet screen with him so he was able to watch movies in bed while he was sick with a bad cold.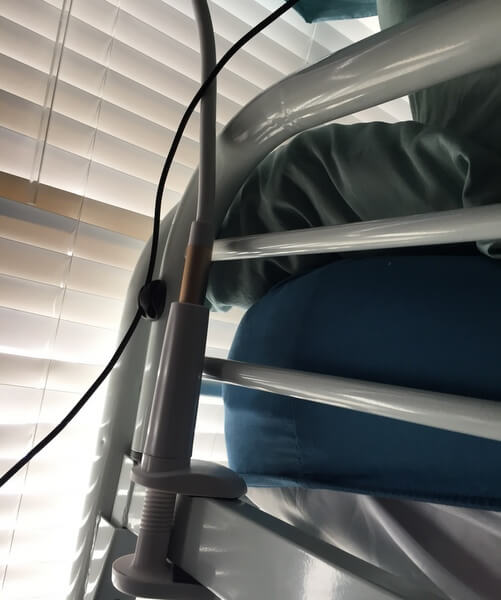 So the width of the clamp allowed it to clip on the rectangular part of the frame instead of the bars, which made for a very sturdy hold.  Because you can screw the clamp I was able to make it very tight so that when my son bumped against it, there would be no chance of it budging or falling off.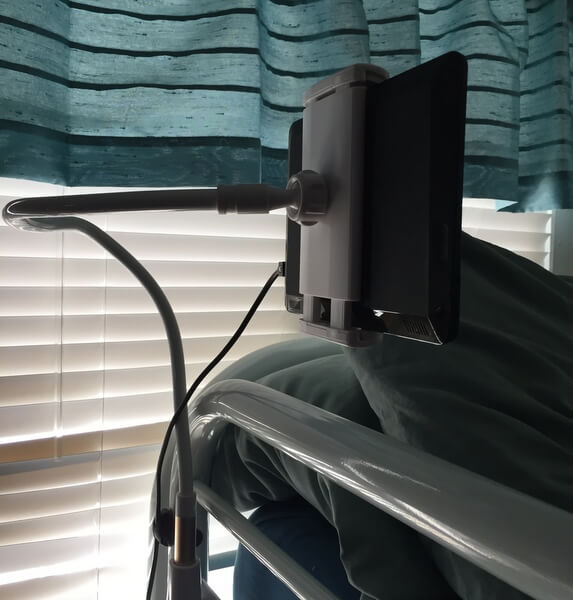 Putting the 7 inch Kindle Fire HDX tablet into the Choetech Gooseneck tablet holder was no issue at all, though running a cable made me realize I wish I had some cable ties or it had some rings on the pole to allow for having a cable follow the pole better.  This was easily solved with some wire ties however.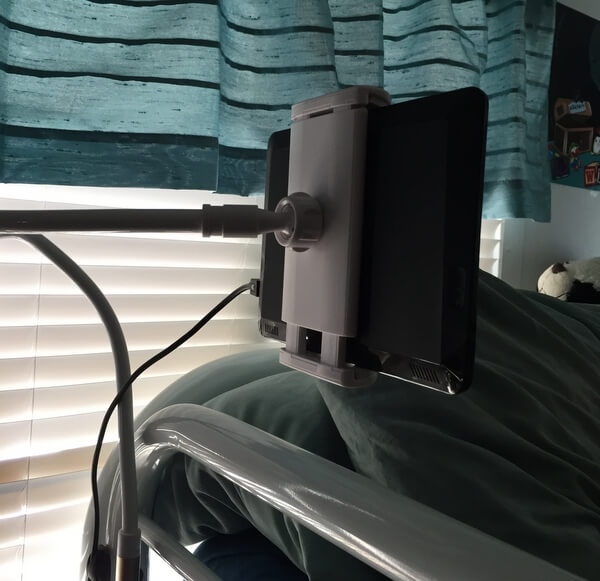 You can see the back where the ring screws onto the adjustable pivot head is nice and tight.  The tablet was not going to fall out at all even if it was bumped or hit with a hand.
All in all it was a very inexpensive option to allow my son to have a small tablet at bedside that kept him hands free and allowed him to watch Netflix while he rested in bed, considering this was the top bunk of a bunk bed, and I didn't have to install a TV Wall mount or do anything but simply make sure the cable to plug in the tablet could keep it charging all day and night so it would just die and run out of power.
The Choetech Gooseneck Flexible is a fantastic product and I have reviewed one other gooseneck clamp before, this one by far is the best that is a clamp for a desk or end table or even bed side that I have reviewed.