Dragon Blogger Team Updates
We onboarded a few new DragonBloggers in June including Dylan aka. BrohallaGames who streams for us on Friday's and lately has covered Ratchet & Clank: Rift Apart and Persona 5, and you can catch him at 4:30pm Pacific Time at Twitch.tv/Dragonbloggers.  Nkda pronounced 'Enn Kay Duh' joins our content creation team as well, and he is a Twitch streamer who is also one of our content creators, mostly product reviews right now.
KatVonMeow still has crappy Internet so while has not been able to stream, has been able to be part of the content review team for our Amazon Influencer Store.
James is on vacation with his wife for the next 2 weeks, and my own Wedding Anniversary was July 4th, and was my 22nd year being married to Mrs. DragonBlogger.  I took her out to a seafood/steakhouse for dinner of course.
We Love Pets
Pets are an integral part of our team, and nearly every single one of my crew has either a cat, dog or other pet and most find their way into our content whether it is streams, product reviews or other content we create.  We love dogs and cats and all furry friends, and here is a list of some pets for our team members.  I also launched a dedicated YouTube channel showcasing my dogs called Dogs Love Toys which you can find us covering dog toys and products there too.
Justin – Kiwi, Pumpkin, Gluten (Boston Terriers)
KatVonMeow – Koda (Cat, long hair Russian Blue)
Jayson_Wyler – Shadow (black shephard mix? dog)
Venaur – Shadow (black shephard mix? dog)
Nkda – Obi (brown dog) yes, short for Obi-Wan
Merl – Cat (Murphy), Dogs are Sissy and Navarra (great pyrenees)
Deerpwr – Cats Ori and Bean and dog Hopper
Jackie – Rocky the Cattle Dog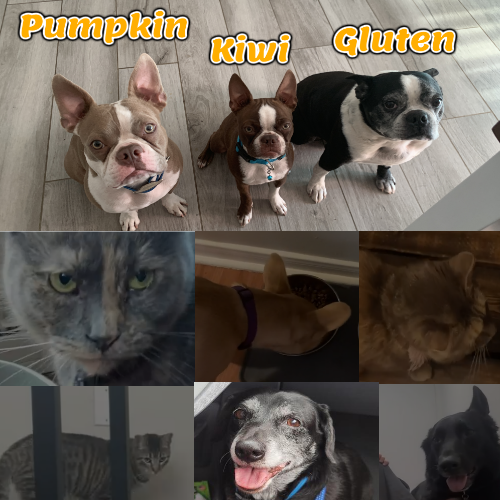 🎁GIVEAWAYS🎁
Recent Giveaway Winners
$100 Gift Card Giveaway Winner
Shahzad Khan
Tiktech Father's Day Giveaway Winner
Linda Treadwell
Rocky Garcia
Rob Hestar
Andrew Ruiz
Remember every month I am giving away 4 $10 gift cards and 1 $25 Gift Card to players of the SpinToWin game all you need to do is play and you can play 1x per day with each golden gem or red gem being an entry for the cash/gift card prizes.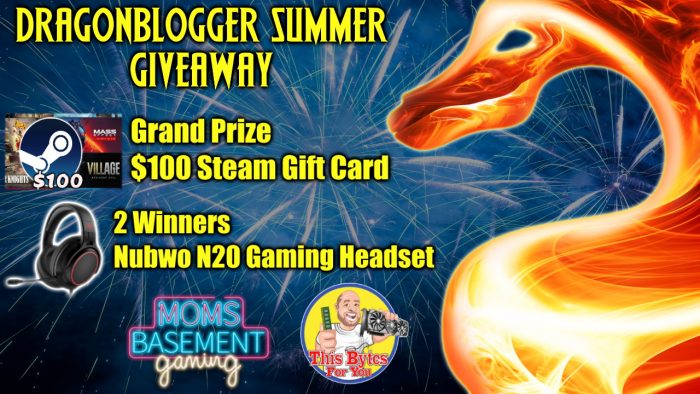 The latest Summer Giveway we just launch has 3 winners, the first will be the grand prize winner of another $100 Gift Card to either Amazon, Steam or PayPal as an option.  Then 2 people will win the Nubwo N20 gaming headsets, but may opt to receive $20 Amazon or PayPal as cash prize equiv if they prefer.
The more people who play the bigger prizes I get to draw, since I am partnered with CheapDigitalDownload and I get a certain "prize pool" based on the number of people who participate.  We draw the prize live every Sunday morning on https://www.twitch.tv/dragonbloggers but you don't have to be present to win. This is the easiest giveaway of them all to enter, just visit and click "participate" that's it, winner drawn every Sunday and you don't have to be present to win. The more people who enter the larger prizes I can award.