We are influencers and brand affiliates.  This post contains affiliate links, most which go to Amazon and are Geo-Affiliate links to nearest Amazon store.
A week or so back I was lucky enough to get my hands on my first brushless motored drone. This was the Bugs 3 from Drocon. This one is blue in color and sounds just like a mean little wasp flying right at you. I will get more into the sound in a bit. First, let me show you the box and all that comes with it.
From the photos above you can see you get 2 sets of propellers, one sect of landing gear, camera mount, charging cable, screwdriver, screws, controller, propeller changer, some landing gear, and the drone itself. The drone is blue in color like I said before. Let me show you the drone outside the box.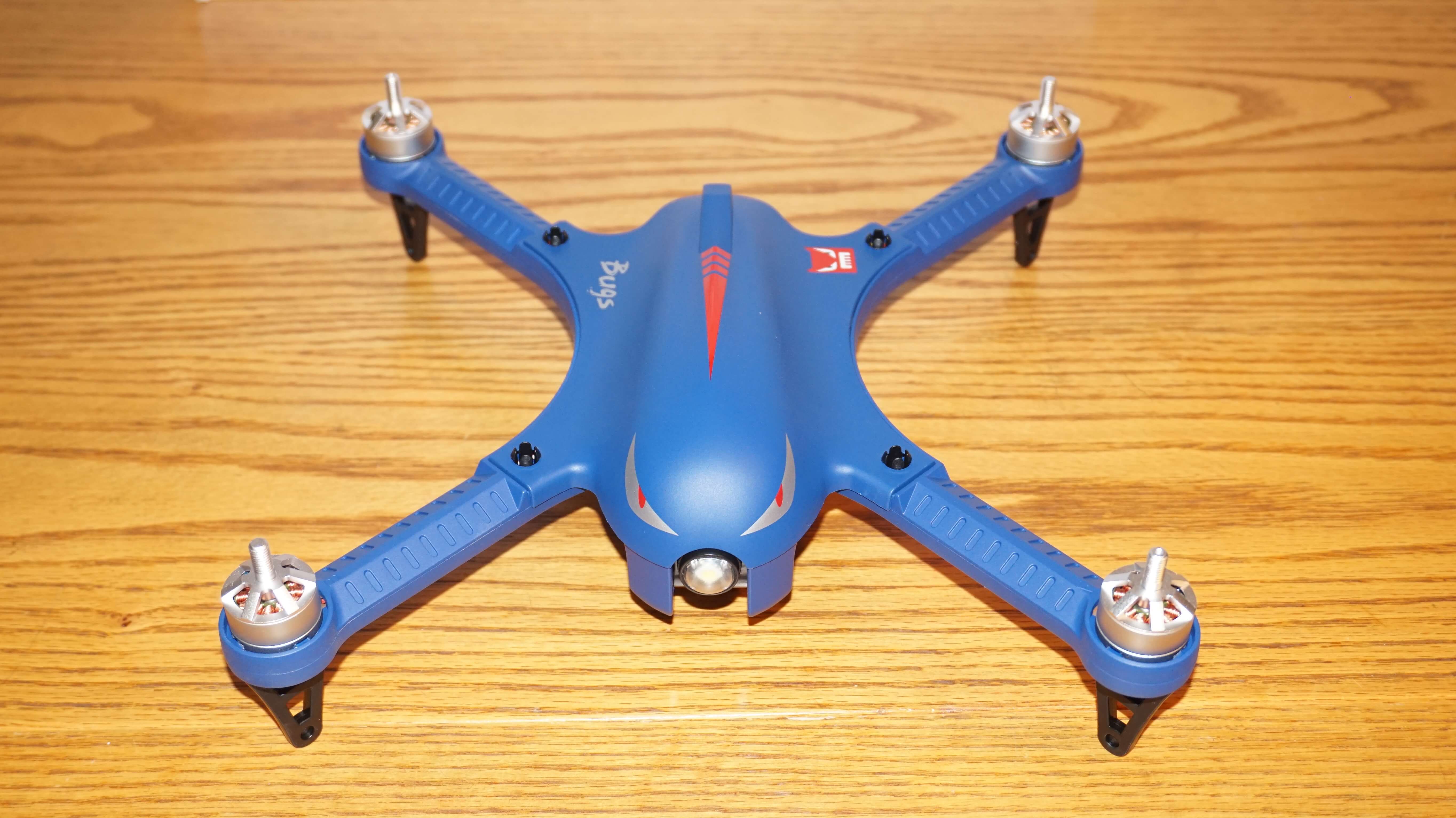 In the photo, you can see that it does not have the propellers on. The best part is you get to see that awesome looking face of the bugs. Let me give you a little closer look.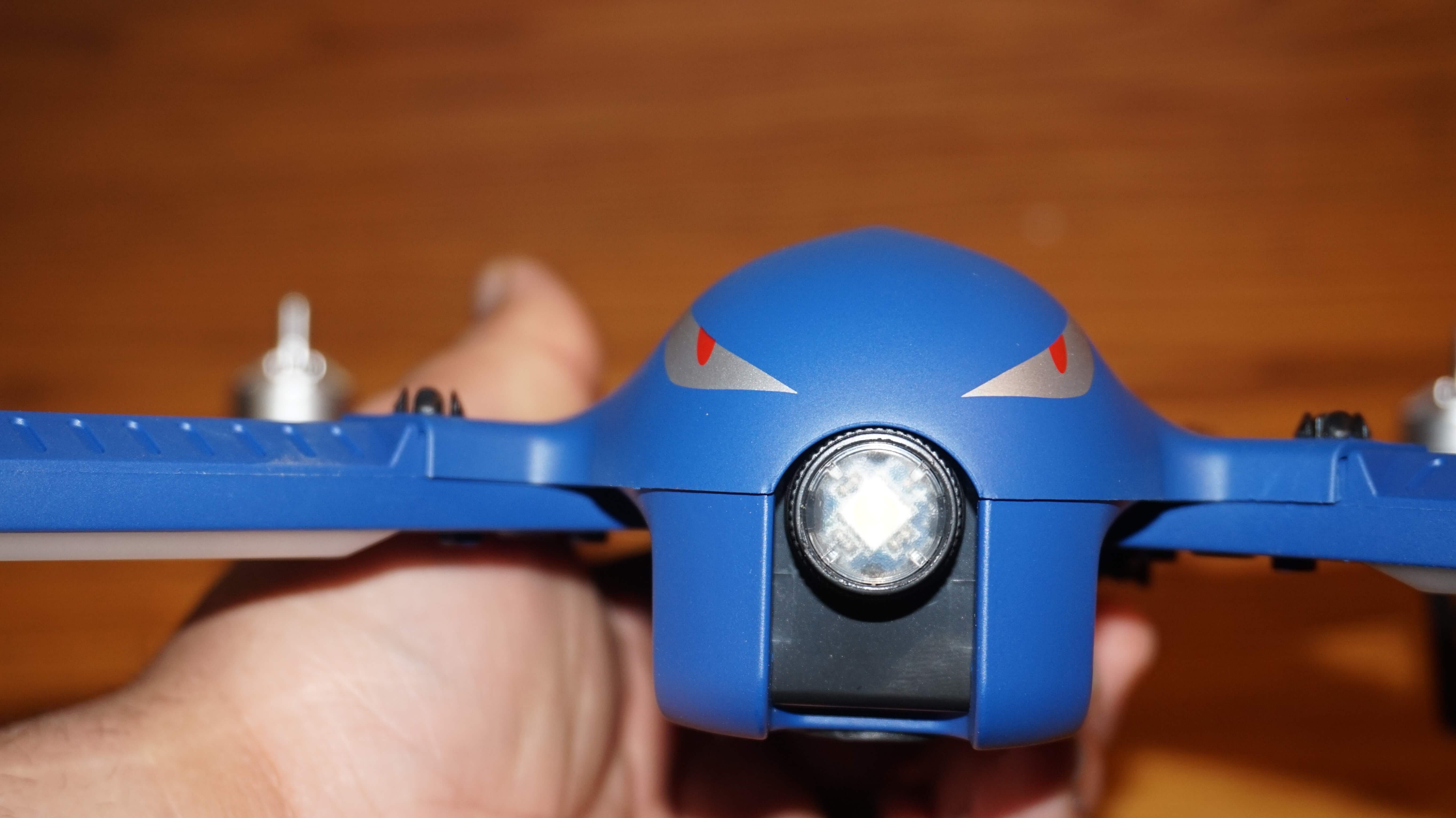 Imagine that face buzzing at you with the sound of an upset wasp!
Check Out My Unboxing Here!
Now some of you may have noticed is that it looks just like the MJX RC Bugs 3. Well, in short, it is made by MJX RC and sold to Drocon to be labeled by them. The box even has the MJX RC label.  Let me show you that label before I get more into this drone.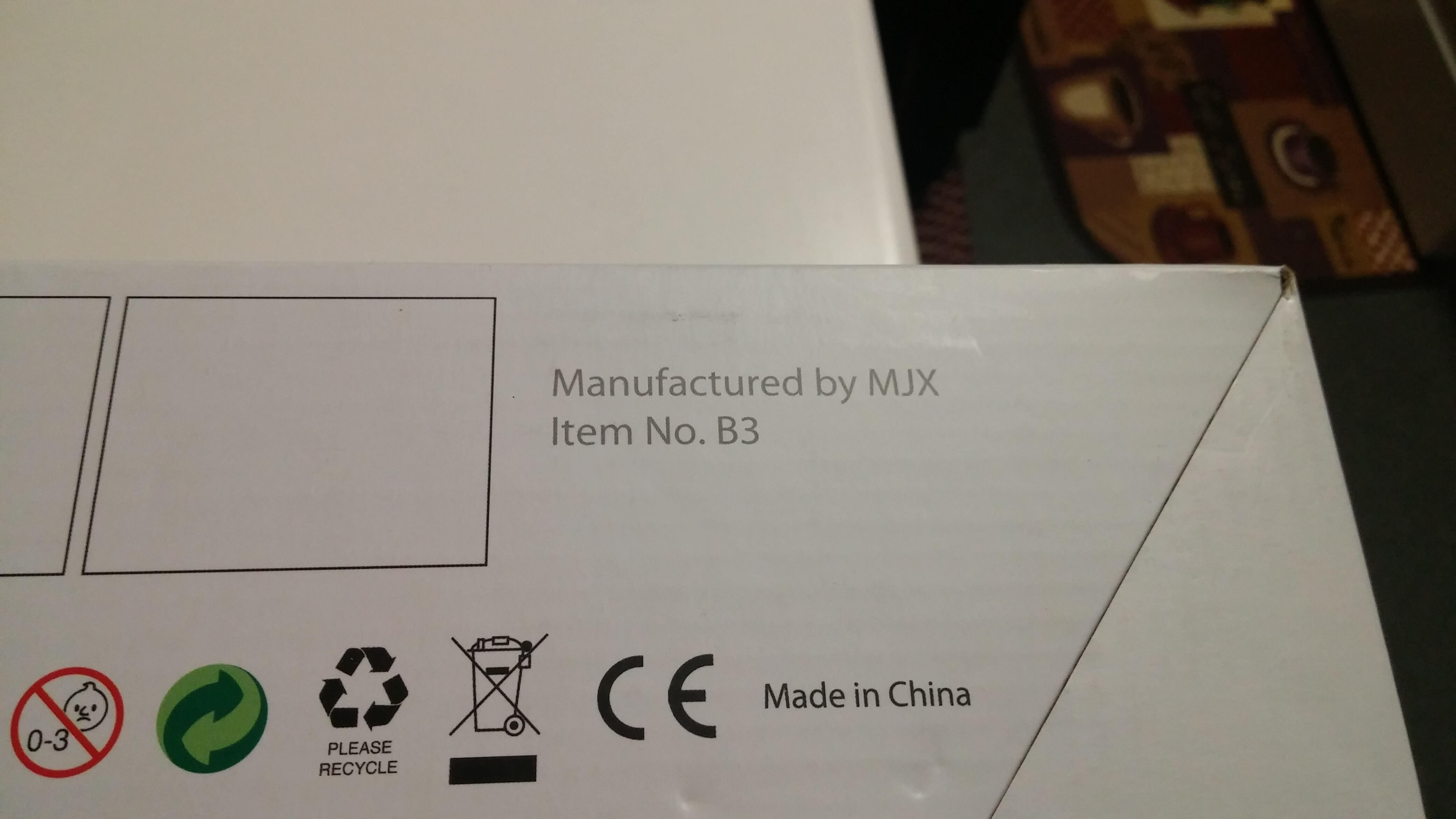 Main Specs from Their Website!
| | |
| --- | --- |
| Controlling Distance | 300m-500m |
| Flight Environment | Indoor/Outdoor |
| Flight Time | 18 minutes |
| Color | Blue |
| Battery | 7.4V 1800mAh 25C Li-poly |
| Motor | 1806 1800KV |
| Gross Weight | 485g |
| Overall (L x W x H) | 310mmX310mmX140mm |
| Main Rotor Dia | 188mm |
You can see they give you a distance of 300m to 500m. That roughly 984 feet to 1640 feet max. This will be determined by the environment. The more open space around you the more range you will get but 1640 will be maxed by the receiver built in, unless you add an extender and mod it of course.
The Weight!
The Bugs 3 weighs in at around 485g. Which is about 1 pound without the camera. As seen in the photo below, yes I have a scale to confirm the weight of products I review!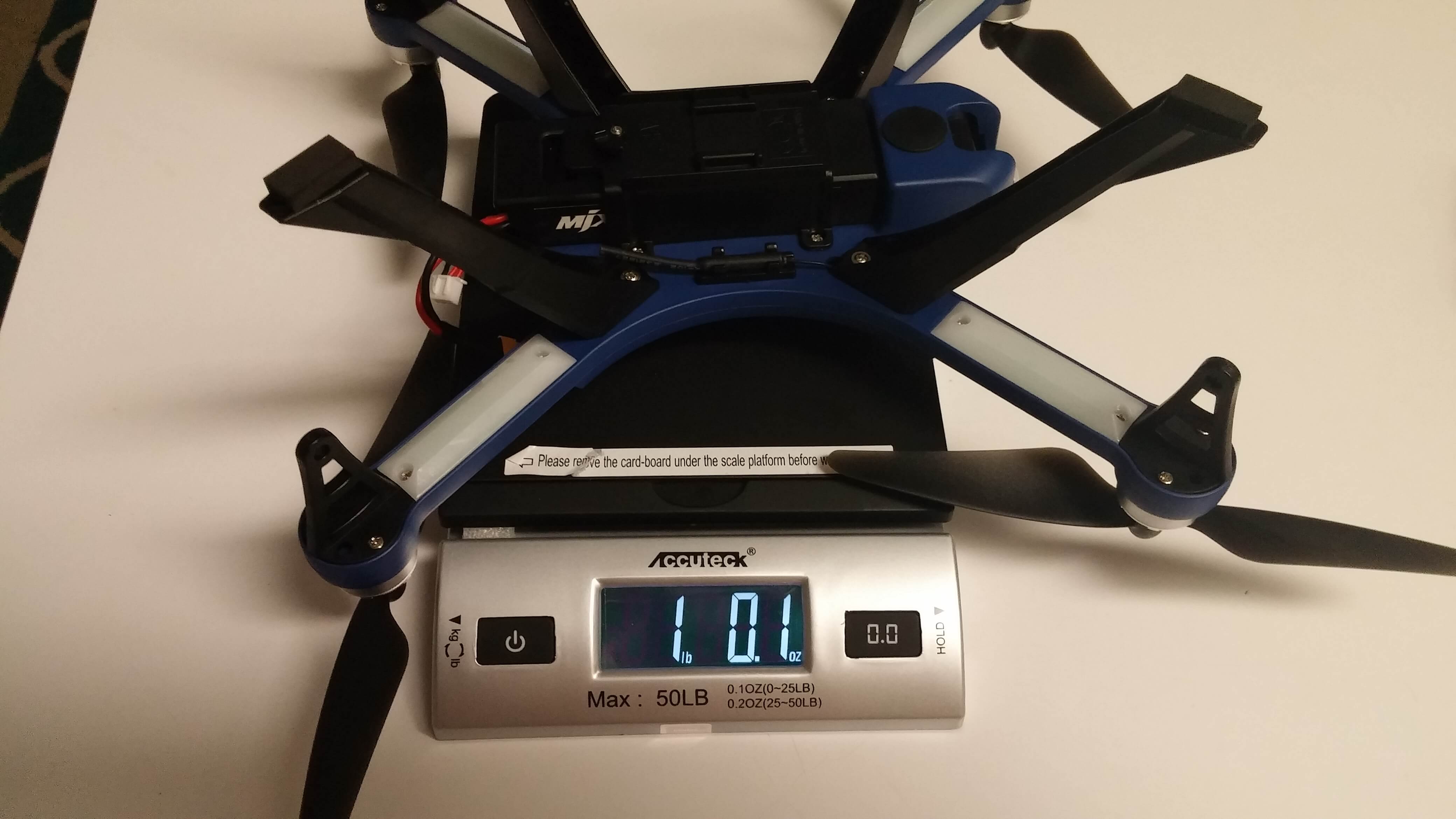 With the camera installed mine weighed in at 1 pound and 29 ounces. This weight will be determined by the camera itself and the mounting bracket.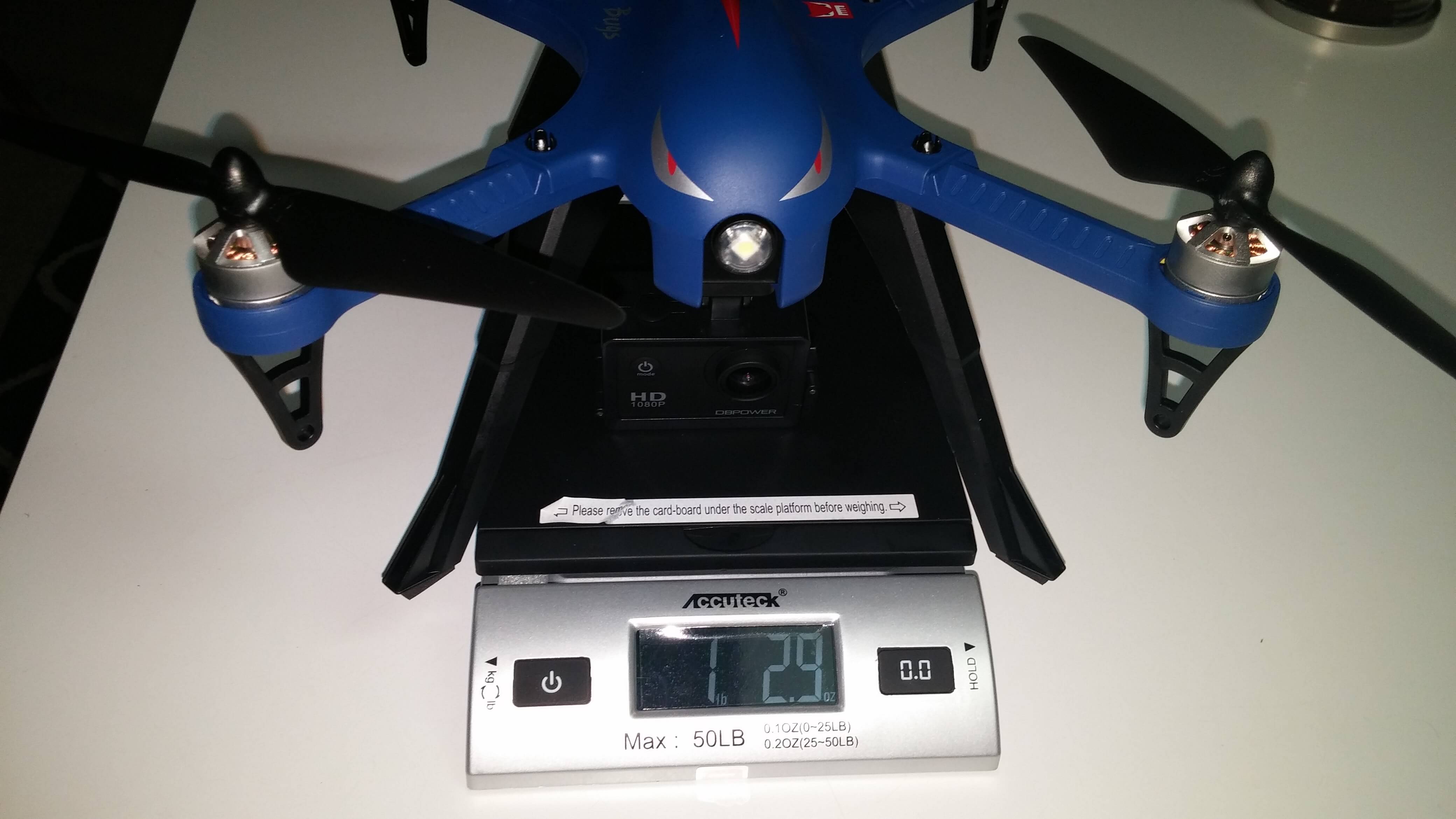 Now a week ago you would have had to register this with the FAA. In the past week, there have been talks that a judgement was passed down and this requirement was overthrown. This is up to you. I still registered mine. It only costs 5 bucks and doesn't hurt a thing if you fly responsibly. I do suggest that you check with your laws in your country and make sure if you need to register the drone or not. If you are in the US, even check your state laws.
Battery and flight time!
The weight of this drone also determines flight time and battery life. The claim from Drocon is that you can get 18 minutes without the camera and landing gear. I was getting 16 max. Which is still better than some other drones out there. Now with the landing gear and camera I got 12 minutes max. I have no complaints with flight time considering there are a lot that have 6 minute battery life. The battery is a 7.4V 1800mAh 25C Li-poly. It takes around 2 hours to charge with the supplied charger.
The white plug is for recharging of the charger wall plug. The yellow plug is for plugging into the drone itself. Now you may be able to use other batteries besides the ones included or sold for just the drone. Just make sure the yellow plug matches up correctly.
The Propellers and Installing them!
In the box, you get two sets of propellers. Each set has two A propellers and two B propellers. These must be installed in a certain order or your drone won't fly. The go in a Crisscross pattern. First, let me show you the markings on the propellers itself. Let me show you in a photo the pattern. I have B marked as yellow and A marked as red.
Now let me show you in a photo the pattern. I have B marked as yellow and A marked as red.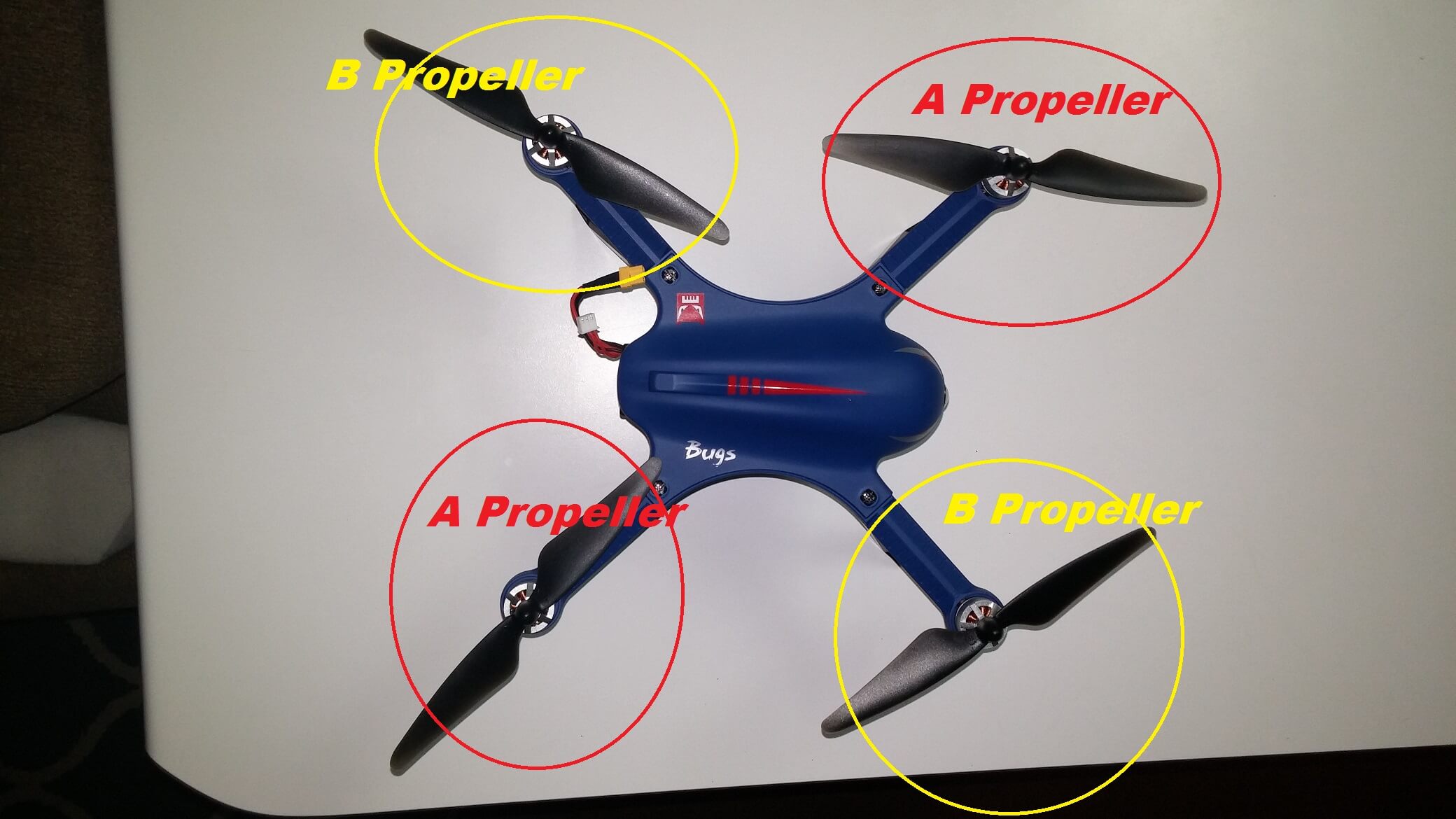 As long as you remember the pattern you should be fine. Now to install these propellers you will need to use the propeller changer that has been provided. You use the changer and place it on the upper frame of the motor then screw the propeller down by the propeller. In the next few photos is the propeller changer and how to use it.
Drocon does include propeller guards for the Bug 3 drone. These are suggested for inside flight or for beginners. However if you are going to fly your drone at a park or beach where there are other people this is probably a good idea to use it as well.  Now I never installed them on mine, but let me show you them anyway.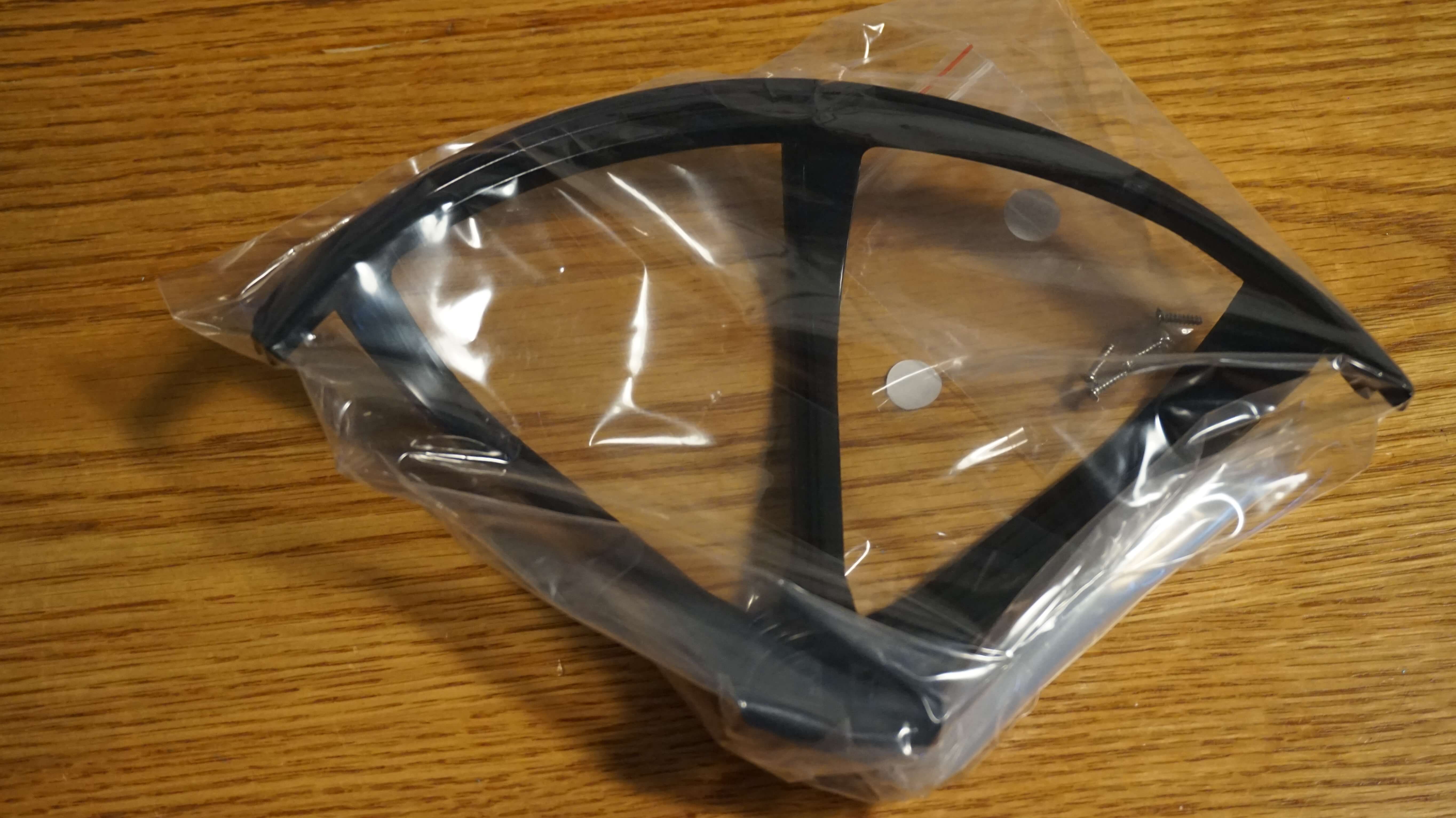 I don't suggest this for flying inside your house. Just saying!
Remote and Binding!
The remote that comes with this Drocon MJX Bugs 3  is white in color and has several buttons. Let me show you the controller.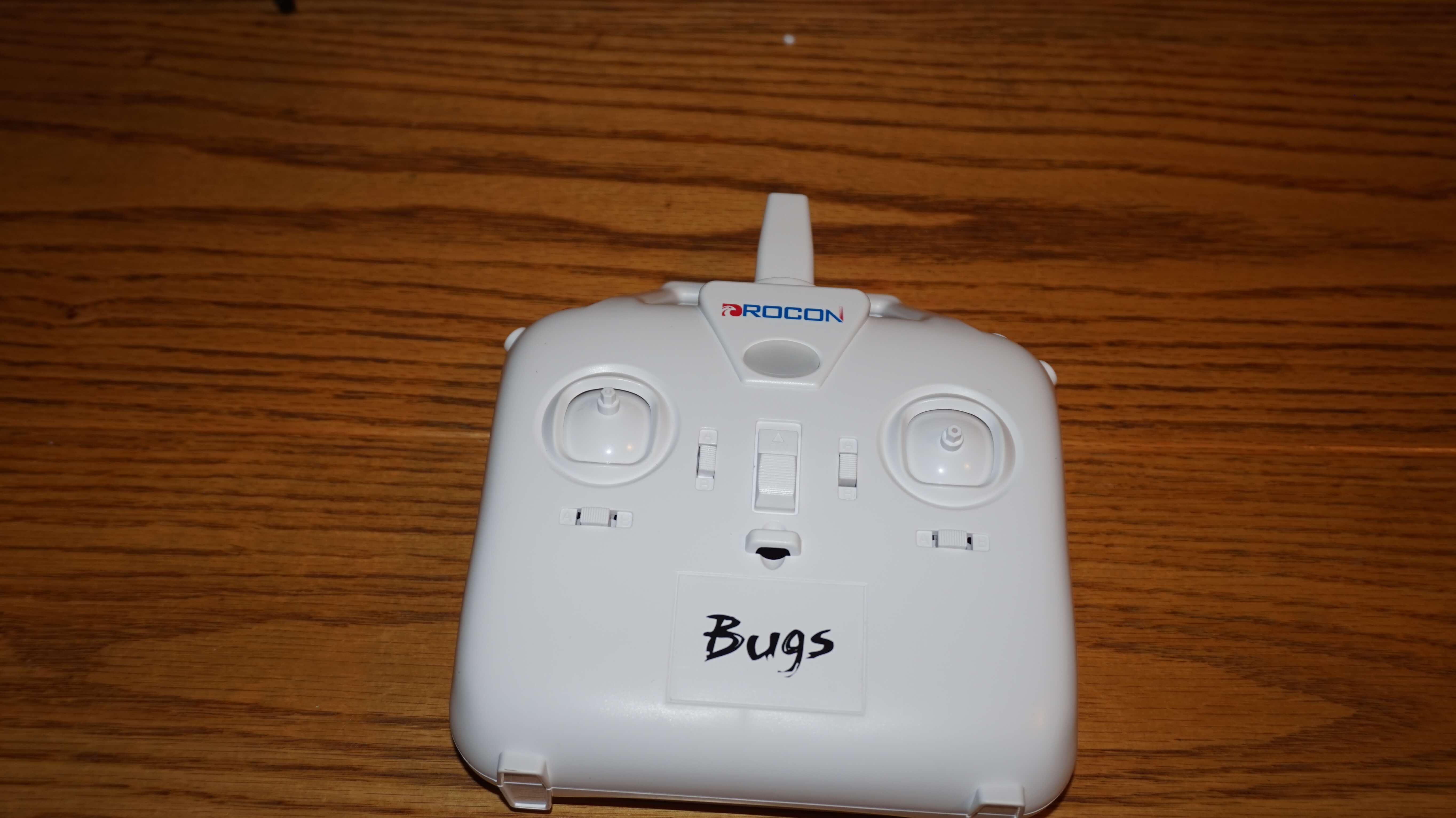 It looks like a basic drone controller. You will need to screw on the two figure controller sticks.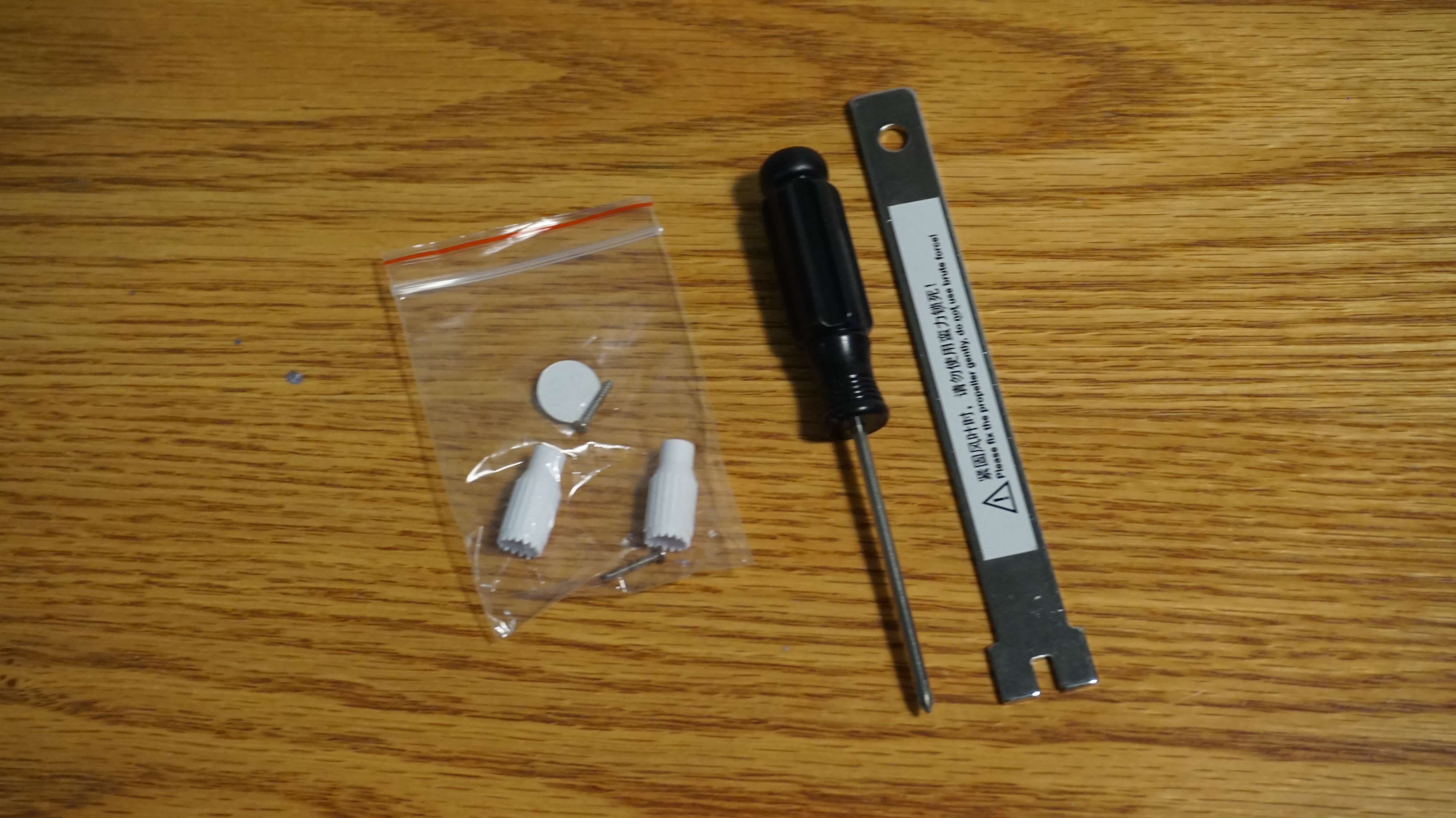 They are easy to screw in and install. The controller is a 2.4Ghz two-way communication remote. This means it works along with the antenna on the drone itself.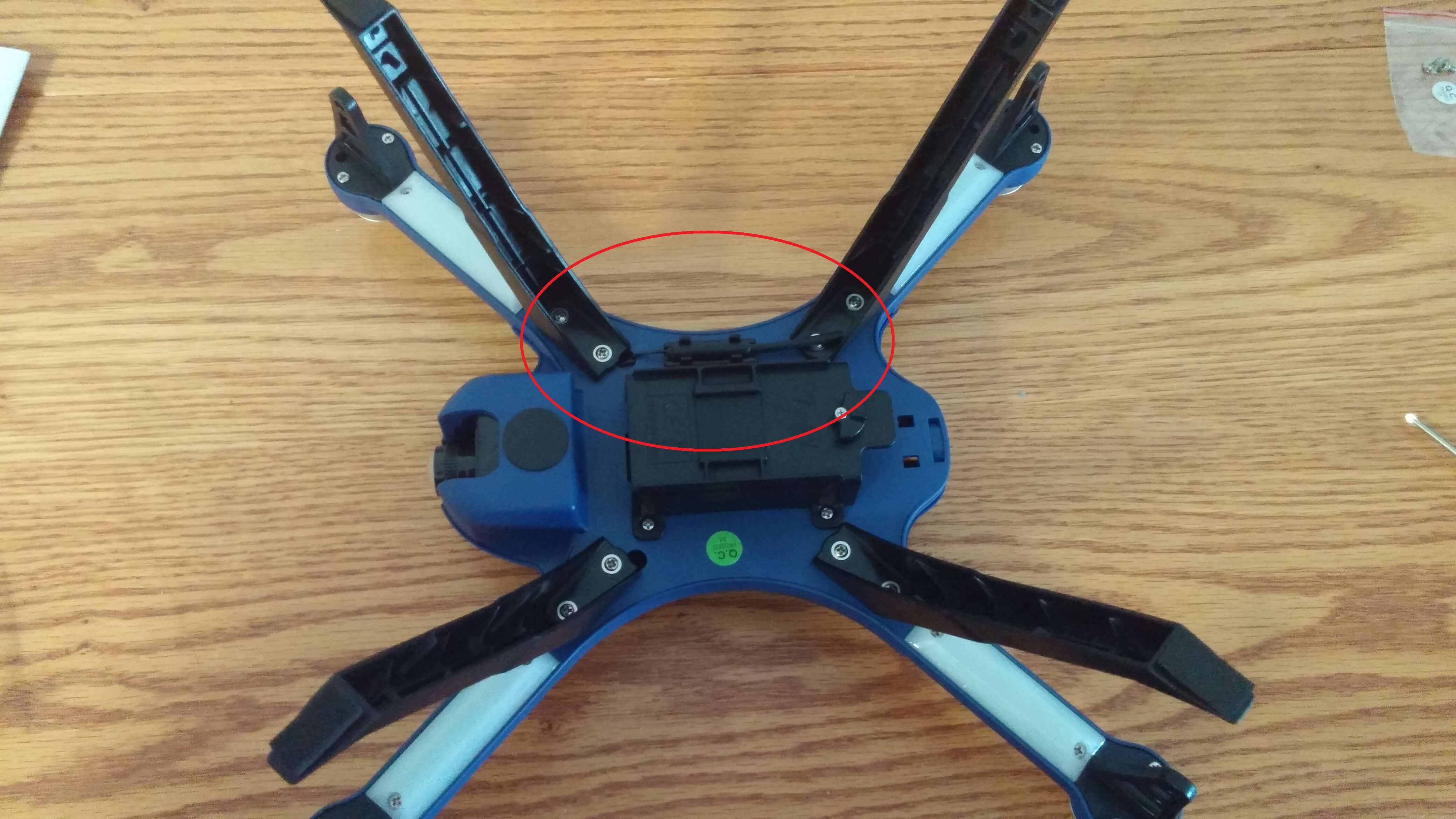 I circled the on-board antenna in red for you. Now the controller may not show up bound to the drone. This means you will need to turn on the remote and hold down the red button until the controller goes to solid green color. You then plug in the battery to the drone and it should then beep and be connected to the Bugs 3.
On the controller, you have several buttons. The red button is what binds your drone and it is also the button that unlocks the blades and makes then turn on. This button will also shut the blades down.  You also have a button for high and low speed. On the opposite side, you have a 3D flip button and a button for the on-board camera. Now the camera button won't work unless you add a camera that connects to the motherboard of the drone. The last buttons are trim and power itself. Now for the right and left stick. The left stick is your throttle and rotates buttons. The right stick is forward and backward and yawn.
Watch My Flight Video's Here!
 It is really great to record video with a drone flying in the air!
Flying And Final Thoughts!
Flying this drone is just plain fun. You can punch out rather fast. With the throttle going push the right stick forward and you are gone. The drone takes of fast and can carry the camera with no issue. Now I thought this drone might have some issue doing flips with the camera connected and boy was I wrong. It recovers fast from the flip with little stick control. To do the flip you will need to press the flip button while holding the right stick in the direction of the flip you want to make. With and without the camera this drone is fun and fast. You eat up air space fast too so make sure you have plenty of open air space. I do suggest rather wide open spaces for fast flying or else you will risk crashing into something.
The one thing I notice is this Drocon MJX Bugs 3 wants to fly. The wind does not bother this drone and I have had it in winds that were up to 12 or 13 mph. I have seen some other drone pilots have it in higher winds but just remember higher winds mean more stick control on your part.
The battery is great and lasts a good amount if flight time. It does take a little to recharge it. I do suggest a second or 3rd battery if you want a solid 1/2 hour or more of flight time. The motors are brushless and won't heat up as fast as brushed motors. So you won't need to worry as much about cooling down if you want to fly two batteries back to back.
When all is said and done the Drocon MJX Bugs 3 is just a plain fun drone. This drone cost around $155 on Amazon. They do come in two other colors from MJX RC itself red and black. You could always just paint it yourself. The one thing I didn't show you until now is the inside of the drone. This is where you can replace your motors or add the on-board camera. Unlike how you can use GoPro without connecting it.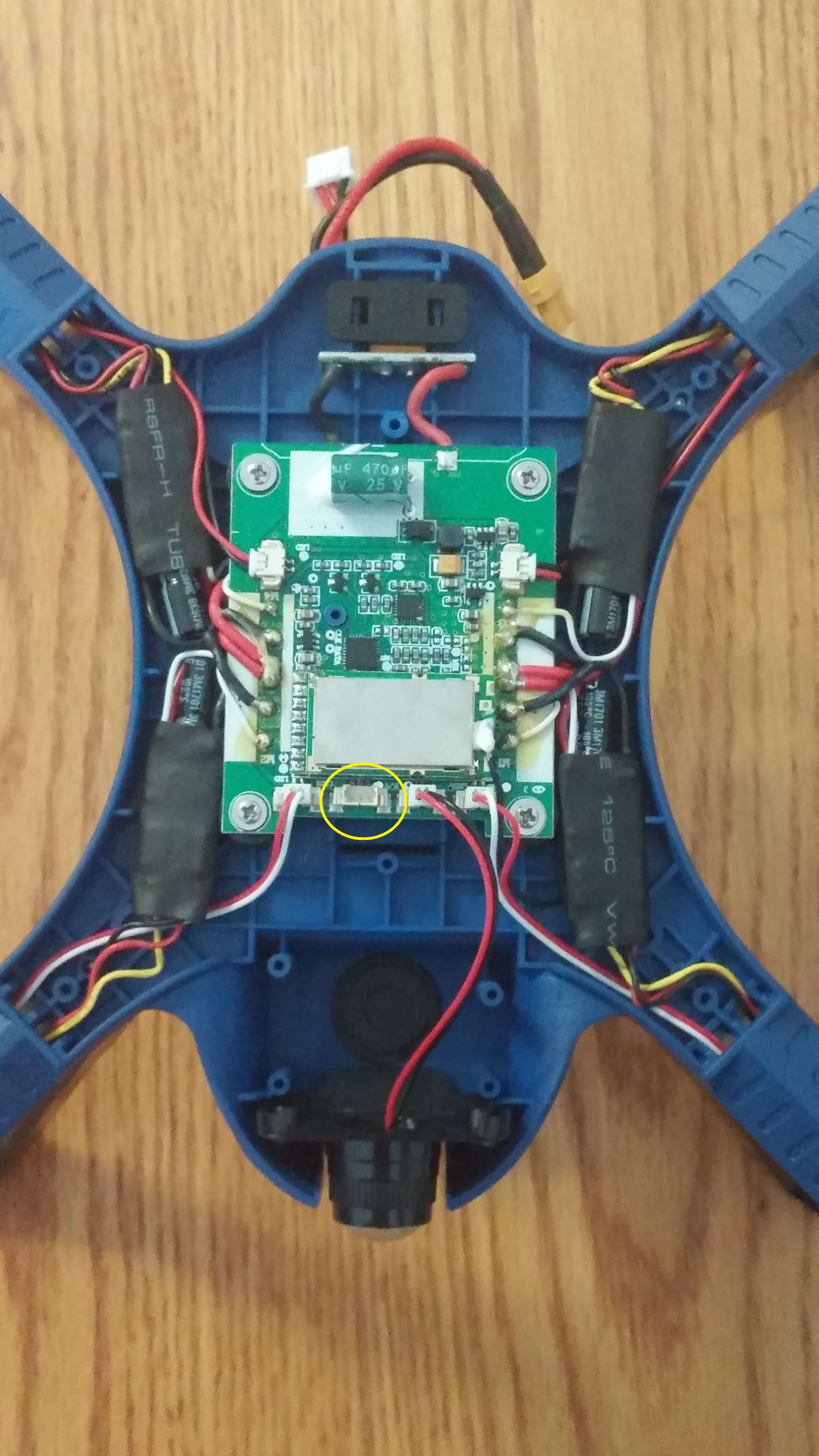 The camera plug is circled in yellow.
I do suggest open wide spaces because when flying goes bad it goes bad quick!
As you see I was not in the best place and somehow lost connection with the controller may be due to house interference or someone had a jammer. An easy fix is to order a new shell and landing gear and transfer all the stuff over. It will need have the motor wire soldered back up.
Even with this little hiccup which was either my fault or an environmental issue this drone is a beast and I love it though I damaged mine during the review. I highly recommend this drone to anyone!
Disclaimer! Drocon sent me their MJX RC Bugs 3 to test and review. All opinions are mine and mine alone!
We are influencers and brand affiliates.  This post contains affiliate links, most which go to Amazon and are Geo-Affiliate links to nearest Amazon store.
Hi everyone I'm James Braga. I was born in Oregon and moved to New Hampshire a few years back. I love most things that have to do with video games and electronics, It doesn't matter if it for a car or a house, if it has electricity in it i will love it . I'm also in school for Information Systems Technology.