We are influencers and brand affiliates.  This post contains affiliate links, most which go to Amazon and are Geo-Affiliate links to nearest Amazon store.
A case with so many great things to offer, plenty of GPU space, drive bays for all types of drives, noise dampening and more.  If you are going to build your first PC, your last and everything in between this might be the case you chose.  Don't take my word for it though, look though here and come up with your own decision and let me know what you think.
I will take you today on a little trip.  On this trip, you will learn how to install a motherboard, build and wire a computer inside of a Fractal Design DEFINE R4 Arctic White with a Windowed side panel.
Here are the specs of the Fractal Design DEFINE R4 Artic White Windowed case.
Motherboard Support: Micro ATX, ATX and ITX
Maximum GPU Length: 296MM (11.65in) in length with the top HDD Cage installed
Maximum GPU Length: 430MM (16.9in) in length with the top HDD Cage removed
Maximum CPU Cooler Height: 170mm (6.7in)
Maximum PSU Length: 170mm (6.7in) with a bottom fan
Maximum PSU Length: 270mm (1.63in) with a bottom fan
7 Expansion slots
Drive Bays:

2 x 5.25in
2 x 2.5in (Behind motherboard tray)
8 x Combo 3.5in / 2.5in

External Connections:

2 x USB3.0
2 x USB2.0
1 x Headphone Port
1 x Microphone Port

Fan Mount Locations:

Front: 2 x 120/140mm (1 x 140mm Silent Series R2 fan included)
Top: 2 x 120/140mm (not included, covered initially by the Modu Vent System)
Rear: 120/140mm (140mm Silent Series R2 included)
Bottom: 120/140mm (not included)

Weight: 12.3kg (27.11lbs)
Colors Available: Black Pearl, Titanium Grey, Arctic White
Dimensions: 464mm x 232mm x 523mm
Here is the unboxing video of the Fractal Design DEFINE R4 Arctic White Windowed Case
I did get a little carried away when I got this case, a bit excited and went right into the unboxing and building video, but here is a pick of the fully built system.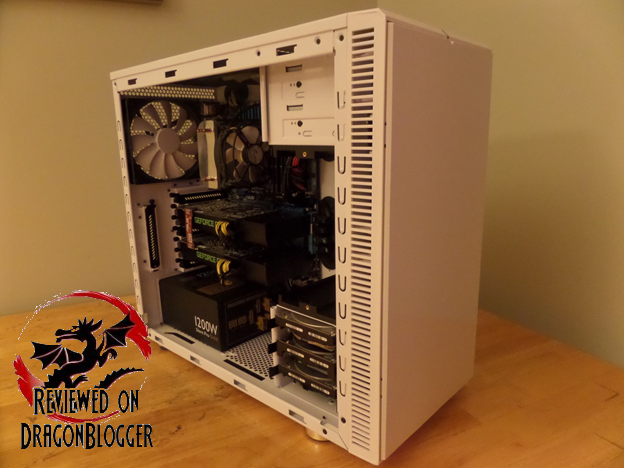 But how did I get there you ask… I bet you feel a little cheated huh… well you are ok because I took some build and cabling videos so you can see how I got to this point.
Before I get there though, I need to start off at the basics for those of us that may not know how to build a computer.  I start in this one showing you how to install the CPU, Thermal Paste, CPU Heatsink, Memory on an Asus P8Z77-V Pro.
Now that you know how to do that, let's get to the hardware portion of it
Stepping down from the build portion, let's see on the individual parts that help make this case what it is.
This is the box that contained all of the screws, a nice legend to show you what is what so that you don't have to guess on which screw to use.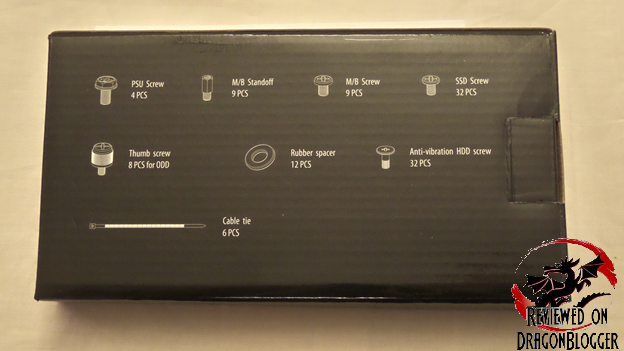 Inside here, comes a very nice little tool that I have never seen before.  Those of us that have built computers, or maybe been around people that build computers have seen this annoying little tool

There is never a nice way to hold it, and it always feel horrible in your hand, you more than likely throw it away when you're done but will always keep one tucked away because you never know when you will need it.  This exact piece is something no one ever likes having, but necessity keeps it around.  That all changes with this little tool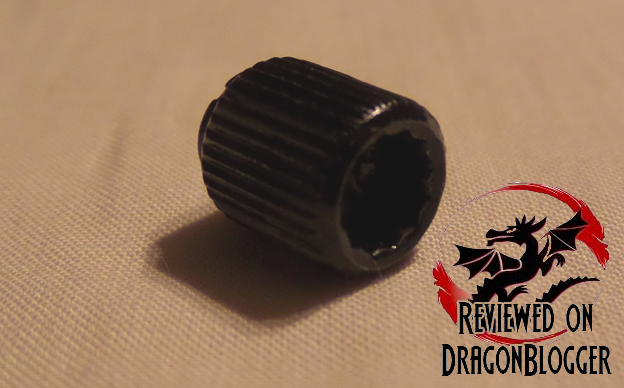 This little bit can be used to attach those stand-offs with your favorite screw Philips head screw driver.  It's easier if you have a magnetic tipped screw drive but still this is much better than that generically standard stand-off screw driver.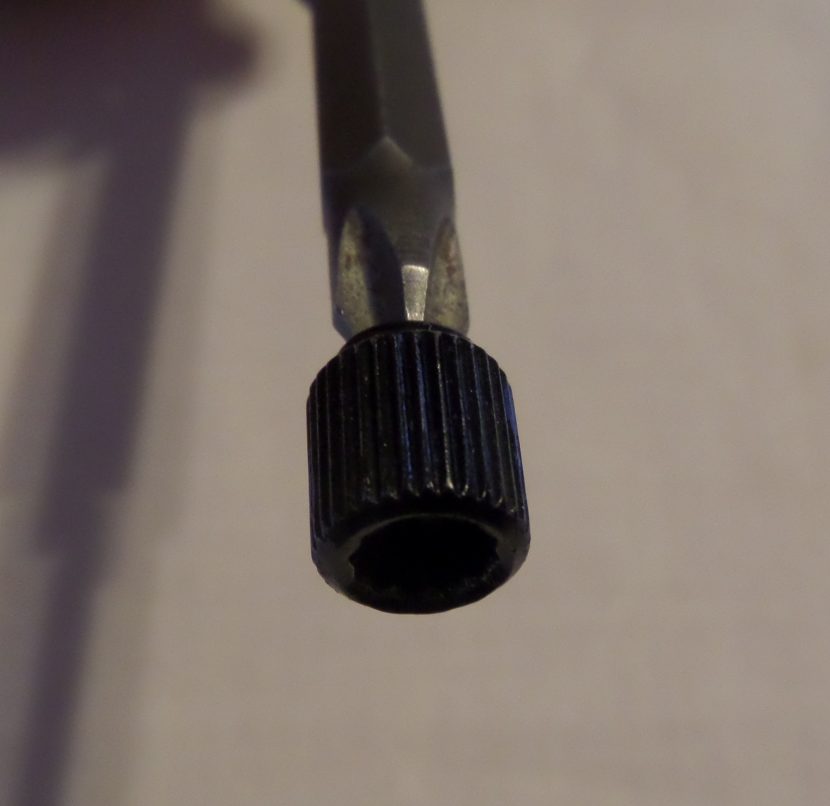 If you thought that was rough, the wiring is the most frustrating part if you like to make it nice.  If you like to make it look like a rats nest then it's quick and easy, but if you like your components to be nicely cooled and your like to look inside your computer, then you need to wire it nicely.
This is a 3 part video
And that's about it, video wise, I hope you liked them.
This is the upper most hard drive section I removed from the system; it holds 5 drives as you saw in the videos.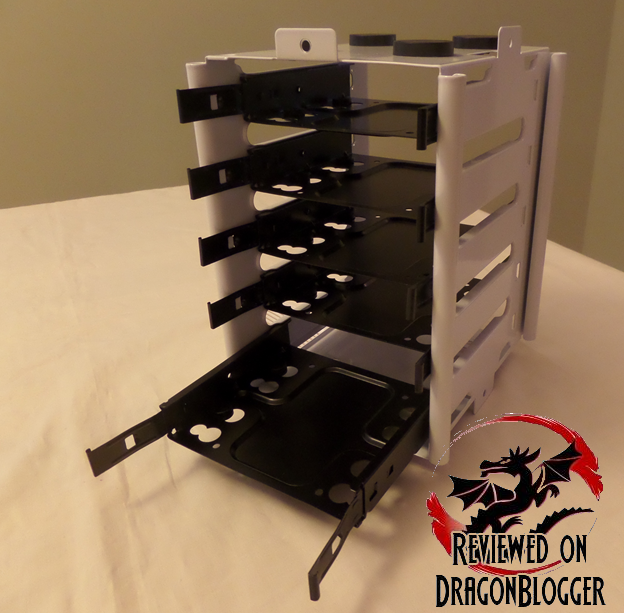 Here is one of the trays slid almost totally out of the enclosure.  You are given the ability to house up to 10 drives in this case.  8 x 3.5in drives, or up to 10 x SSD drives or you can mix and match on the combination of the drives.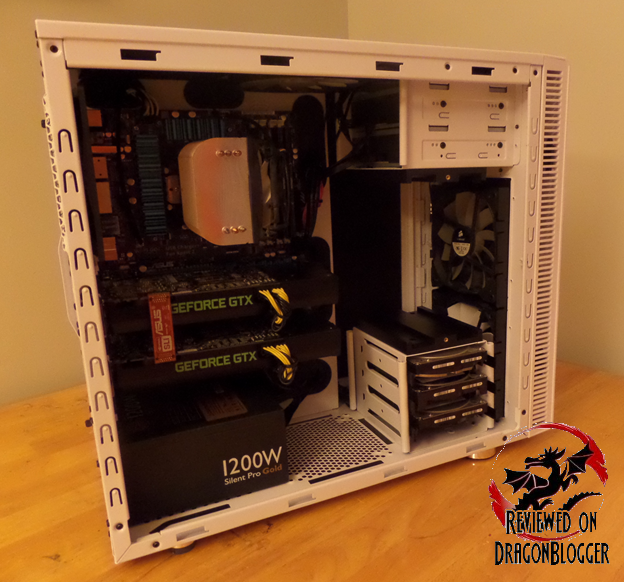 Looking inside the case though with the 5 bay enclosure installed you can see how you can install the 8, but how do you install the other 2 x SSD's?
The other 2 x SSD's install onto the back of the motherboard tray, not an intuitive place to put these drives and even worse, nowhere in the manual or on the website does it tell you where you can install them, you would have to guess.  Thankfully I am a good guesser.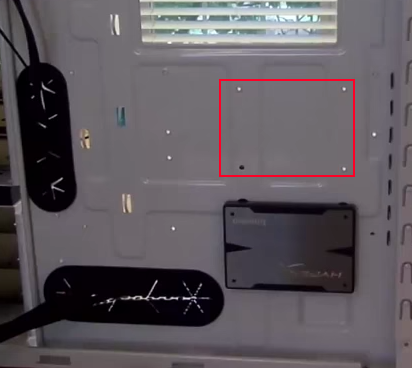 You would put them on the back of the system like this.  I only had one drive installed at the time, but I outlined where the second drive would be.  If I fully built the system with only one drive and then afterwards remembered about the 2nd SSD, I would have to take the motherboard out to be able to install the second SSD, it seems like these places to install the SSD's were afterthoughts. They are hand to have there, I will not deny it but horrible if you either forget to install the second or buy another one afterwards.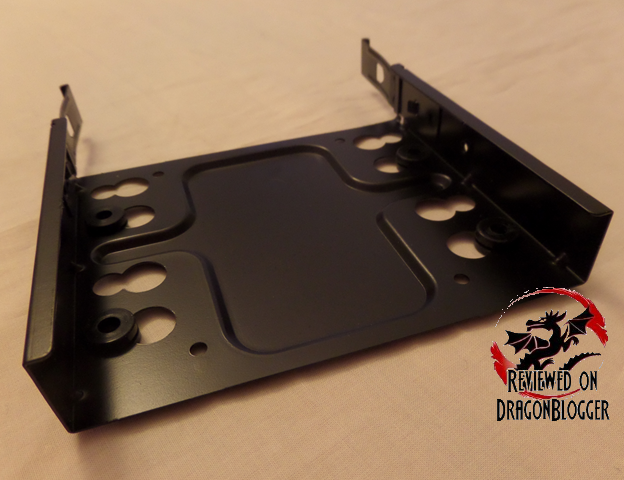 For the trays on the 3.5in trays, the rubber grommets already on the tray are for the vibrating hard drives to keep the noise down, it helps tons.  Then also you can not only place standard 3.5 drives on this tray, you can install just about any hard drive, SSD's and mechanical 2.5in drives and use those grommets to keep them quiet too.
Typically overlooked are the PCI slots, they have been around forever and nothing has ever really been done with them.  Fractal Design, while not the first has added slits in these slots to help you a bit in the in the cooling factor.  While many of you might think they are purely for exhaust many times these suck air in, helping you identify areas where a little positive or negative air flow might be handy.  A nice little touch.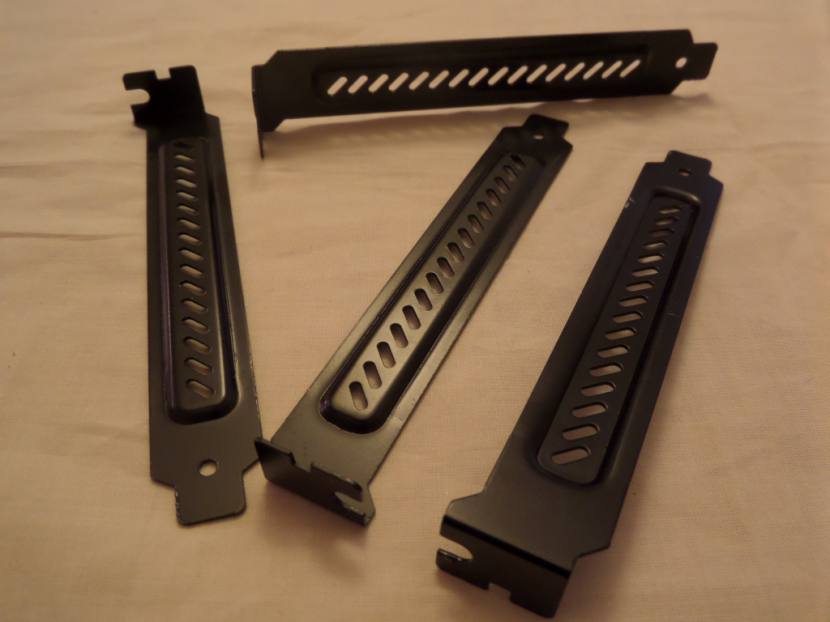 Helping to keep this case quiet is the noise dampening material.  Both side panels come internally fitted with the high density noise-reducing material, yeah you heard right, it's on both panels.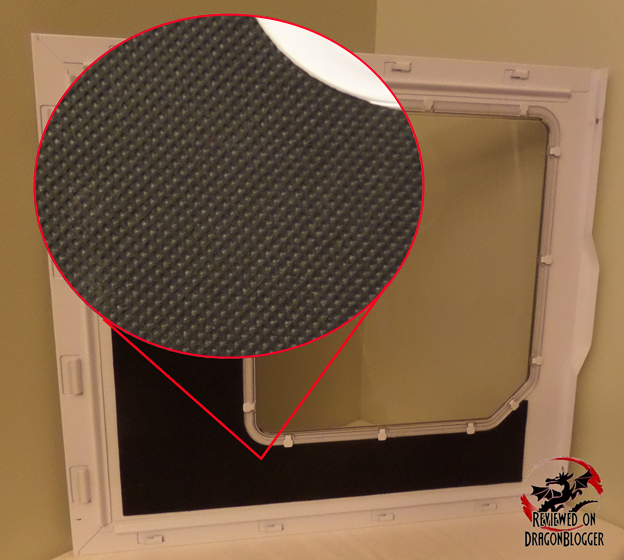 I took a picture of the windowed side panel, zooming into the material.
Keeping on the noise dampening material, here is the ModuVent plate removed from the case.
This is the bottom portion that you would see if you opened up the side panel and looked up inside the case.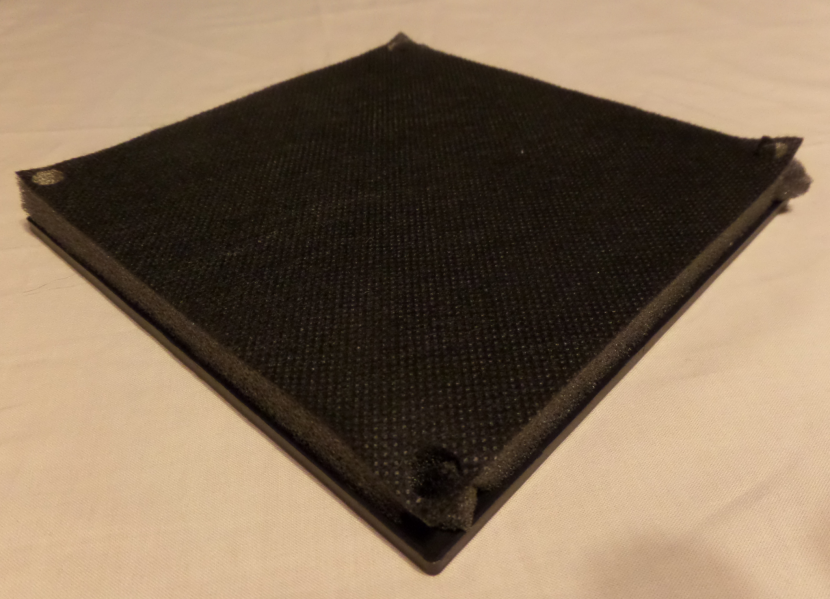 Pretty simple, you can see it's a slab with some of that material attached to it, to absorb all of the noise the PC is making.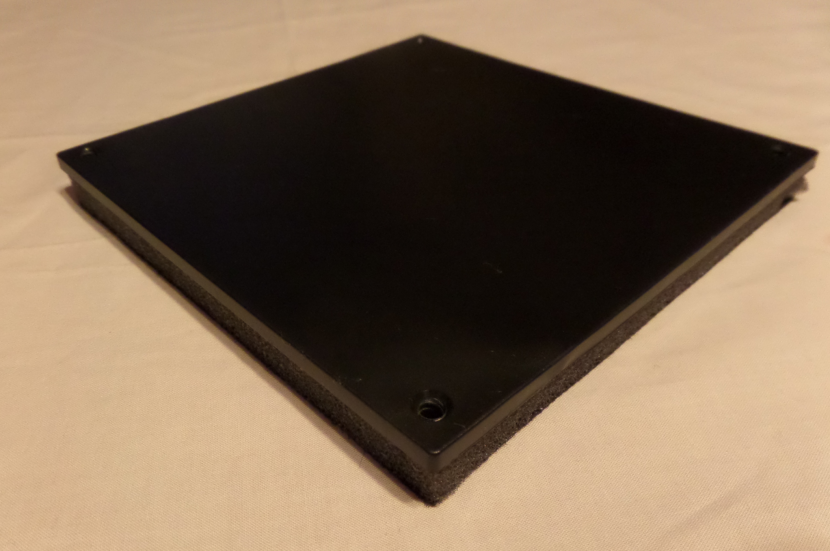 This is the hard portion, made of hard plastic possibly to shield the noise after it has been absorbed.  Nice little touches.
I removed this one so that I could install a fan on the top of the case, exhausting the heat that rises in the PC.  This is what it looks like on the inside of the PC with the fan and the other ModuVent in place.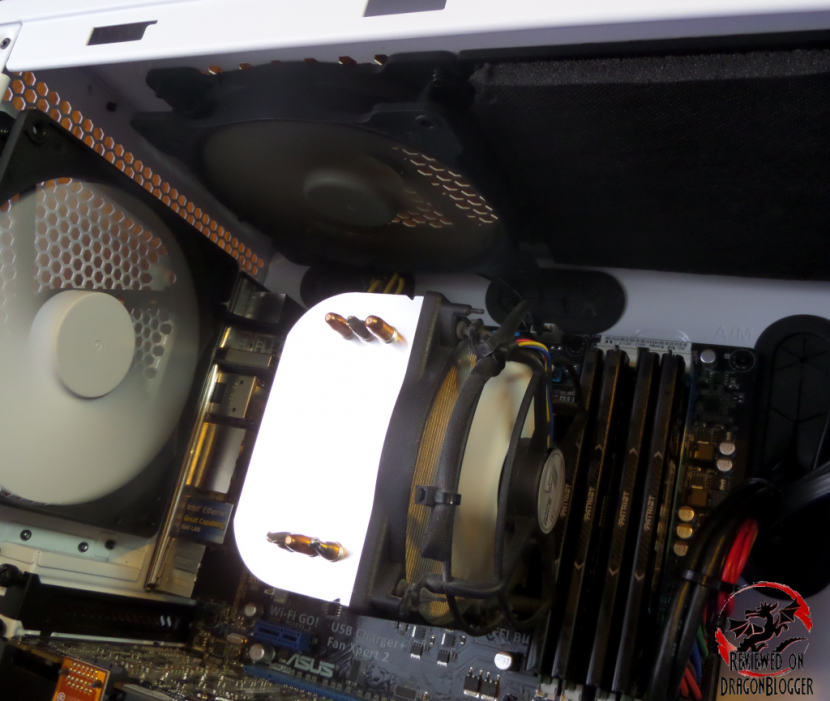 There you can see everything in action.
For those that may not need the fans on their highest levels and might not have them regulated by the motherboard, you can control the fans connected to the front panel switch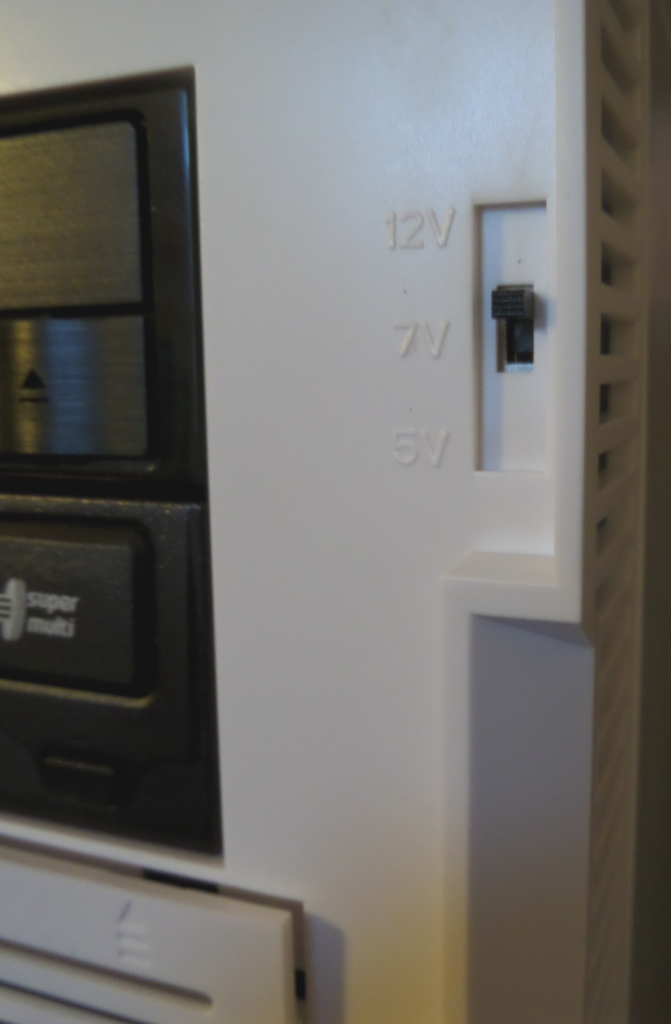 On the face of the case, to the right of the opticals you can find the integrated fan controller switch.  Here you can control how much power is being delivered to the fans connected to it which of course slows or speeds up the fans.  The options are 12V, 7V and 5V.  Personally I chose to leave everything connected to the board and at its maximum level set within the BIOS, it has noise dampening so it should be able to reduce the sound anyway right?
So while there may be a ton of good on this case, there are a few things that bug me about it.
It comes with spots for 6 fans, the front can support 2 (brings 1), the rear supports 1 (brings 1), the top can support 2 (brings none) and the bottom can support 1 (brings none) although depending on the lengths of your power supply you may not be able to use one at all.  While the bottom can be understandable and the top, possibly because of liquid cooling units, I would say there is no excuse for the front, if it supports 2, there should be 2.
Staying with the fans, the case is called DEFINE R4 Arctic White, with the White implied, what color would you think would be next… blue right?  The 2 fans included in this build were not lighted at all, plain lightless fans.
So now on to lights, whoever decided what colors should be on this case didn't do any sort of research as to what color Arctic would be associated with and with that made the LED Power light Red,… Red, I will let that sink in for a second.
Let me show you what that looks like.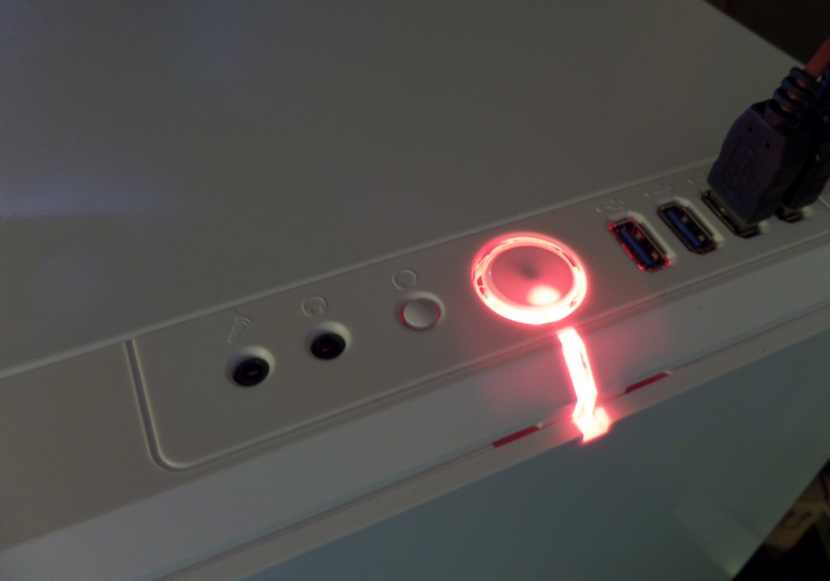 So, instead of leaving it as the Power light, I switched it to the HD indicator so it only shines red when there is HD activity.
As some of you might already know, I do like my Blue LED lights and for now I only have blue lighted fans, so I decided to fit the case with a 120mm Blue lighted fan to accentuate the case a little, give it a little reason to have the name Arctic given to it.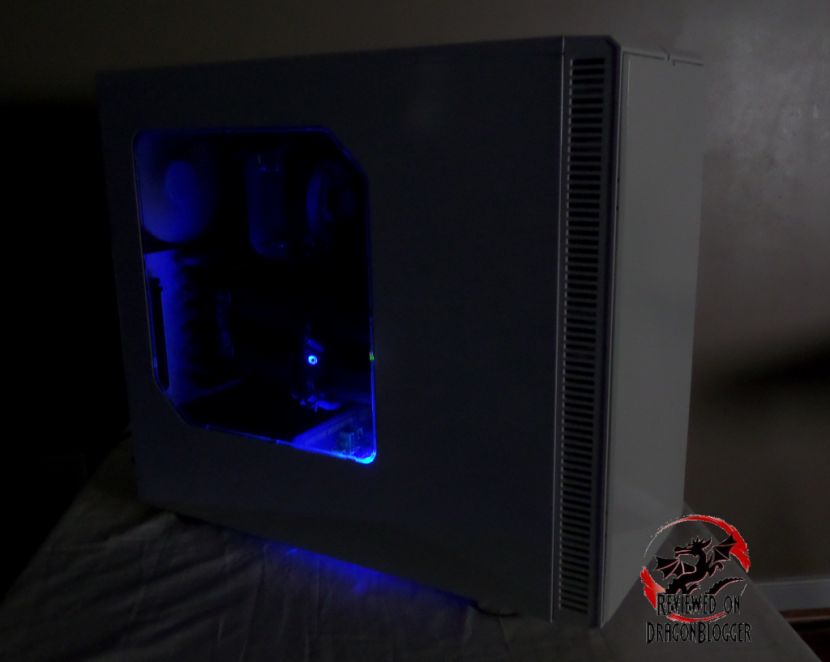 Kind of nice the way it glows blue inside and reflects off of the paint to glow even more, also the way the blue light radiates from the bottom of the case, being that that is where the filter is to protect this fan and the power supply from sucking up dust.  Maybe if I were to get some LED strips or blue lighted fans to review I could give it some more life, but this is a good start.
Here's what she looks like with some light and the side panel removed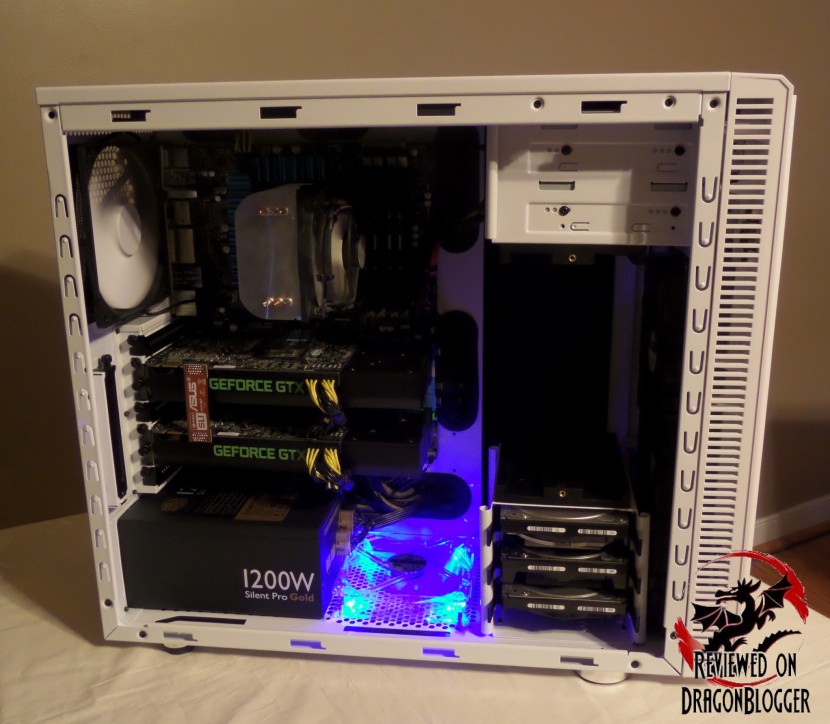 As a side note, I did have a problem getting the drawbridge on the front of the case to close,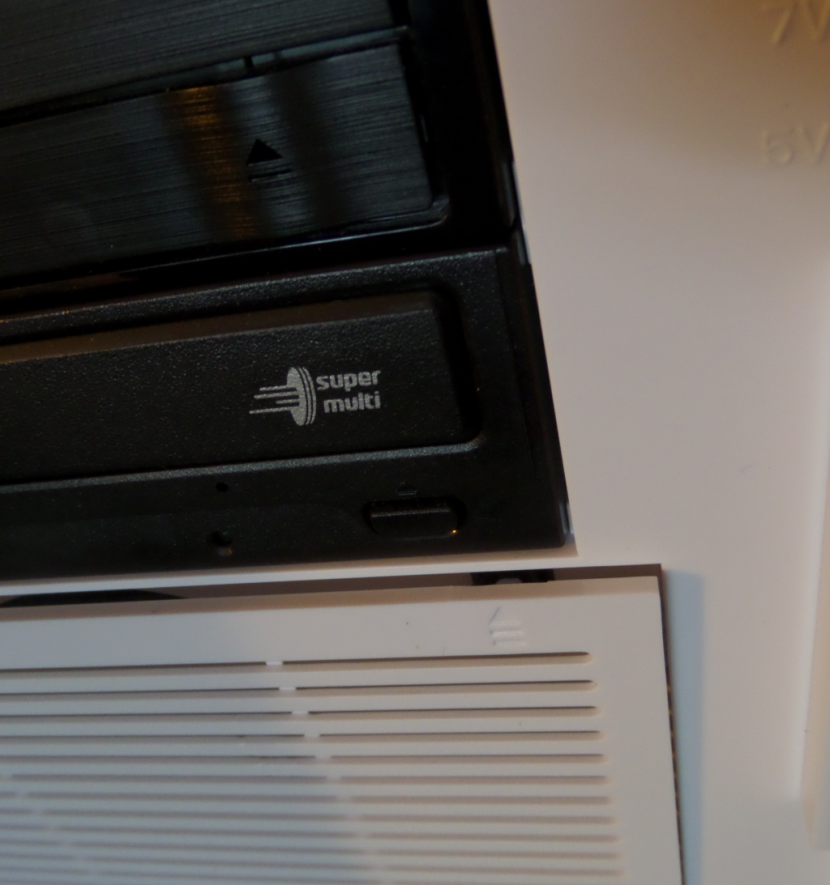 If you notice, the door was not completely flush; turns out both of the clips might have been damaged during shipping.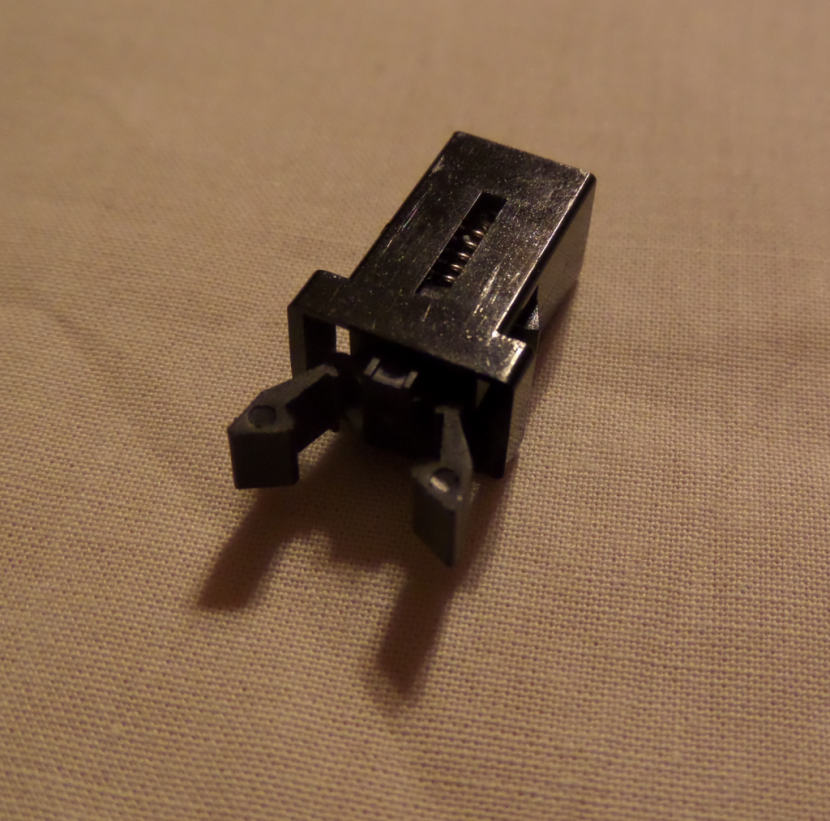 I emailed them 9/6 about it and 9/11 I had my pieces, I contacted them on a Saturday and they got back to me that Monday, not too bad and they quickly sent out the pieces after I gave them my serial number and a description of the issue, very nice customer service I would say.  Shipping damage can and does happen to every manufacturer through no fault of their own, you cant blame them for it but you can blame them for the great customer service they provided.
So what do you think, would this case and that customer service suite your needs?  What more would you do with this case, give me some ideas?
We are influencers and brand affiliates.  This post contains affiliate links, most which go to Amazon and are Geo-Affiliate links to nearest Amazon store.
I have spent many years in the PC boutique name space as Product Development Engineer for Alienware and later Dell through Alienware's acquisition and finally Velocity Micro. During these years I spent my time developing new configurations, products and technologies with companies such as AMD, Asus, Intel, Microsoft, NVIDIA and more. The Arts, Gaming, New & Old technologies drive my interests and passion. Now as my day job, I am an IT Manager but doing reviews on my time and my dime.