We are influencers and brand affiliates.  This post contains affiliate links, most which go to Amazon and are Geo-Affiliate links to nearest Amazon store.
With the COVID-19 pandemic lockdown on us, everyone must stay indoors, practice physical distancing with neighbors, friends, relatives, as well as follow the safety directives issued by the health authorities. As the days pass, the enforced isolation can begin to irritate people, make them antsy, have cabin fever, or even drive them stir-crazy.
For parents with younger children, the stay-at-home order in many cities and states have been particularly taxing with what seems to be never-ending weekends with all the kids and parents grounded at home. There's a virtually universal scramble to keep everyone entertained. 
Due to the enforced health and physical distancing regulations, the first few days of home confinement were mildly tolerable. Younger children could be entertained by television, gadgets, games using typical household items, card games, board games, puzzles, indoor hopscotch, and family bonding time. 
However, human contact is a basic need. Eventually, people want to connect with families and relatives, with colleagues, friends, and neighbors. Kids who can't use cell phones yet will miss their friends and classmates and would want to play with them. No worries, they can play games using Best Waterproof Walkie Talkie.
This article summarizes some game ideas for children and their friends who live nearby using walkie talkies.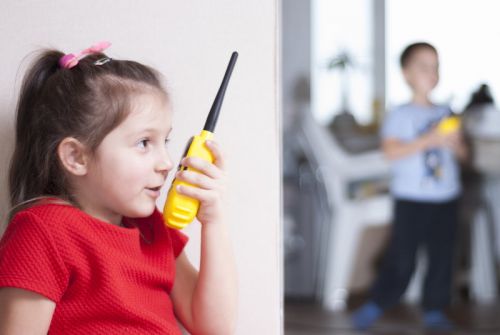 Scavenger hunts are fun and they can exercise both mind and body, so kids would definitely want to play them, can the older kids. So kids that live nearby can join and play using the walkie talkies. 
To play a scavenger hunt with these devices, your child can use the walkie talkie to give or receive clues and complete the challenges while staying at home. To engage neighbor's kids so that your kids play the scavenger hunt with them, you can coordinate with their moms and make identical clues or riddles and challenges so that the first to find the treasure and win the game.  
Pretend play is a good game to keep your children's imagination working. The best way to encourage kids' use of imagination is when they do it while interacting with kids of their age. Although all kids are staying indoors due to the pandemic, they can still play pretend with by using walkie-talkies. If you don't have a walkie talkie yet, you can head to Talkie Spy to get recommendations about the best ones that will fit your needs.
There are many types of pretend play that you can encourage them to play. Here are some great ideas:
Whether they are pretending to be firefighters or soldiers, kids doing rescue missions can really get their imagination going. They can even make their own rescue codes and assign different meanings to it. 
They can strategize and think of emergency situations and what they can do to make the rescue mission successful. This type of game can develop teamwork skills and be good at making strategies.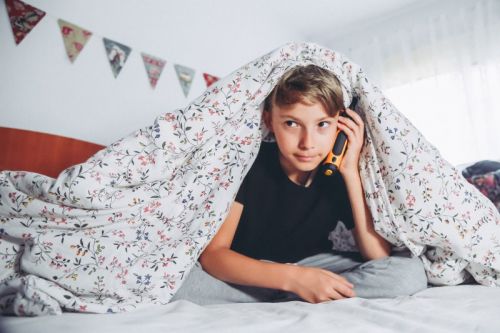 Villains and heroes are not necessarily friends but they can encourage one another to be creative in making sure that the heroes prevail and defeat the villains. It can be a one-on-one game or a team game. Only imagination is the limit.
If your kids love airplanes, helicopters, or any aircraft, playing a pretend air traffic controller would be a great idea. If your neighbor's kid has a remote-controlled aircraft, then they can play together using a walkie talkie.
I-Spy games are often played in the car while on travel. However, everyone staying indoors these days can improvise and modify the I-Spy game. Your kids can play the game with your neighbors by looking outside and communicating with them.
For this game, you would need to set up an obstacle course in the back or front yard. Each child will get a walkie talkie to communicate with each other. Each kid will take turns blindfolded while the other gives directions through the walkie talkie.
This game will develop your kids' listening skills and the ability to follow as well as give directions. This can also develop trust between friends. This game is a fun way to interact with kids and engage in physical activities while at home or in the yard.
Takeaways
Staying indoors all the time can get old fast. This is why it is very important to stay creative with activities and games that you can do at home. For younger children using walkie-talkies can help them connect with friends, teachers, and the neighborhood. This can also help them play safely with friends and family even if they're observing social distancing.
We are influencers and brand affiliates.  This post contains affiliate links, most which go to Amazon and are Geo-Affiliate links to nearest Amazon store.
I am interested in all things technology, especially automation, robotics and tech that helps change how society will live in the future.