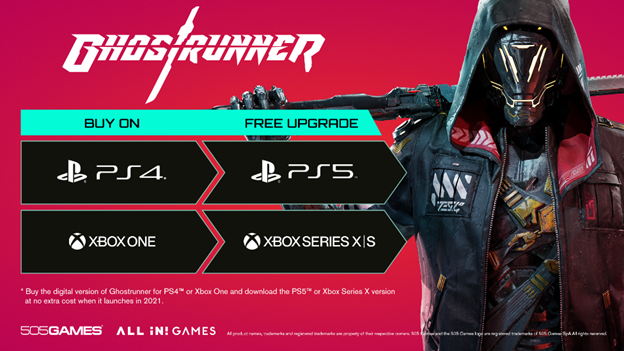 Co-publishers All In! Games and 505 Games announce today Ghostrunner, developed by One More Level, 3D Realms and Slipgate Ironworks™' will wall run to PlayStation 5 and Xbox Series X in 2021. Owners of the current generation version will be upgraded to the next generation versions when they are released in 2021. More details to follow at a later date.
Purchase Ghostrunner on Xbox One to receive an Xbox Series copy via MS Smart Delivery Fight through Dharma Tower on the PlayStation 4, then upgrade to the PlayStation 5 version for free upon its launch in 2021 Pre-order on current-gen systems before Tuesday, Oct. 27 for limited-time discounts and exclusive swords:

1 special katana with all pre-orders1 additional exclusive katana per store/platform20% discount for PS+ pre-orders20% discount for all PC pre-orders10% discount for all Xbox One pre-orders
Ghostrunner slices onto Nintendo Switch, PlayStation 4, Xbox One and PC via Steam, the Epic Games Store, and GOG on Tuesday, Oct. 27. The game will launch on PlayStation 5 and Xbox Series X in 2021. The PlayStation 4 and Nintendo Switch versions of Ghostrunner will be published by H2 Interactive in Asia. For more information about Ghostrunner, including full language support, visit the official website.