So Glasses USA recently contacted me and offered a partnership in where they would send me a sample of their computer glasses in exchange for me sharing my opinion, thoughts and if I thought they provided value to readers.  As part of the product choice I wanted to see if I could have 1 pair of glasses that could serve as both indoor and outdoor glasses so I didn't have to switch to sunglasses when I drive and then back to computer glasses when I came inside and they were able to accommodate with a single lens/frame pair that is for any occasion.
First let me say I don't need prescription glasses, which is a primary driver of their business as they offer whatever I am about to describe and review in prescription lenses.  I was not able to review their prescription services in matching the lens to your prescription, since I don't need a prescription.  I can only speak for the glasses and lenses as they relate to blue light filtering (computer glasses), photochromatic which is transition lenses that darken when you are in sunlight and are transparent and clear when you are indoors, and the scratch resistance and anti-glare.  The glasses are UV 400 protection, but I don't have a way to 'prove' and test the UV protection personally, so I am just trusting that they offer the UV protection they are specifying.
The pair of glasses I chose and received was the Marvin Gunmetal glasses, also known as the Capri Sunmetal glasses.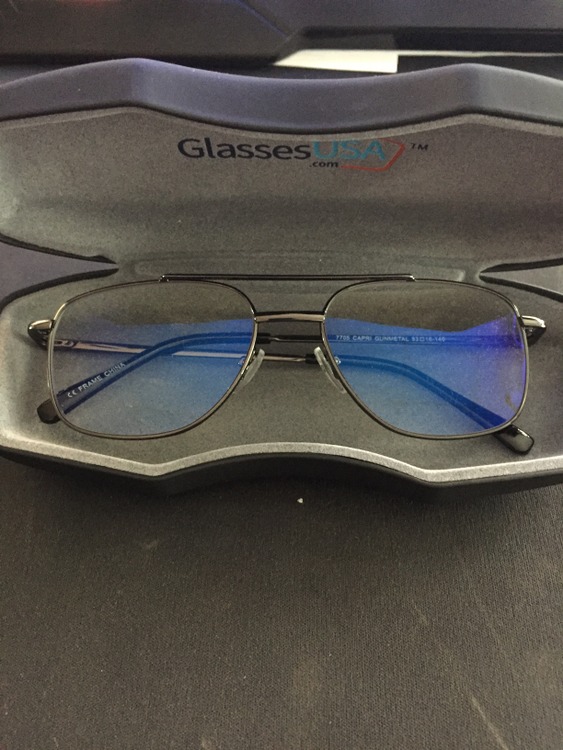 GlassesUSA specializes in prescription lenses and also carries a ton of designer frames, but they also provide a variety of glasses options for people who don't even need a prescription as was the case with the pair the sent me to review.  The glasses they sent me are also transition lenses and the outer facing side of the lenses darken when exposed to daylight in addition to providing the UV400 protection that I mentioned above.
When opening up the case and reviewing my rather detailed order sheet, I can clearly see the glasses have a yellow tinge to them when wearing them.  Immediately I notice when looking at my 2 24″ computer monitors that the harsh blue/white light is now a softer orange/yellow and my screens actually appear more natural and less harsh when staring directly at them.  I like the look of the aviator style frames and the glasses are very lightweight being able to sit on my nose for hours and I don't feel any indentation, pressure or any issues with weight on my nose bridge at all.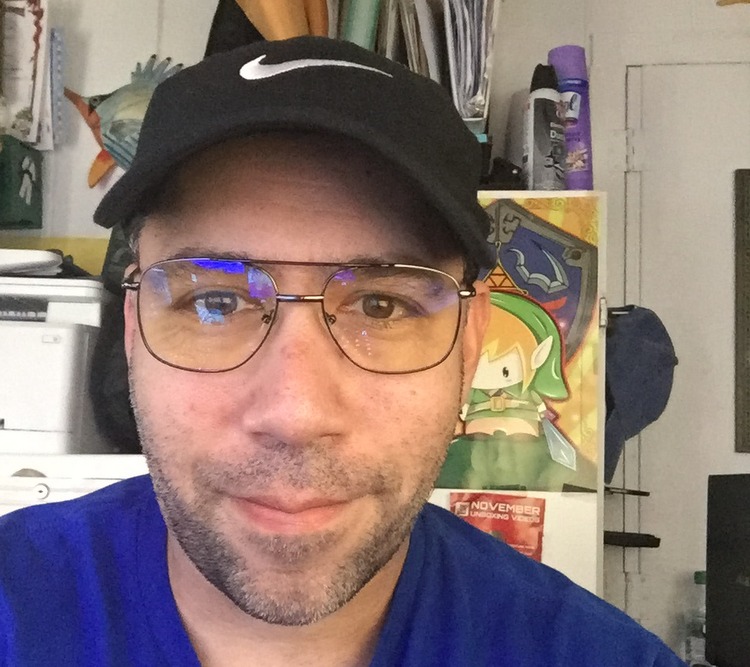 One thing that happens to me with almost every pair of glasses is I tend to get a fishbowl like effect where they can make me a little dizzy or just bother me while driving, this happens to me with every pair of glasses and sunglasses I have ever purchased including major retail ones like Ray-Ban and others.  The GlassesUSA glasses also have this slightly fishbowl effect when I am out driving with them, and it has to do with the peripheral vision being slightly altered for me.  But I can say it isn't nearly as bad as some glasses I have worn and it is not really noticeable when indoors and using them as computer screen glasses.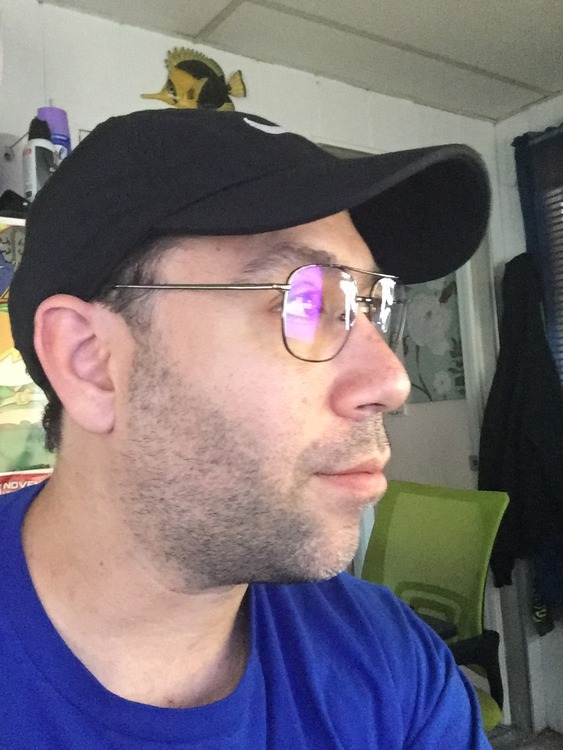 Video Showing the Marvin Gunmetal Glasses from Glasses USA
The transition lenses outside work well, though don't get dark enough to actually act like true sunglasses against the bright Southern California light.  They do help a little and the fact these are both indoor and outdoor transition lenses that are also blue light filtering is amazing, they just aren't as dark as I prefer in true sunglasses.  Usually when driving the kids to school in the morning I have to drive straight eastbound and the sun is always in my eyes where I have to keep my sun-visor down in my car, these glasses helped a bit and I am sure the UV400 protection helps protect my retina from the radiation according to the company but the actual lenses don't darken enough to where I don't still have to use the sun-visor.
Overall though I am impressed with the quality, the speed at which they were delivered, and the style is decent and one that I would wear regularly as well.  I have nothing I can put as a negative really as even the pricing is considered fair considering how many options were added to the lenses.  So if you need a pair of reading glasses, computer glasses or sun glasses, then I have no problem recommending GlassesUSA.  Now, because I am unable to test their Rx prescription glasses service I can't provide you with any details on how accurately they fill out an Rx prescription lens or whatnot, but judging by the quality of their non-prescription glasses I would say go ahead and give GlassesUSA a try.
GlassesUSA has a whole selection of Men's Glasses and was giving a 60% off glasses coupon for first time buyers the last time I checked.  BTW, the original set of glasses they sent didn't have all the lens options I requested, so the company was so awesome that they let me giveaway the first pair of lenses that they sent me which only had the blue light filtering.
[P_REVIEW post_id=1079866 visual='full']
I have been obsessed with computers, tech, gadgets and games since the early 1980's having grown up on the Commodore 64 and Amiga computers.
By day I work in the IT Security Industry and have been in IT for over 20 years. On my spare time I am a Vlogger, Blogger, Streamer, Gadget Reviewer, affiliate marketer, influencer and entertainer. I am also an avid movie fan, TV Show fan, Anime fan, video game fan and fan of trying anything and everything new.