HyperX was kind enough to send us a little mystery box with some products and one of those was the Alloy Elite 2 mechanical gaming keyboard which quite honestly is the best gaming keyboard I have touched since the Logitech Orion Spark and honestly is cosmetically better looking even if it lacks the custom macro buttons of the Orion Spark.  The HyperX Alloy Elite 2 comes in 2 models one with a wrist rest and one without, the one I received didn't have a wrist rest but I don't use wrist rests with keyboards anyway, just never have.
Watch the HyperX Alloy Elite 2 Unboxing Video
The HyperX Alloy Elite 2 has translucent ABS pudding keycaps so the entire key cap glows out of the sides of the keys and the transparent letters not just the transparent letters like most RGB keyboards when you configure your RGB settings in the NGUINITY software. What really makes it amazing compared to most keyboards is the light bar unique to HyperX and the dedicated media keys and large volume wheel.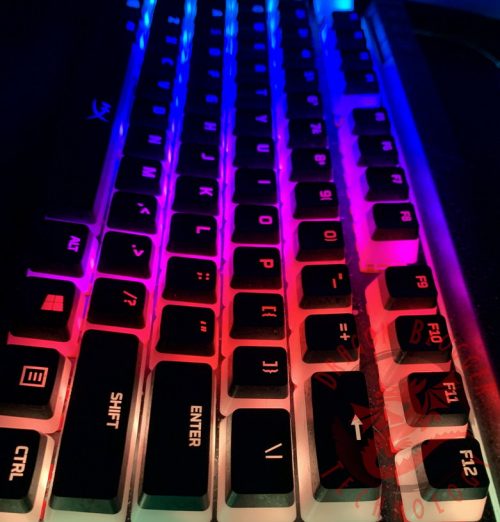 Using the NGENUITY software on the HyperX Alloy Elite 2 you can completely customize not only the RGB colors of your HyperX keyboard keys but you can adjust color patterns, styles and record key macro's with your HyperX keyboard as well. My son who was begging me for this keyboard is the one who took the time to learn and demonstrate the software, so check it out as Oliver walks you through a demonstration of how to use the NGENUITY software which is still in BETA according to HyperX and configures his Alloy Elite 2 Mechanical Gaming Keyboard with it.
It is a solid keyboard with a sturdy feel, solid base and amazing keys that are not too loud and have a very decent tactile feel.  I tested it and my son claimed it as his own shortly thereafter and has been using it for weeks constantly adjusting his color profiles and is in love with this keyboard.  Highly recommended, the only thing they could have added was some extra programmable MACRO keys would be the only thing it didn't have that I would want personally in a mechanical gaming keyboard.