FOUNTAIN VALLEY, Calif. – May 13, 2019 – HyperX, the gaming division of Kingston Technology, Inc., and gaming community leader, today announced sponsorship of the Maya Angelou Mural Festival which is being held in Los Angeles on Monday, May 13-18 at Dr. Maya Angelou Community High School. Two-dozen local and international artists have been commissioned to create murals through-out the campus, including a gaming-themed mural featuring HyperX gaming equipment by street artist Victoria Casanova.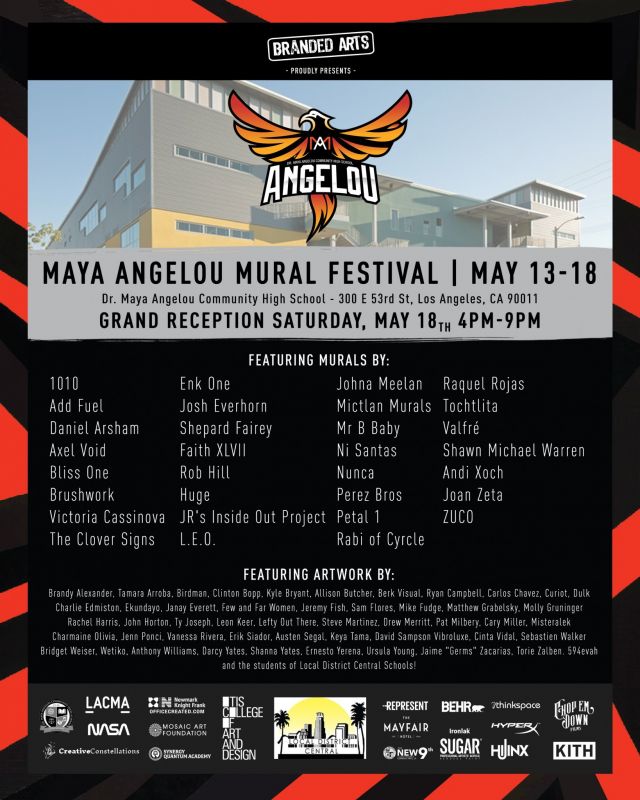 "HyperX is pleased to support the Maya Angelou Mural Festival and the efforts to enrich the arts in the community with female artists and artists of color," said Daniel Kelley, director of global corporate marketing, HyperX. "We are also happy to provide gaming products to the high school PC labs and students interested in gaming with professional products."
In addition to supporting the Maya Angelou Mural Festival, HyperX will continue support of high school gaming programs and local high school students nurturing and developing their gaming spirits, HyperX will provide quality HyperX PC peripherals (headsets, keyboards, mice, and mouse pads) to be used in the Dr. Maya Angelou High School computer lab for students continued enrichment.
The mural festival is the second in a series of mural festivals in collaboration between Branded Arts and the LAUSD Local District Central staff under the guidance of Superintendent Roberto Antonio Martinez. A Grand Reception will be held Saturday, May 18 from 4pm – 9pm. Dr. Maya Angelou Community High School is located at 300 E. 53rd Street, Los Angeles, CA 90011
HyperX takes the motto We're All Gamers to heart. Whether you are a casual gamer or professional player, or a PC, mobile or console gamer, our goal is to meet or exceed customer expectations with every memory module, SSD, gaming headset, keyboard, mouse, or mousepad gamers train with or play on every day.
About HyperX
HyperX is the gaming division of Kingston Technology Company, Inc., the world's largest independent memory manufacturer, with the goal of providing gamers, PC builders, PC, console and mobile power users with high-performance components. For 16 years, the HyperX mission has been to develop gaming products for all types of gamers – high-speed memory, solid state drives, headsets, keyboards, mice, charging accessories for console players, USB flash drives, and mousepads – to the gaming community and beyond. The award-winning HyperX brand in known for consistently delivering products that deliver superior comfort, aesthetics, performance, and reliability. HyperX gear is the choice of celebrity ambassadors, pro gamers, tech enthusiasts, and overclockers worldwide because it meets the most stringent product specifications and is built with best-in-class components. HyperX has shipped over 60 million memory modules and 7 million gaming headsets worldwide.
Join the global #HyperXFamily at facebook.com/hyperxcommunity, learn how HyperX products can enhance your console experience and boost performance for both you and your PC, console or mobile device at hyperxgaming.com. Whatever your skill level, whatever genres you play, we embrace all gaming enthusiasts everywhere with our core belief — We're All Gamers.
Website: http://www.hyperxgaming.com/
Twitter: https://twitter.com/HyperX
Instagram: https://www.instagram.com/hyperx/
Facebook: http://www.facebook.com/hyperxcommunity
Youtube:  https://www.youtube.com/user/kingstonhyperx