Receiving an iPad2 last week allowed me to open up an entire new Technology category here on DragonBlogger.com.  The site will now feature reviews on iPad apps, accessories and tips/tricks for your iPad2.
The first thing I wanted after getting an iPad2 was to find a case for it, as I found the iPad2 itself was so light and the metal a little slippery I kept worrying about dropping it while holding it with one hand.  I actually bought a few different cases to test them and the InCase Convertible Book Jacket was the first of the cases that I bought for the iPad2.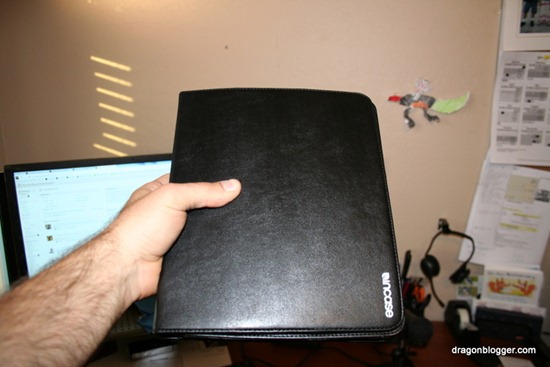 What I like about the InCase Convertible Book Jacket for iPad2 was that it was thicker than some of the other cases and gave your iPad2 a more cushioned and sturdy feel.
You could easily hold it open like a book and it didn't feel unbalanced like you would drop it.  As you can see below in my example: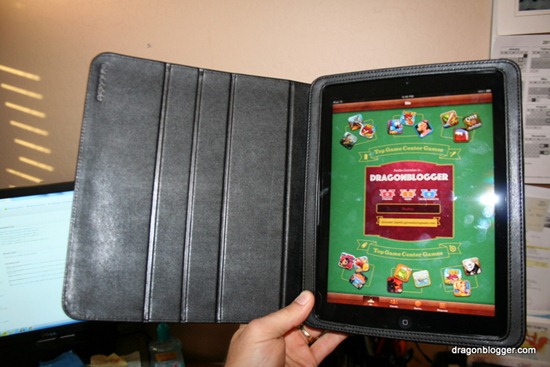 The InCase Convertible Book Jacket also allowed you to fold the cover in 2 different configurations to allow you to stand your iPad2 for comfortable use while sitting at a desk (or think on an airplane with the tray in front of you).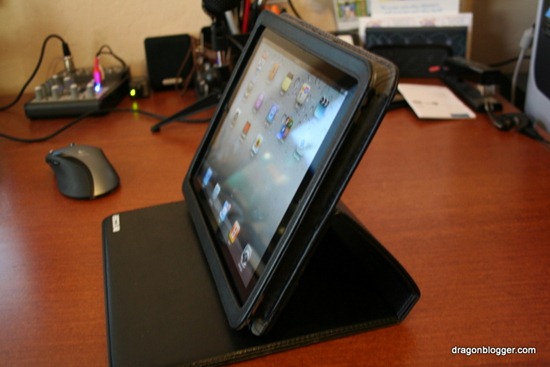 The second stand configuration was only slightly elevated or raised which actually made it more comfortable to use in your lap than it laying completely flat.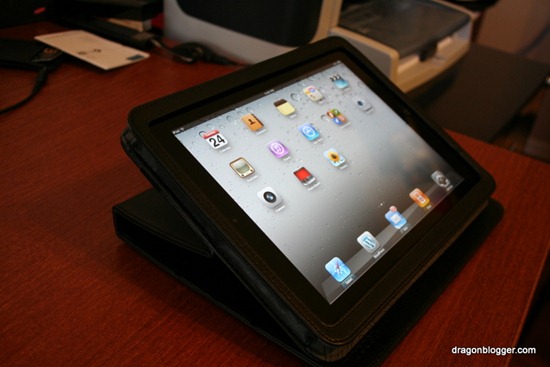 The InCase Convertible iPad Jacket allowed you direct access to nearly every iPad2 function except one.  With the InCase Convertible iPad Jacket you are not able to use your rear facing camera as there is no camera cutout.  This adds the inconvenience of having to remove the camera from the case if you want to use it to take video/images from the rear facing camera though the front facing camera works fine while it is in the case.
Summary
Overall I thought the InCase Convertible iPad Jacket was one of the best iPad 2 cases I have tested over the past week. This case was thicker and sturdier than previous ones.  The only two issues I had with the iPad 2 case were that the rear camera was covered and cannot be used while the iPad 2 was inserted into the case and that when you close the cover it doesn't automatically shut off the screen like the magnetic covers do.  In fact there was  little bowing of the cover when it is closed that leaves about a gap of a few centimeters that when laying flat just gave it a not quite closed all the way look.
Despite the two minor complaints I had this is a recommended case for the iPad 2 and is ideal if you don't intend to use your rear mounted camera too much.
[easyazon_block asin="B003RXL48O"]
Note, after doing more research and thanks to comments left on this article I realized that Best Buy incorrectly told me that the InCase Convertible Book Jacket was for iPad2, instead InCase does make a true iPad2 Book Jacket but it wasn't available at Best Buy at the time, this book jacket does indeed have the hole for the camera so you can use the rear facing camera while it is in the jacket.  So this review would apply without the complaint about lack of camera slot because below (Model #CL57923) is the exact same InCase Convertible Book Jacket except it is the iPad 2 version.
[easyazon_block asin="B004X34EIY"]