We are influencers and brand affiliates.  This post contains affiliate links, most which go to Amazon and are Geo-Affiliate links to nearest Amazon store.
If you're like me you bought store brand PC or office chairs for years and they never lasted long. I think for a while I was buying one about every year. Then I went out and got a high-end gaming chair and it lasted a good four or so years. But now it comes time to get a new gaming chair and by my luck, OPSeat reached out and wanted us to test and review their Grand Master gaming chair. Of course, me being me I asked for red and black to match my PC build.  The Grand Master gaming chair by OPSeat is aimed at gamers and larger adults. The Fabric is a PU leather which we will get more into later. When the box comes in you may want some help bringing it in the house. They do suggest team lifting it. The box is large and brown with their OPSeat logo and brand name on it and it is heavy.
Inside The OPSeat Grand Master Box
Inside the package, you get all the pieces to put together the chair including the Allen/screwdriver. You get the backrest, seat base, 5 casters, several sets of screws, shock and shock cover, two armrests and some pillows. You can see all that in my unboxing and install video bellow. Plus I will get more into those pieces in a minute.
Watch My Unboxing and Walkthrough Here!
Base, Casters and Shock
The first piece to the chair is the base and casters. The base is high strength and durable nylon. It is a 5-star shape. This base is made to support up to 300 pounds and the base as you can see in the next few photos is a solid shape and has some color on top with what I would call wafer or cross-hatch design on the bottom. This cross has cut down weight a bit while  adding strength to the base. The 5 color patterns bars can be swapped out for the 5 black replacement pieces that come in the pack. This is where you could be ingenious and 3D print yourself some new colored ones and replace them but that is up to you and I left mine red. The pieces are held on by two small Philips head screws.
The 2-inch caster has a 10 spoke design. You will need to connect all 5 casters to the bottom of the base. Each caster has a high strength shaft that will be inserted into the tip of each spoke on the base. You can see picture 3 below that the caster is not a solid wheel and has a double side. Now for someone like me, this is where OPSeat could have gone with their color pattern and made them red like the tips of the base but hey maybe something for the future idea for them.
The base is also where you will be placing the shock or gas lift depending on the region you live in and what you call it. They claim their gas lift is Class IV pneumatic. Connecting this gas lift is as easy as placing it correctly in the middle of the base and making sure you have the dust cover installed on it.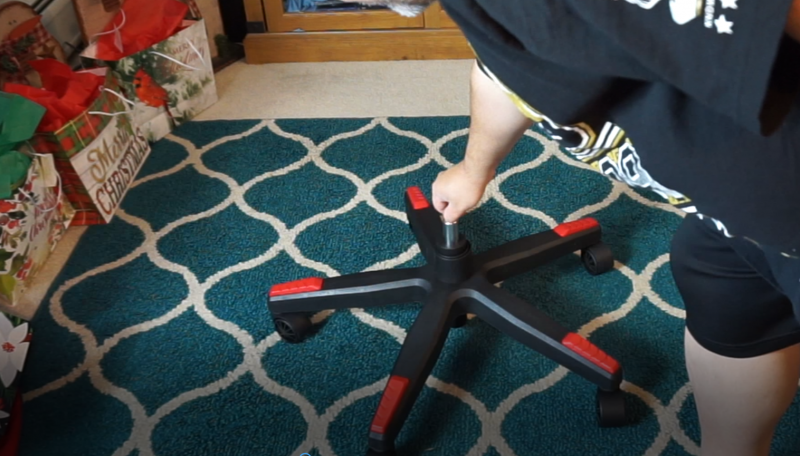 Seat Bottom, Seat Back, And Metal Mechanical Base
The OPSeat Gaming chair seat bottom is was designed around a solid metal frame. The frame has molded foam around it for cushioning the same as the seatback. The seat bottom comes with two armrests pre-installed.  Each armrest is adjustable in four directions. They shift up and down, front to back, side to side and rotate angle. They are connected by 3 large Allen screws. I do suggest checking the tightness before use to make sure they are tight enough.
The base is also where you will find the pre-installed mechanical recline mechanism. The piece is where you will bold the seatback to with the 4 Allen bolts that are included in the kit. The seatback is made from the same materials as the seat bottom. All of this is wrapped PU Leather. We will take about the leather in a few. The seatback also has their logo stitched in the front and back. The back is in black and the front is in red.
Once the seatback and seat bottom are bolted together you will need to bolt the Metal Mechanical Base to the seat bottom. This will require four of the included Allen bolts and washers. OPSeat claims the metal base is a 12-degree multi tilt mechanism. Once connected to the bottom you will pick up and place the chair to the 5-star base and place the gaslight into the round open hole on the mechanical base.
OPSeat Materials
As stated before the Chair is made with A PU Leather.  PU leather is a coating of Polyurethane on a thin layer of leather. This doesn't mean it not good quality just means your not paying for that leather that would come pre-installed in that Ferrari you have always had your eyes on. The leather is stitched and color-matched to the color you picked. Mine is red and black so you have two colors the stitching is red to match the color pattern. The leather is perforated to allow breathing. The chairs also come with two memory foam pillows that have the same leather covering and stitching.
Final Thoughts
So I guess this brings us back to the first question. Is this OPSeat Grandmaster Chair Any good? The build quality seems to be on par with some of the other chairs I have used in the past.  You have PU Leather which should last a good long time as long as it's taken well care of. Now I know this can be hard since we use these chairs so much. Don't think they aren't easy to clean if you happen to spill something on it. Just use a soft soap and warm water and you should be able to clean your chair up. Now, this won't mean if you spill soda on it that it won't be sticky on the inside but you will be able to clean the outside up. The brackets and bolts should hold up for the life of the chair and seem to be a high standard quality. I would think you would get a good 4 or so years use from this chair. Maybe more depending on how much you use them. Plus if you are like me you will want to upgrade at some point anyway. Plus for under $300 that is not a bad price. Heck, I was spending at least that every few years on the cheap chairs from the box stores for a long time.
The Grandmaster has been very comfy so far and I have had no issues with the chair. It seems to be holding up well so far and I'm not a small person so it should be good for you also. I would say the width of the seat is very nice and comfy but would love to see the depth another inch or so. I did have to take off the bottom memory foam pillow just to get the perfect feeling of the chair for me.I would easily suggest this chair to my friends and family. One thing I would love to see in the future is maybe some color matching casters but hey that just me.  This chair comes in 10 different color options.
Buy the OPSeat Grandmaster Chair for $299.99 Now!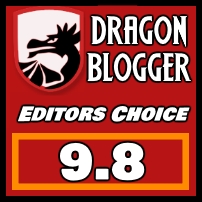 We are influencers and brand affiliates.  This post contains affiliate links, most which go to Amazon and are Geo-Affiliate links to nearest Amazon store.
Hi everyone I'm James Braga. I was born in Oregon and moved to New Hampshire a few years back. I love most things that have to do with video games and electronics, It doesn't matter if it for a car or a house, if it has electricity in it i will love it . I'm also in school for Information Systems Technology.