Our friends over at Kayo Maxtar sent me a power bank to review and this is the Kayo Maxtar V6 power bank. This is no normal power bank like I have reviewed in the past however. The Kayo Maxtar V6 has many functions. The V6 will jump start cars, charge phones, tablets, laptops, and many other devices that can be charged via USB which makes it more versatile than your average power bank for sure.  Some other stuff it has includes a light you can use it to light your way, or a SOS beacon. The Kayo Maxtar V6 come in four colors that I know of red, blue,white, and yellow. They sent me the red one. It is a 11000 Mah 12v power bank or external battery.
Now you will get the package from Kayo Maxtar that is plan and white with a blue strip that says V6. Nice simple clean box. When you open the box you will find there is a power bank and a carrying case. Here are pictures of the original unboxing.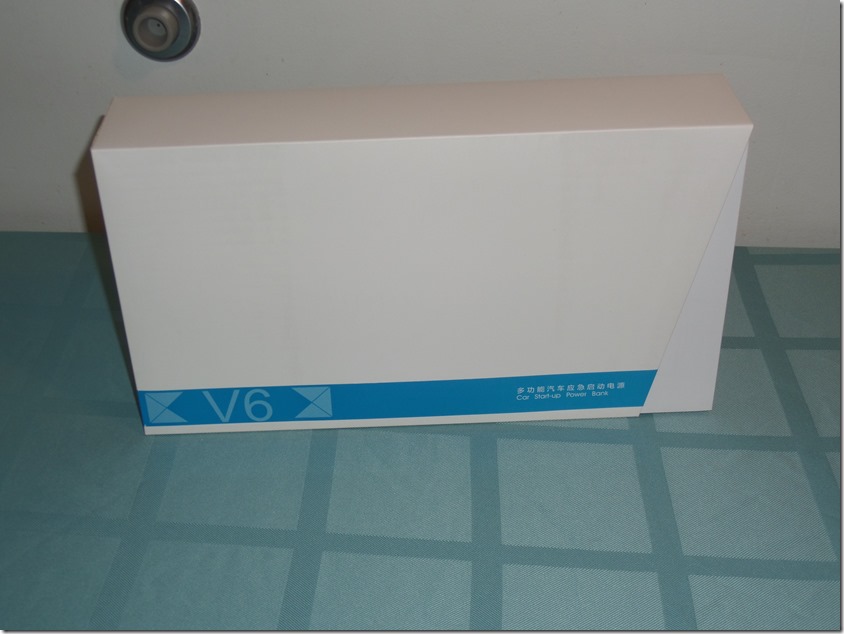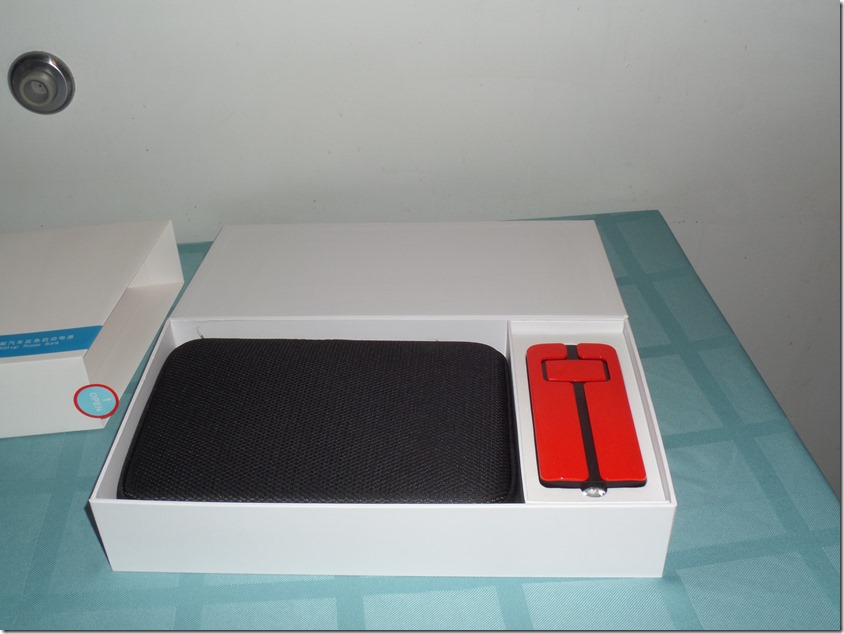 Your probably thinking where is the rest of the stuff that comes with it. Well to be honest I thought the same then I remembered there was this black carrying case in the box! Inside the carrying case are: 10 piece laptop plugs for various laptops, a USB for phones, charger for devices, jumper cables for jumping a car, and a cord to charge the device in your car. I will post some pictures of that for you.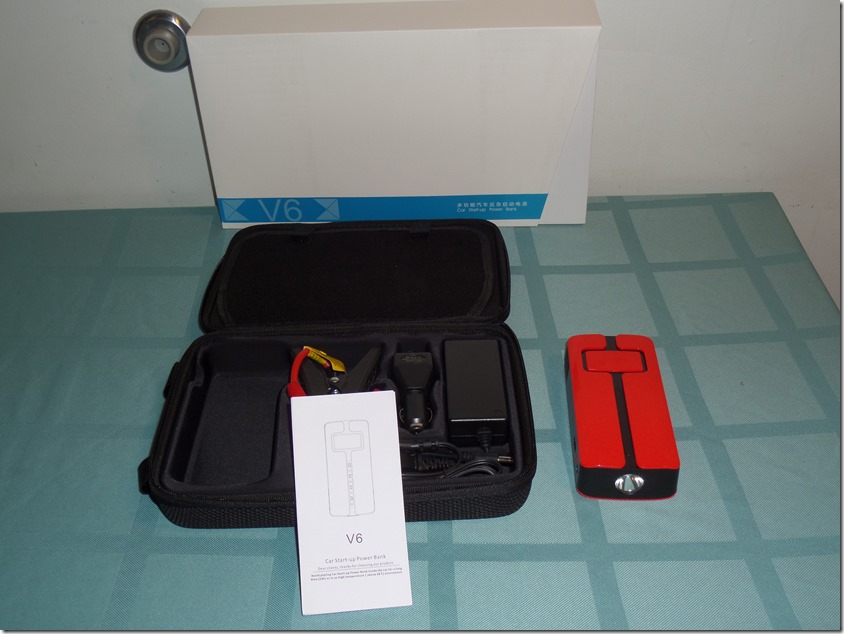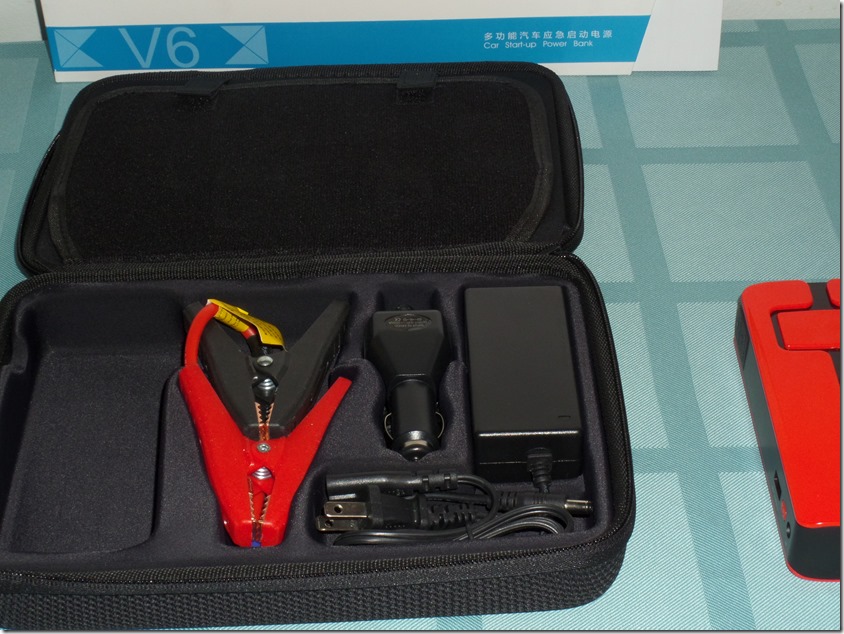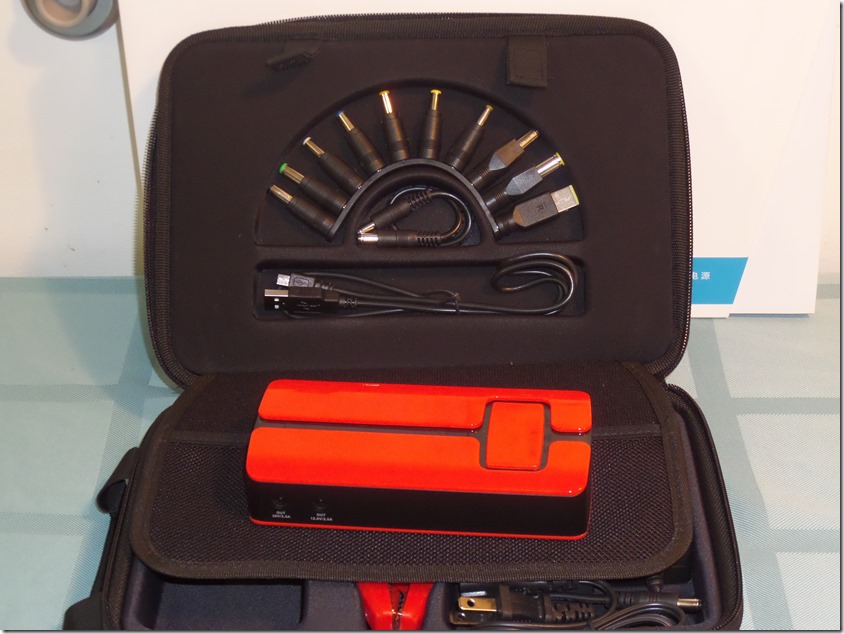 As you can see the Kayo Maxtar V6 comes with a large assortments  of plugs for you to use. Now that is a great that Kayo Maxtar added all this as most company's don't think to add that much stuff. I mean who doesn't hate looking for plugs and the right plug for the right device!
CHECK OUT MY UNBOXING HERE!
I want to talk about one part I didn't believe would work which is the car jump starter. At first I couldn't test this out. This was due to the hood of my car which would not open. That and I have a brand new battery in my car. Well a few days later after wanting to try this I lucked out. My neighbor left his light on and killed his battery. Me being in the right place at the right time I got to test the Kayo Maxtar V6 out and to my amazement it worked and flawlessly. They claim it can jump start a car 40 times on a full charge. Now that is impressive. If you are in the northeast and deal with bad winters I would say this might save you a few phone calls to get a jump start you can jump yourself and from the same battery that recharges your gadgets no less!. With the footprint it is smaller then car jumper pack you get from your auto part stores. If you are like me that is a great thing because it means less bulky stuff sliding around in the back. I wish I would have remembered to take my phone to get a picture of me jumping the car with the Kayo Maxtar V6 but I ran out the house without it, so I don't have a video or photo of jumpstarting a car with the Kayo Maxtar V6 but I can confirm I did it and it works!
Watch MY How to use video here!
The Kayo Maxtar V6 Power bank can also charge phones and other devices. Now they claim it can charge your smart phone up to four times. So me being me I tested this claim out. I got three and half charges on my LG G3. I will give it the benefit of the doubt that the Kayo Maxtar V6 may have not been fully charged. So I decided to try it on my dumb phone. I got five charges out of it. I then went on to test  the charging capability of the V6 power bank on the laptop. I got one charge from it . Now it did take a while to charge. If you use it as just a power back up it will give you a extra two and half hours of use. I then went on to see how long it takes to charge the Kayo Maxtar V6 Power Bank. It took about a hour or more to charge which isn't bad at all. Next few pictures show the devices charging.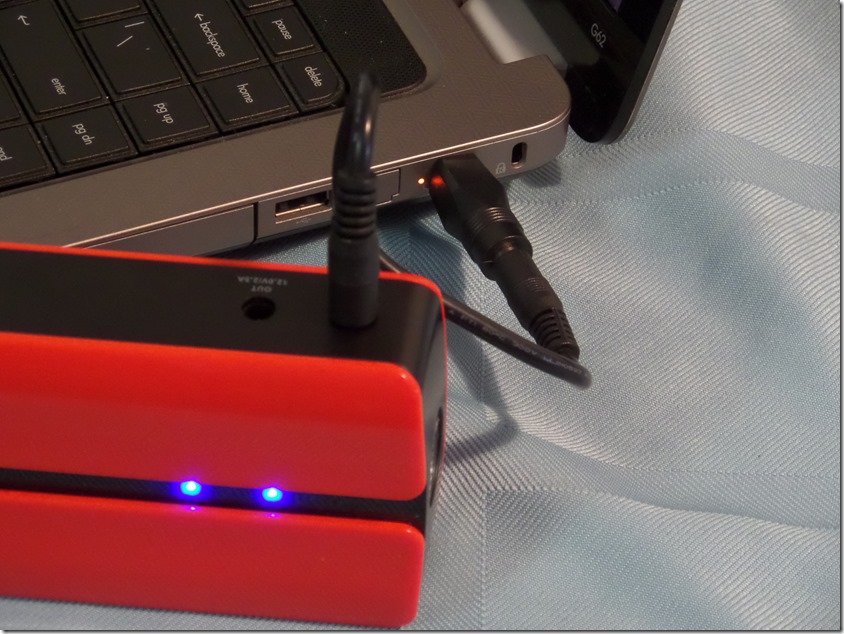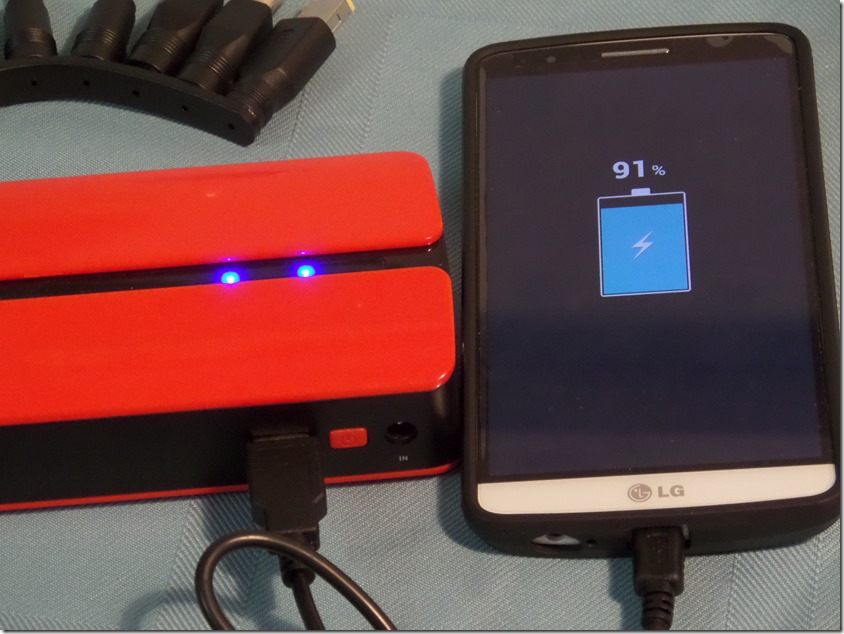 AS you can see in this next picture is charging but you can also see the charging level. This tell you how charged you device is.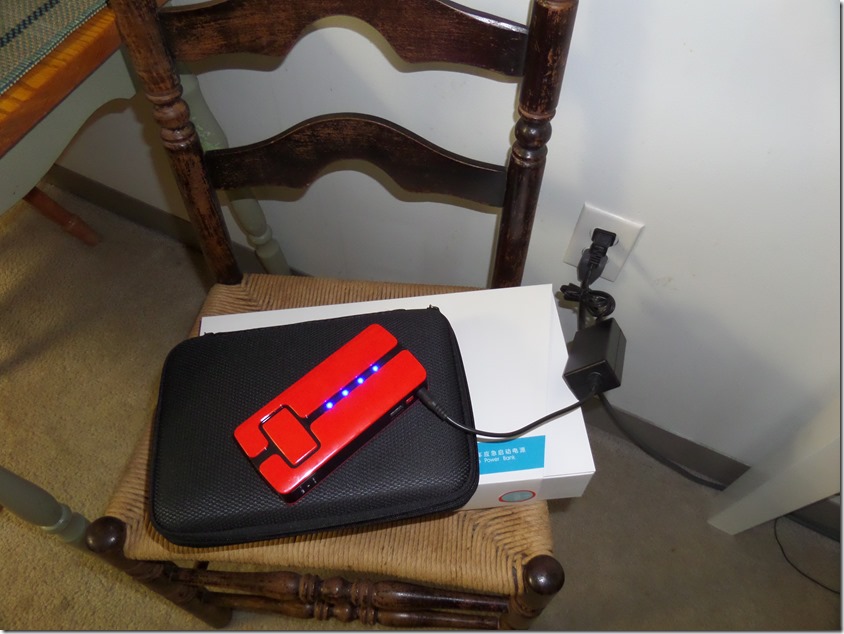 Some other functions like I stated before are the Flash Light, SOS beacon, Strobe light. To get these function to work. You will need to hold the power button down. The first thing that will come on is the normal flash light. You should get 120 hours of use time on a full charge. This time is for all three functions. To get the Strobe light on you hold the power button down again for a period of 5 seconds about. It shall come on and strobe. The last piece is the SOS beacon. These are great function that Kayo Maxtar  added to there V6 power bank and make for emergency lighting in the dark if you say need assistance at the side of a road.
With all that said the Kayo Maxtar V6 is a great device to have in your car or home. You can use it for a trip or for that college student that needs that little boost between classes. Kayo Maxtar  thought of every thing when they did the R&D work on the V6. Now one cord you will need to have is the lightning style charger cord for your newer iPhones. Not a big deal to me since I don't have one, so the only adapter or cord it doesn't come with is a lightning one.
One last thing I did check out for you is customer care. Now I did this through the normal venues of contact. They do respond in a nice timely fashion and can answer anything you need to know. That is a plus in today date where some time customer care can lack.
Hi everyone I'm James Braga. I was born in Oregon and moved to New Hampshire a few years back. I love most things that have to do with video games and electronics, It doesn't matter if it for a car or a house, if it has electricity in it i will love it . I'm also in school for Information Systems Technology.