I personally have reviewed and tested these 240GB HyperX Kingston SSD drives and replaced 2 Lenovo Z575 laptops HDD drives with these SSD drives and the performance improvement on everything related to load times was phenomenal.  You can read my journey with cloning a hard drive to an SSD drive and replacing the laptop drive here: https://www.dragonblogger.com/replace-laptop-drive-with-ssd-drive/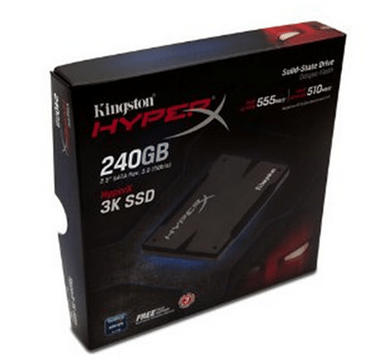 Meanwhile, Kingston was kind enough to offer one 240GB Kingston HyperX 3K SSD drive to one lucky Dragon Blogger fans in this sweepstakes that kicks off today.  This drive has a retail price of over $400, but can be found for $205 on Amazon when it is on sale.  So this is a fantastic deal and is large enough it could replace most laptop hard drives and function very well as your primary Windows OS drive for your desktop too.
Enter to win a Kingston 240GB SSD Drive and I am hosting this giveaway with the PromoSimple platform this time to really see what this platform can do with a high end prize.  Though there is no refer-a-friend option for bonus entries you can get 1 entry per day by tweeting every day, so I encourage you to bookmark the page and come back for your extra entry every day.
Enter to Win a Kingston 240GB HyperX 3K SSD Drive
Additional Rules:
Kingston will be sending and shipping you the prize, and they can only ship the prize to U.S. or Canada locations.  So if you enter Internationally you have to enter and have the prize shipped to either a friend or family member in the U.S. or Canada, there is no prize substitution.
What would you use your new 240GB Kingston HyperX 3K SSD drive for if you won?