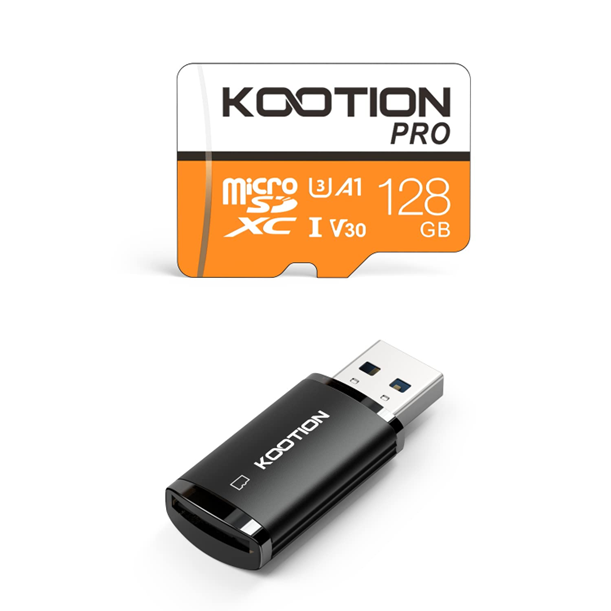 Thanks to the abundant variety of memory cards for smartphones, cameras, and tablets on the market, it can be hard to choose the right card for your device. This KOOTION 128GB microSD Card review will help you make up your mind by providing an overview of its features and how well it performs.
What is the Kootion 128GB MicroSD Card?
The KOOTION 128GB MicroSD card is one of the latest and greatest additions to the world of memory cards. This little card packs a huge punch, offering an impressive 128GB of storage space. That's enough to store over 10,000 photos or hours upon hours of video footage. And with its high-speed data transfer rate, you'll be able to move all that content onto your computer or other devices in no time flat. Whether you're a professional photographer looking for extra storage capacity or just someone who wants to be able to keep their entire digital life on one tiny card, the KOOTION 128GB MicroSD is worth checking out.
Who should buy the Kootion 128GB MicroSD Card?
If you are in the market for a high-capacity microSD card, the Kootion 128GB MicroSD card is a great option. It offers a good mix of capacity, speed, and price, making it a great value for your money.
The Kootion 128GB MicroSD card is ideal for anyone who needs extra storage space for their devices. It is perfect for storing large files such as high-resolution photos and videos. The card's fast read and write speeds make it ideal for capturing full HD video and transferring files quickly.
The Kootion 128GB MicroSD card is also a great choice for gamers who need extra storage for their games. The card's high capacity means you can store more games on your device, allowing you to play them anytime, anywhere.
If you are looking for a high-quality microSD card with plenty of storage space, the Kootion 128GB MicroSD card is the perfect choice for you.
Why you should get a MicroSD Card
I perceive it's not exactly common to see people buy one of these devices. For many people, they're used only for storing data and photos on their computer or mobile device. But if you want to take advantage of all that extra space, then a MicroSD card is something you should consider.
Here are five reasons why you might want to consider getting a MicroSD device:
It helps you store more photos, videos, and music on your phone or tablet
You can use it as an external drive for your PC
They are always less expensive than an internal memory card
You can use it as a backup option for your photos and music files
It's easy to transfer files between devices. MicroSD like Kootion is faster than most internal memory. Since it's external, you won't have any performance issues when using your device's built-in memory — which means that everything will run much smoother as well as be faster overall (and less likely to crash). Plus, if you've got a lot of photos or videos that need saving and transferring around between devices
The good features of the Kootion 128GB MicroSD Card
Kootion's 128GB microSD card is a great choice for anyone looking for reliable, high-speed storage for their devices. The card offers read speeds of up to 90 MB/s and write/read speeds of up to 45 MB/s, making it ideal for recording and storing Full HD and 4k video and transferring large files 10x faster. It's also waterproof, temperature-proof, and X-ray-proof, so you can be confident that your data will be safe in even the most extreme conditions.
Kootion MicroSD works perfectly with tablets, smartphones, drones, GoPro, and cameras — helping users to expand their device capacity and making file storage faster and easy. It comes in a stylish design that is convenient to use with a wide range of compatibility.
Kootion MicroSD support UHS-II memory cards, TF, Micro SDHC, SD, UHS-I, or Micro SDXC. It is also compatible with both 2.0/1.1 and USB 3.0 respectively.
Kootion's top-ranked products are living proof that high tech doesn't have to cost a small fortune. And I think you'll agree with me that the quality of this microSD from this brand justifies beyond their prices after purchase. I have often seen most of kotion's products getting people saying "Wow! I got a really good deal!"
Popular FAQs
Does Kootion 128GB MicroSD card come with adapters?
Amazon shipments are often random, so there can be no such guarantee. But it's just a smaller part of the inventory that doesn't come with an adapter. An ongoing process of making new improvements on the adapters as well is on.
Does this Kootion MircoSD work well on Samsung Galaxy s7 edge phones?
It's overly the same as many exceptional microSD cards out there. It will work just fine with your Samsung Galaxy s7
Will this work perfectly with an LG stylo 4?
Of course, the kootion 128GB High-Speed TF Card is compatible with almost all Android phones. It can be used.
Is this good for a dashcam?
Yes, kootion Micro SDXC Memory Card 64 GB is suitable for most driving recorders on the market today.
Does the kootion MicroSD work for Nintendo 2ds xl?
Yes, it will work for your Nintendo 2ds xl so well. All you have to do is to just insert it into the slot at the back of your Nintendo and there you go.
Will it work on a Samsung a21?
Any Samsung with 32GB or larger up to 128GB will utilize the Kootion microSD card perfectly as long as it is class 10.
Can Kootion MicroSD work with a Samsung galaxy ao1?
Samsung Galaxy ao 1 can take up to 512GB Micro Sd. So, yes, it will work.
Will Kootion work for Moto e6?
If your Moto e6 has a micro SD card slot/TF, you can use it. But please make sure you check your device's memory capacity before using it.
Will the Kootion MicroSD card work on a Sony HDR-PJ440 camera?
Judging by the device information, kootion 64GB microSDXC cards will work on the camera.
Does it work on GoPro?
Sure. Kootion 128GB is suitable for both 4k/HD video shooting, superfast data transmission, and smoothness even in the harshest of environments.
Can it be used for Roku?
Hopefully, it will work if the Roku comes with a microSD card slot. But most Rokus are Class 2 and require several precautions to be taken before a microSD card can work effectively.
Pick up the Kootion MicroSD Card on Amazon
I have been obsessed with computers, tech, gadgets and games since the early 1980's having grown up on the Commodore 64 and Amiga computers.
By day I work in the IT Security Industry and have been in IT for over 20 years. On my spare time I am a Vlogger, Blogger, Streamer, Gadget Reviewer, affiliate marketer, influencer and entertainer. I am also an avid movie fan, TV Show fan, Anime fan, video game fan and fan of trying anything and everything new.