We are influencers and brand affiliates.  This post contains affiliate links, most which go to Amazon and are Geo-Affiliate links to nearest Amazon store.
I seem to be streaming more and more lately and have noticed that one monitor just isn't enough anymore. I debated on getting another large monitor but keep coming to the conclusion that large may not be the best option for the space I use. By luck, Tiktech reached out to us and asked if we could do a review of one of the 15.6″ portable monitor and who was I to say no. The Lepow 15.6″ Z-1 Gamut portable monitor is a type-C portable display. We will get more into that part a little later on. First, let talk about what all comes included with it.
Specifications From Their Site!
Model: Z1-Gamut (2020)
Net Weight: 1.7 lbs.
Visual Area: 344.16*194.59mm
Screen Size: 15.6 inch
Panel Type: IPS
Aspect Ratio: 16:9/ 4:3
Resolution: 1920*1080
Display Color: 16.7M
Color Temperature: 6800K
Visual Angle: H:85°/85°MinV:85°/85°Min
Contrast Ratio:1000:1
Refresh Rate: 60 Hz
Input Interface: Mini HD (Video signal), Type C full function (Video data, Power supply ISDN), Type C power supply
Output Interface: 3.5 mm headphone interface
Speaker: Dual stereo speaker (1 W*2)
System Requirement: Devices with an HD output interface, computers with full Type C video output capability
Lepow 15.6″ Monitor Package And Contents Include
The Lepow Monitor package is just plain white in color with a little green. On the back, you get a slight description of the product with the brand name and some info.
In the packaging from Lepow, you get the monitor, one mini HDMI to HDMI. You also get one USB-C to USB-C cord, one USB to a USB-C power cord.  Then you also get a screen protector, a smart case, and one user manual. As you can see it is a full kit. This means no extra runs to the store for extra cords unless you're like me and want an extension on the Mini HDMI TO HDMI cord.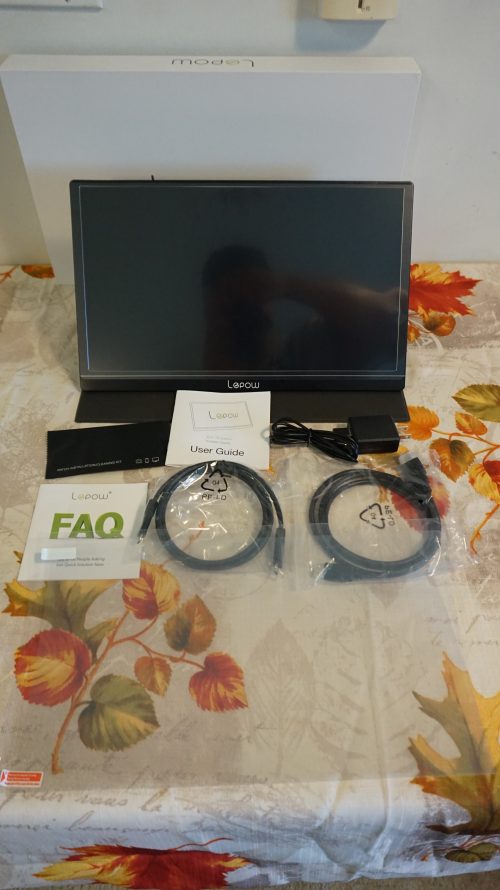 Check Out The Lepow Z1 Unboxing Here
The smart case is a pho leather case that is magnetic and can be turned into a stand for the monitor. It fits snug and feels very nice carrying it around. It has the feel of carrying around a tablet or iPad in a case. The case seems very rugged and durable. It is black in color case.
Lepow Z1 Cords And Monitor
The cords that come in this package are one mini HDMI to HDMI. You also get one USB-C to USB-C cord, one USB to a USB-C power cord. The cords are all rather short for what they are The longer cord is the power cord, unfortunately. The Mini HDMI could have been longer for people wanting to use this as a second monitor for their streaming sets up like I am using mine for but we will show you that in a few and talk more about that in a minute. The cord is maybe 3 feet long which should be fin for those using this and monitor for their phones or laptops.  The USB-C to USB-C is the same length as the Mini HDMI cord. all cords work well just for my taste a little short. I had to run out and get an extension cord for streaming.
We will get back to the cords in a minute let talk about the monitor. They claim the Lepow Z1-Gamut upgraded model increases the display color gamut by 60% from the previous model.  Lepow portable computer monitors leverage a 15.6'' 1920*1080 screen to create stunning image quality and look very clean and clear for such a small monitor. With a width of around a quarter-inch and weighing in under 2 pounds, this makes for a nice little monitor. On the front, it has a small bezel that doesn't affect it much. On the bottom, you will see their logo Lepow.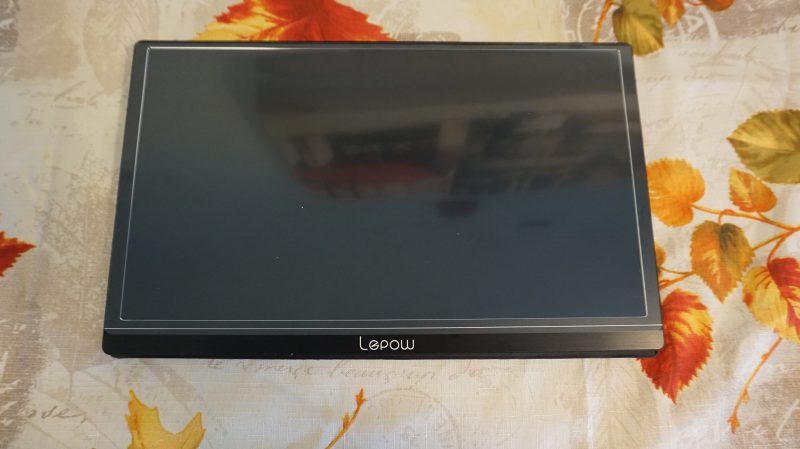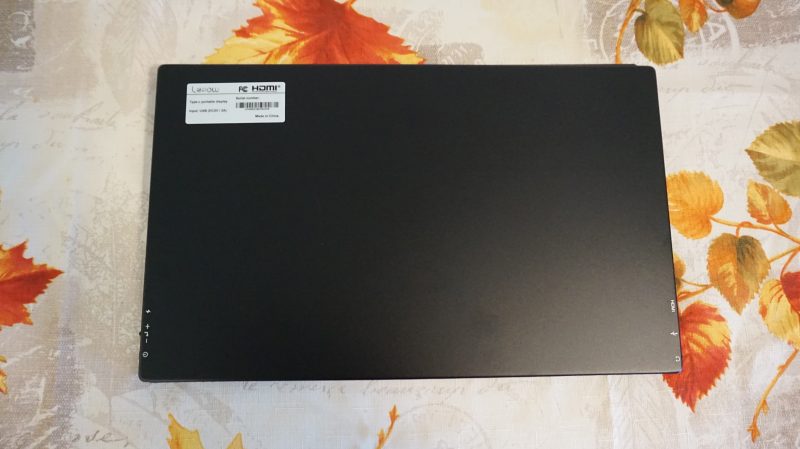 Now the monitor has a few hiccups when coming to the cords and placement of the cords and I'm sure most will agree on this. The power port is on one side and the display ports are on the opposite side. On the side where the power cord plugs in is also where you will see the volume/ settings button. On the other side is where you will see the 3.5mm headphone jack and Mini HDMI and USB-C display ports.
This can make for a messy looking setup. Now, this may not be an issue for some but if you want to use this for a business meeting or want to leave it plugged in at all times like me. Well, it just looks bad. I mean who wants a mess of cords showing and who really wants it showing off both sides. This can also affect using the monitor in portrait mode. and using it in the case. Since the cord stops you from standing it up on end.
Check Out The How To Connect And Use the Lepow Z1 Video Here
Using The Monitor and Final Thoughts
Using the Lepow portable computer monitor is simple it is pretty much plug and play on many devices including phones. You can use this device on any pc, laptop, most phones that support type c port. The settings are simple and easy to scroll through. Press in shortly on the volume nob and the on-screen settings will pop up. You will have the option of changing many settings that pretty much just don't need to be used. Unless you are very picky. The monitor is bright and the colors seem very nice. I have tested this during gaming, watching shows, and just web searching.
In portrait mode is where I start having some issues. This is all due to the cords and you see come out both sides and won't allow for you to stand it up on end. This made me think outside the box. I went out and got a  tablet holder. now, this was an issue as they don't make many that are this large for a computer desk. We found one that worked and did what I needed but still leaves for a messing looking set up and you can see in the next few pictures.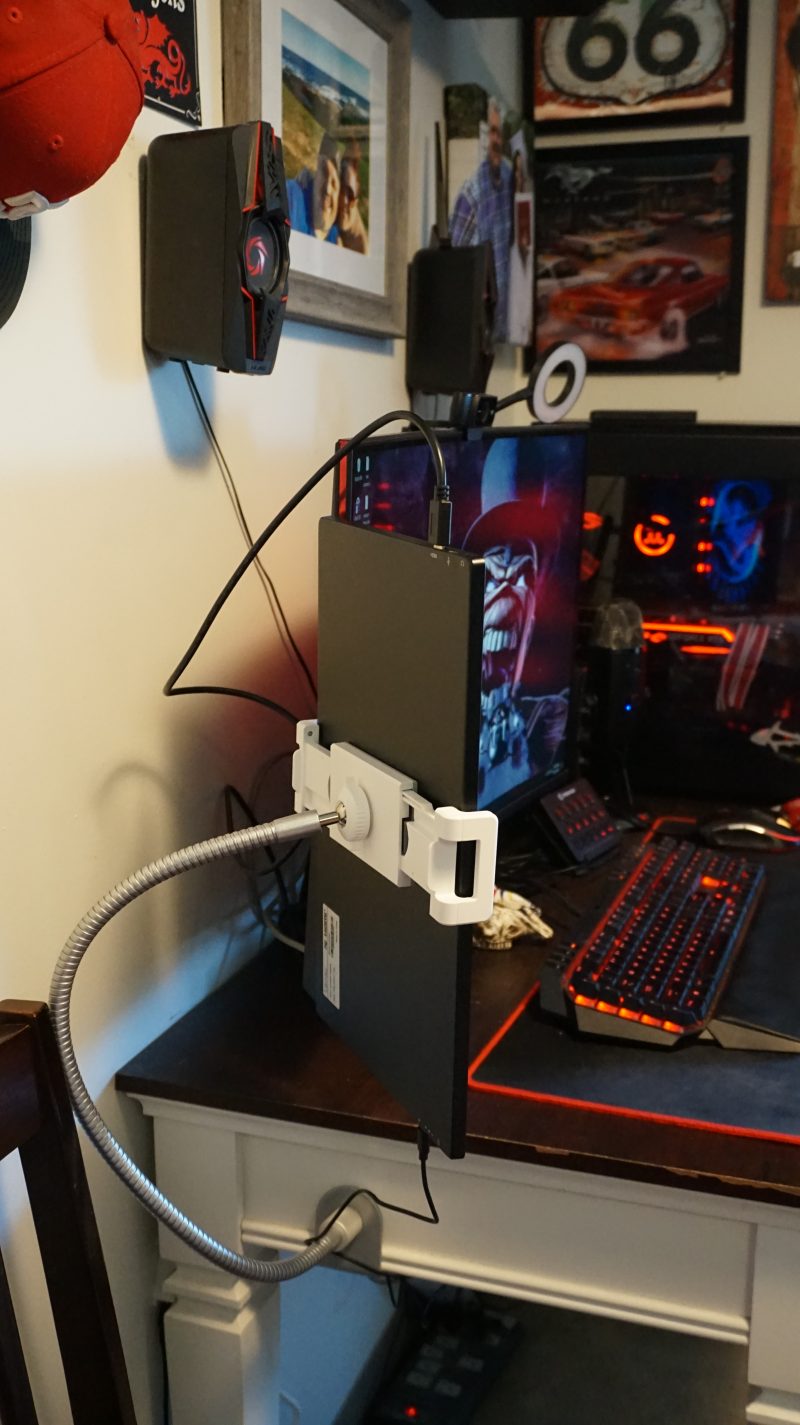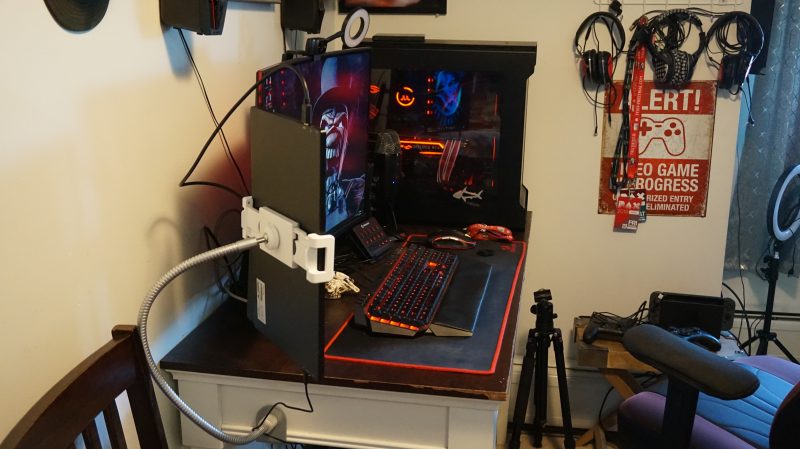 As you can see this is a messy looking set up this way but works and works well. Now during the course of testing, I accidentally plug the power cord into the opposite side of the monitor and come to find out that you can power this monitor with the USB-C port meant for plugging your phone in. With that, the monitor clean up the cords mess that you have seen in the photos above and allow you to wire tie them up and clean your space up a little. Which then allows you to use this monitor in portable mode. ( This was an off moment. The monitor works awesome and I have had no issues what so ever. If I was getting this just to use it for the portability this monitor is excellent. With the Display Color 16.7M and  Color Temperature 6800K, the Lepow 15.6-inch monitor is very bright and works well. Even for gaming.
The Lepow portable computer monitor a 15.6'' 1920 x 1080 resolution monitor and is decent and gets the job done. Just remember the issues I pointed out and plan ahead and you should be just fine.
If You Buy It Here At This Link Lepow Gamut 15.6 monitor with COUPON LepowJP20K at checkout. You will get it for $139.99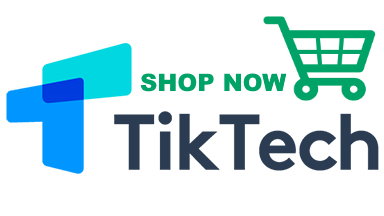 We are influencers and brand affiliates.  This post contains affiliate links, most which go to Amazon and are Geo-Affiliate links to nearest Amazon store.
Hi everyone I'm James Braga. I was born in Oregon and moved to New Hampshire a few years back. I love most things that have to do with video games and electronics, It doesn't matter if it for a car or a house, if it has electricity in it i will love it . I'm also in school for Information Systems Technology.