Tiktech is the name of the store that worked with us to bring you this fantastic giveaway.  They are featuring their 2020 Lepow Z1 FHD Portable Gaming Monitor which is 15.6″ and is a fantastic accessory for your portable console or phone or as a 2nd monitor for your PC.  Tiktech is an up and coming store with the latest gadgets to fit your life and you can find a wide variety of items on the Tiktech Best Picks page, but specifically they wanted to share the deal for this monitor as well because it is part of this giveaway launch!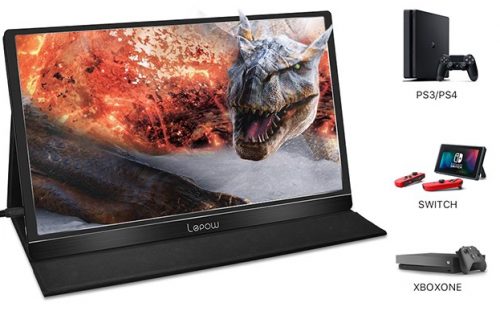 The first deal is on the giveaway prize itself, this is the 2020 Lepow Z1 Portable Monitor which for their 2020 model has an upgraded color Gamut and brightness now boasting a 1000:1 contrast ratio and a 16.7m color display while sporting a 178 degree viewing angle. It has a mini HDMI, USB Type-C and 3.5mm ports.  You can get the Lepow Z1 Portable Monitor for only $139 with coupon LepowJP20K which gives you $50 off.
So some things to know about this giveaway, it is International as Tiktech has multiple warehouses around the world, so if you live outside of the USA then instead of the 2020 Lepow Z1 model, you will win the previous model instead which has the same ARV.  So there are only a handful of countries that can't receive prize, so if you live in one of these locations: American Samoa, Guam, Marshall Islands, Federated States of Micronesia, Northern Mariana Islands, Palau, Puerto Rico and Virgin Islands, then you will not be able to enter unless you provide a shipping address in a country the vendor can ship to.  Also, address with PO Box are also unavailable.
The main mandatory entry is you have to sign up for an account on their store, then fill out their spreadsheet confirming you signed up.  This will be matched to the winner chosen, so if you did not sign up for Tiktech and fill out the spreadsheet (first 2 entries) in the giveaway, you will not be eligible to win.
This prize is 100% funded and sponsored by Tiktech and they will be shipping the prize, they also had sent this unit which was used for the Lepow Z1 Monitor Review that James did over the past few weeks.
Enter to win a 2020 Lepow Z1 15.6″ 1080p Portable Monitor Now
2020 Lepow Z1 Portable Monitor Giveaway