We are influencers and brand affiliates.  This post contains affiliate links, most which go to Amazon and are Geo-Affiliate links to nearest Amazon store.
Neuropathy is a horrible thing, causing everything from weakness, numbness, and even pain in your hands and feet. It can affect any person, be they young or old, and it's a consistent issue in many peoples everyday lives. Technology that combats this can be expensive, and there's no easy way to treat it. However it is easy to alleviate and treat it with a nice, warm foot massage! LifePro has just the device for this, the Vibracare Plus Foot Massager! This compact device offers instant relief at the push of a button in the comfort of your own home, so let me tell you a bit about it!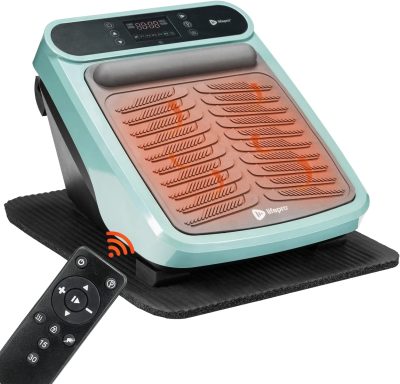 Features
LifePros foot massager offers a relaxing, soothing foot massage. The soft rubber bar gently rolls your arch and alleviates pain while leaving you relaxed and ready to start your day! No more chronic pain or joint stiffness, and say goodbye to discomfort! It offers two types of massage, vibration and accupressure therapy, both clinically proven ways to treat foot pain and arthritis! Let LifePros foot massager ease your bodies pain while you relax with your favorite book, or watch TV even! It's really that simple, even with how compact the device is!
With five different massage programs and thirty intensity levels all accessible via the wireless remote, this massager is the peak of a custom at-home foot massage experience. Just sit back, relax, and let your LifePro Vibracare Plus wash your cares away. Not only is it a good way to relax, but again it's designed to help with neuropathy by promoting better blood circulation and alleviating the tension and swelling in your feel and calves. It's a device that's designed to rip the exhaustion from your feet and leave you with nothing but comfort and relaxation! LifePro really is a top notch health and wellness brand!
Like all other LifePro products LifePro offers a lifetime warranty on this product, along with a lifetime of technical support via the guiding angels program, and free access to their repository of helpful videos! Your massager also comes with a non-slip mat to ensure it's always stable with your feet against it, and it tilts to the perfect angle with it's adjustable design! It's also quite quiet, ranging from 35-45 dB in sound frequency meaning you'll never be bothered by your own attempts to relieve your pain! The Vibracare Plus really is a fantastic massager and a fine product.
Summary
The Vibracare Plus is a top notch product that uses clinically proven methods to help neuropathy. Aside from its medical applications, it offers a customizable massage that you don't have to pay for, don't have to leave your home for, and is generally a convenient, easy to use device! I back quite a few LifePro products, and this is no exception. I'd recommend this for yourself or as a gift for anyone suffering from chronic foot pain that's just looking for some sort of relief. Of course if you're unhappy with your product LifePro will gladly replace it, and that's a value all its own in this day and age.
We are influencers and brand affiliates.  This post contains affiliate links, most which go to Amazon and are Geo-Affiliate links to nearest Amazon store.
I am just a 25 year old doofus who enjoys rpgs, sugar rushes, and passing out at odd hours.