Infrared Red Light Therapy is a relatively new practice, and LifePro is at the front of it with products like this! The Allevared Red Light Therapy Belt has a variety of benefits all packed in an easy to use package. In fact, it's barely a pound! With it's comfortable design that only requires an outlet, you too can be experience this rejuvenation of your muscles from the confines of your very own home! LifePro never stops offering value, and this product is yet another example of them staying at the forefront of health and wellness product development! So lets take a minute to talk about the Allevared Red Light Therapy Belt!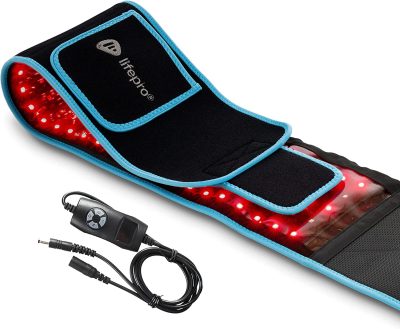 Features
This is a professional grade red light therapy from the comfort of your very own home! Red Light is known for its ability to improve skin tissues. Infrared light reaches the deepest of your muscle tissues and aids in relaxing your muscles. It's perfect for winding down your muscles after a hard day of physical activity, or even just a bit of relaxation at home! Infrared Light is also known to help your skin, and with this devices easy to use hands-free wrap design you'll be saying hello to comfort in no time flat!
It's got two settings for targeting exactly what ails you, and a highly portable design practically made for taking it with you on the go. Not to mention its dual adapter system allows you to plug it into the wall, or your favorite USB compatible device! It's a fantastically thoughtful gift idea for anyone who just needs a little relaxation in their life, be it an injury they're recovering from or general stress. It's a well known fact that improved circulation accelerates the healing process and expedites the growth of new tissue, so this is just the tool for those recovering from surgery or other injuries!
As with all LifePro products this one comes backed with a lifetime warranty and technical support! You get a DC power adapter and an AC power adapter, and your belt also supports the use of a 5V external battery! This is as I always say both a fantastic customer service policy, and a top notch power set up that's practically throwing every option for portability at your face! It also is a one size fits all belt! It's a plethora of value for such an affordable price point!
Summary
Like every LifePro product before it, this is the pinnacle of design. The users comfort has been accounted for, not to mention the use of infrared light is one of the newest rehabilitation technologies. LifePro is constantly on the cutting edge of health and wellness technology, and the Allevared belt is just another example of the strides they make in consistently staying on top of the competition! Whether it's fitness equipment, recovery devices, or even skincare LifePro has a little something for all your needs, and yet they don't skimp on the quality of their products! I highly recommend this one, and every other product LifePro has to offer!