We are influencers and brand affiliates.  This post contains affiliate links, most which go to Amazon and are Geo-Affiliate links to nearest Amazon store.
We can never be too careful these days. When it comes to safety and security, we need to be make sure we cover every single base and that includes online. You might not know what a VPN is (Virtual Private Network) but it probably wouldn't hurt to utilize one, especially if you're like a lot of us who, essentially, live our lives online. With a VPN you can have all your data that leaves your tablets and phones become encrypted. It can also hide your location and identity. Now, this might sound expensive or complex, but that's where Rocket VPN comes in.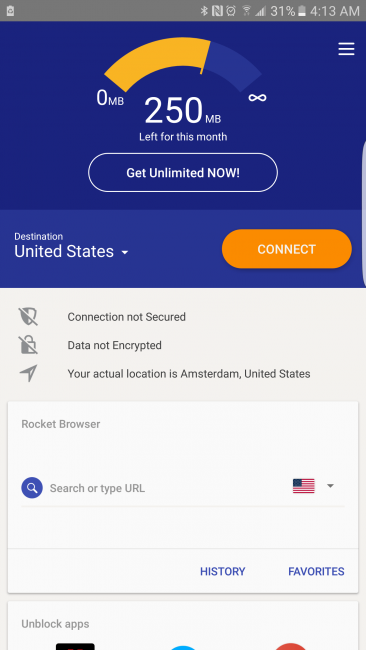 So, I've already briefly discussed the benefits of being able to hide your location, which it does by connecting you to a private server and broadcasting your location as that server. It also hides your identity, which is a huge advantage. All you need to do is load up Rocket VPN and click connect and you'll be connected. You should probably make sure you have internet access first because it can't do everything. Once you've connected, then you can open up your browser and surf the web; identity intact and secure.

Rocket VPN will be able to allow you to securely connect to apps, like Netflix or YouTube, and even to content that might've previously been region locked. If you're unsure what region lock is, it's content that is restricted by location. Content here in the United States would otherwise be unavailable in certain places in Europe, like Italy. It happens the exact opposite as well. You'll even be able to connect to a specific location every time if, for whatever reason, you're afraid of someone catching on that you're using a separate or alternate connection.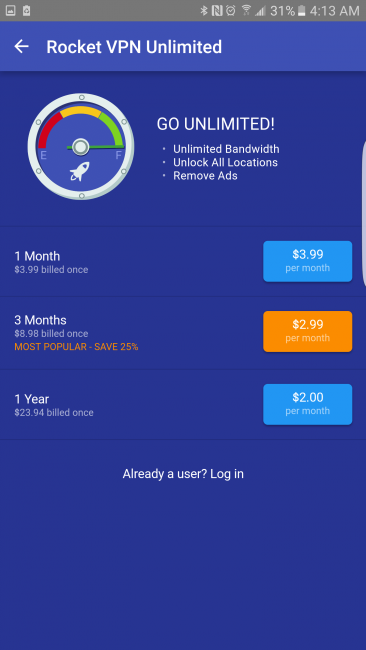 Liquidum provides Rocket VPN to you free of charge but there are ads and a 500 mb limit to your private and secure connection. You do need to create an account, which doesn't take all that long. Now, if you're thinking that 500 mb of data is not very much, don't worry. They've provided three separate options that will erase your limit and erase your ads. Meaning you can fly free and clear on a private connection. The three options are: Monthly for $3.99, quarterly for $2.99 a month, which is billed $8.98 all at once, or yearly for only $2 a month, which is billed $23.94 all at once.
With the possibility of unlimited connectivity, at a fraction of what one might normally pay for security, Rocket VPN is definitely a powerful option for maximum security. And if you'd rather not pay and don't mind the ads then the free version is still a viable option; as long as you don't go over the 500 mb limit while doing something important. Liquidum received a Top Developer badge from Google for being committed to developing innovative and high quality applications, so you know this is the real deal.
We are influencers and brand affiliates.  This post contains affiliate links, most which go to Amazon and are Geo-Affiliate links to nearest Amazon store.
I'm 28 and currently living in upstate New York. I'm an amateur review writer, mostly for movies, and I'm looking to take it to the next level.