We are influencers and brand affiliates.  This post contains affiliate links, most which go to Amazon and are Geo-Affiliate links to nearest Amazon store.
We recently got a sneak peek at the Lanmodo Vast M1 automotive recording system, which roughly translates to "Extremely awesome dashcam", and wow, what an absolute powerhouse. Aside from possibly lowering your insurance, the benefits of having a dashcam are plentiful, and the Vast M1 offers both standard dashcam features and what might be some of the best night vision on the dashcam market. So in this article, we'll be going over its various features, and comparing them with previous models for an in-depth look at this monster of a dashcam, as well as discussing the extremely affordable price point.
If you've been searching for a solid dash cam for an extremely affordable price, Lanmodo has your ticket. Right this very second they're offering pre-orders for the Vast M1 for a ten dollar buy known as being a "Golden Member". For your ten dollars, your Vast M1 gets its price dropped extensively of $210 as well as including a 128GB SD card, and card reader, for easily recording your dashcams footage as opposed to simply using it to bolster your night driving.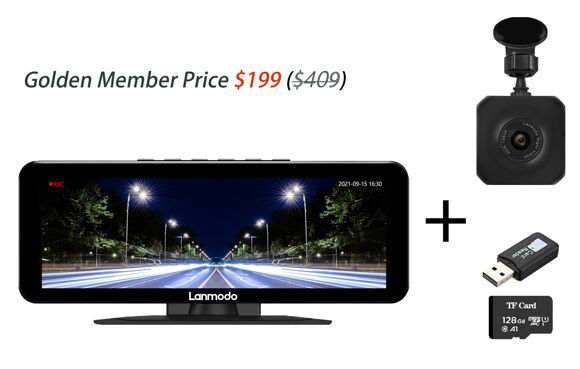 Why buy the Vast M1 System?
In addition to having the backing of being featured on media outlets like Forbes, Cnet, and others as a fantastic product, the Vast M1 has a variety of upgrades to the previous models including insanely powerful night vision, a wider front field of view, and an extremely clear 1080p recording quality.
Crystal Clear Night Vision
Aside from being a fantastic unit, the Vast M1 has superior night vision to previous models practically lighting the road up as if it were daytime, which can allow you to see various hazards, see road indicators better, and generally improve your overall driving experience by highlighting things you just plain wouldn't see. Here are a few screenshots to show exactly why Lanmodo is a leading name in night vision research and development.
Featuring a 984-foot view distance far outspanning your headlights, the Vast M1 notifies you of hazards in advance, making night driving all the safer, and generally taking a bit of stress off that experience. With a 75-degree field of view that covers a wide-angle of the road ensuring you'll never miss a beat during a nighttime travel session.
Other Features
While these features are native to other Lanmodo night vision system models, namely the Vast Pro, they're vastly improved on in the M1 series, making it well worth the investment for your safety as well as that of your family while driving. Any motorist can appreciate such useful features, so let's go over them.
The Vast M1 continues the Lanmodo tradition of covering all angles you need to worry about, featuring a front and rear dashcam that both record in sparkling 1080p and feature their vastly improved night vision system. The field of view on the rear camera is also increased to 170 degrees and both cameras use low light magnification technology to ensure their night vision is absolutely perfect. Only the rear view camera is waterproof making driving in the rain that much safer.
Theft Prevention Via 24/7 Parking Monitoring and G-Sensor Technology
The Vast M1 uses its G-Sensor technology to automatically detect collisions and lock the accompanying footage for review later, but did you know it can also help keep your ride in your hands? Once parked the G-Sensor can detect the bump of a slimjim being slipped into the window of your car and will begin recording to catch the perpetrator mid theft, on camera. It also uses OBD power with low voltage protection to keep from draining the battery of your car.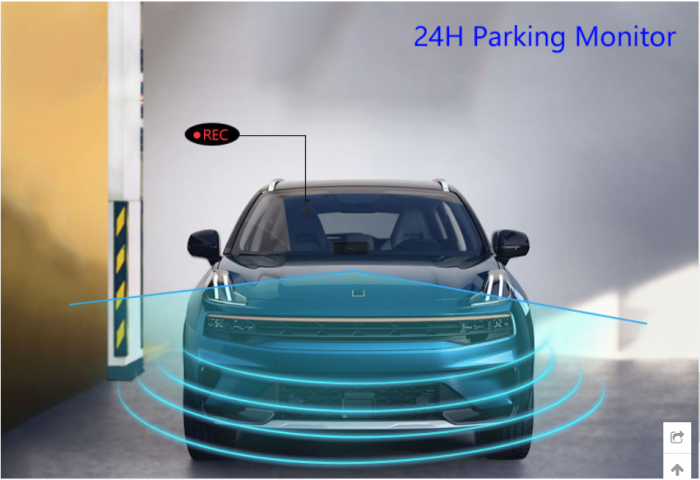 The Vast M1 uses loop recording, overwriting any older footage, meaning you'll never miss anything on any road trip, whether its someone cutting you off, or that deer you hit on the interstate. With Lanmodo, you're covered for everything.
Pros of the Vast M1
Strongest Night Vision on the Market
Full 1080p Recording, beating most integrated night vision system at 480p
G-Sensor both ensures collisions are recorded and catches thieves on camera
Golden Member Discount, while limited, makes this the most affordable dashcam at its current price: $199
Cons
Does not have a touch screen
Final Verdict
The Vast M1 is a solid upgrade on previous models and packs some of the best features you could ask for into a small, affordable package. The Golden Member discount is a fantastic deal but only available for a short time, and I'd personally suggest you get yours while the getting is hot, it makes the Vast M1 the most affordable, feature-packed model in Lanmodos library of night vision system, and is well worth the early ten-dollar buy-in for what you get.
We are influencers and brand affiliates.  This post contains affiliate links, most which go to Amazon and are Geo-Affiliate links to nearest Amazon store.
I am just a 25 year old doofus who enjoys rpgs, sugar rushes, and passing out at odd hours.